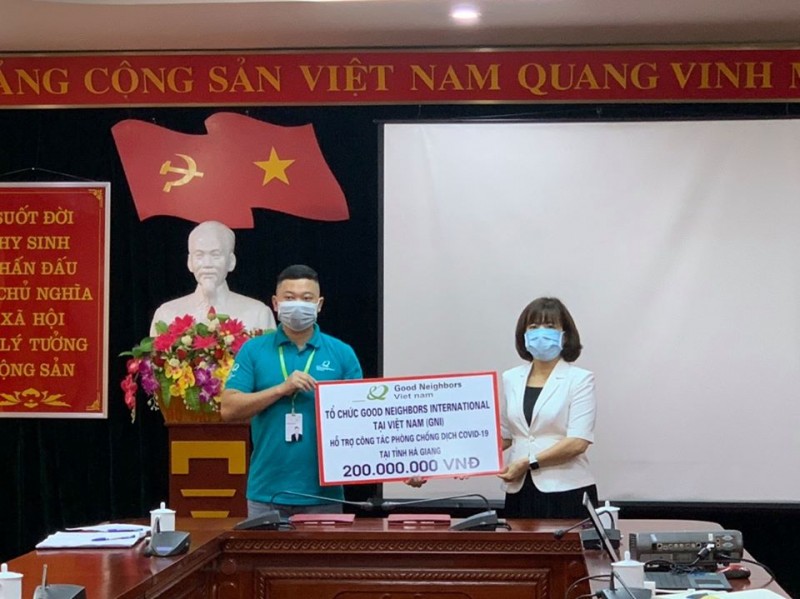 Ha Giang province receives aid from GNI in Vietnam to fight COVID-19. Source: GNI
With this support, GNI is committed to accompanying and empowering the authorities and people of Ha Giang to better carry out the prevention and control of COVID-19 epidemics in Ha Giang province.
During a simple ceremony, GNI and the Ha Giang Department of Foreign Affairs have signed a handover agreement, in which the Department of Foreign Affairs has committed to organize and report fully the results of the delivery of medical support included face masks, hand sanitizers, etc. for children and people in the province
Good Neighbors is an international humanitarian development NGO founded in Korea in 1991 and currently working in 40 countries in 5 continents.
In recognition of valuable efforts in providing universal primary education over the world, Good Neighbors was awarded the Millennium Development Goals (MDG) in 2007.
Good Neighbors began operating in Vietnam from June 2005 with project sites in four provinces. Around 11,000 children are sponsored and 200,000 local people have been beneficial from their projects. In December 2019, GNI in Vietnam received the Certificate of Merit from Committee for Foreign NGO Affairs (COMINGO) for their contributions to reducing poverty and promoting sustainable development in Vietnam during the 2014-2018 period.
Last week, GNI in Vietnam also sent medical supplies and relief goods with a total value of over 124 million VND (USD 5.287) to 42 schools in Hoa Binh City, Hoa Binh province./.
Hannah Nguyen