Foreign woman loves Ao Dai, brings Vietnamese silk products to the world
In spite of being born and raised in Europe, Liisi has a special passion for Ao Dai (Vietnamese female traditional dress) and Vietnamese silk products.
The business started from the love for Ao Dai
Liisi Mari (born 1990) was born and raised in Estonia. Liisi's family had been painters for three generations, so she inherited some of that talent.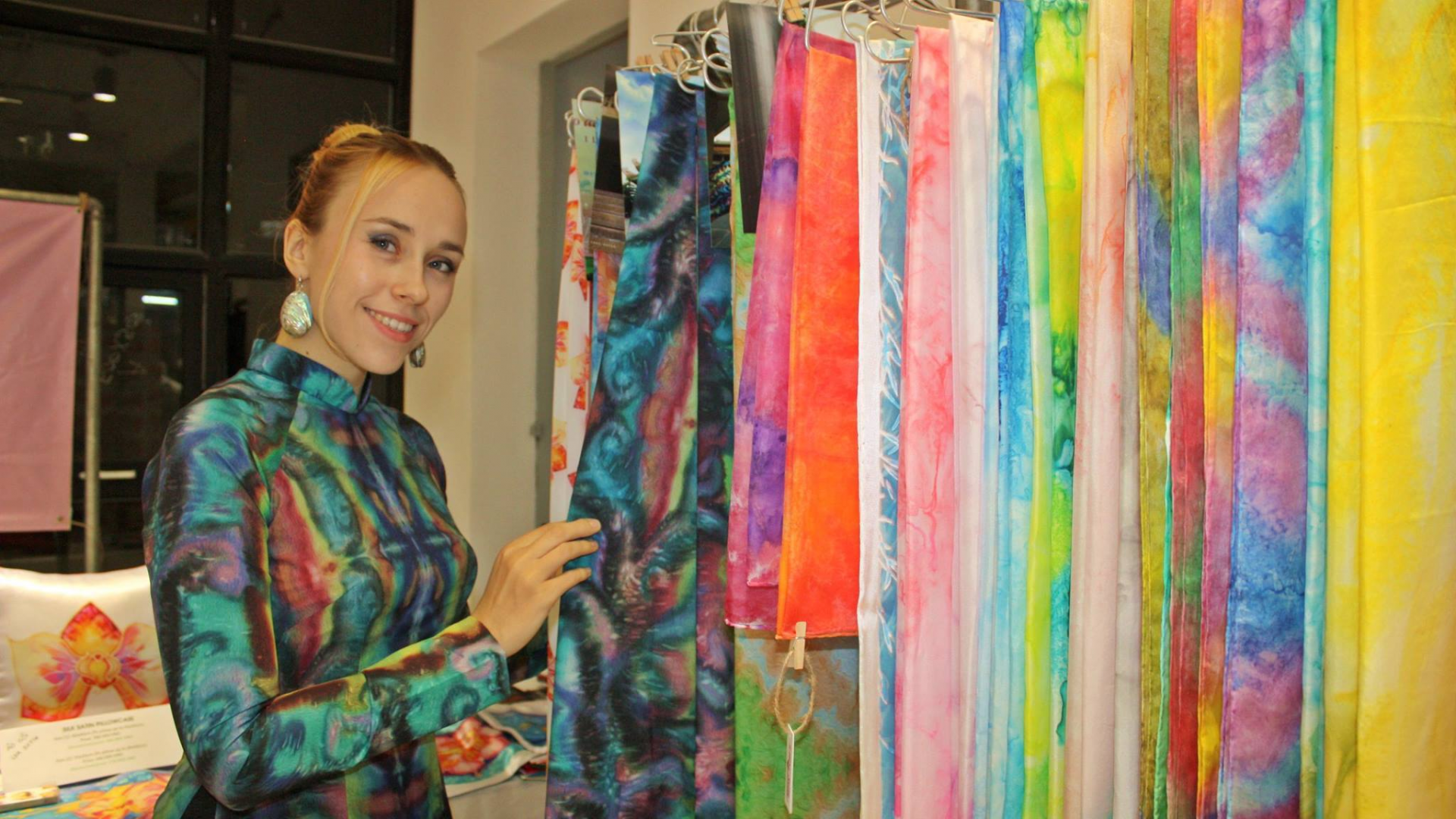 Photo: Vietnamnet
Living in the cradle of art, since childhood Liisi has always been immersed in paintbrushes and canvases. Her favorite technique is drawing on silk.
Later, Liisi graduated from the University of Arts in Estonia and went to Hong Kong (China) to study. Here, she met the man of her dreams and got married to a Vietnamese.
"When we first met, I often shared with my husband Ngoc my hobbies. He said Vietnam is a famous country for its silk. We talked about a lot of things but I was really fascinated when he had the same aspirations," Liisi said.
When she was introduced to Ngoc's family, his mother brought her to a tailor to make an Ao Dai as a gift.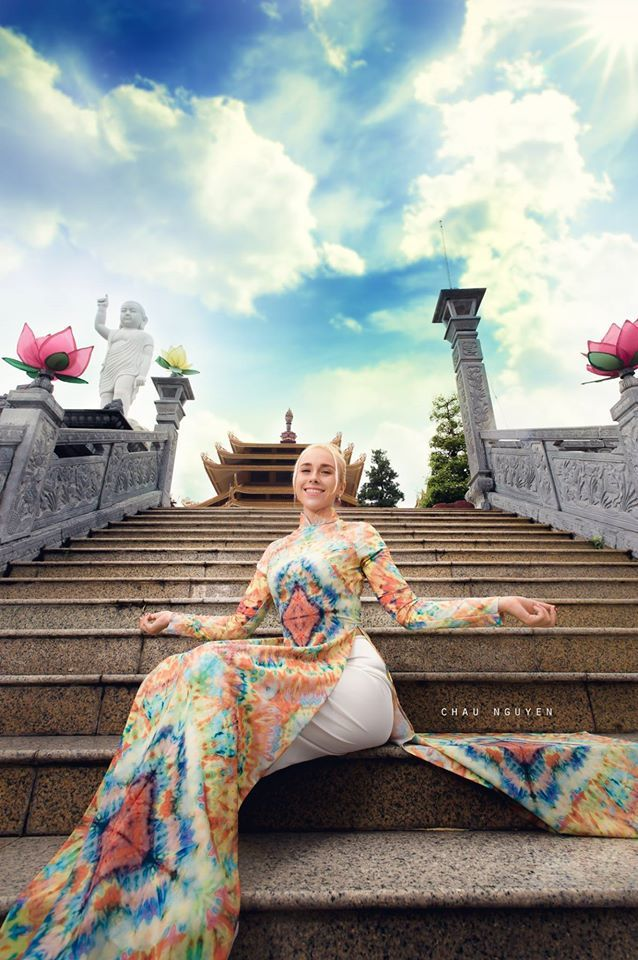 Photo: Vietnamnet
The first time she held the Ao Dai in her hands, Liisi felt a strange sensation. In Liisi's head, the image of paintbrushes dancing on her shirt appeared. Just like that, she was infatuated with Ao Dai in all its magnificence, Vietnamnet reported.
Since then, Liisi has spent most of her time studying silk and Ao Dai.
In 2018, she got married and moved to Vietnam to live with her husband. In addition to painting, Liisi occasionally does modeling work.
Liisi is so "addicted" to Ao Dai that she wears them whenever a special occasion comes up, whether it is Tet or a wedding, or a party.
"Ao Dai contains the essence of national identity. I feel confident wearing them," Liisi said.
Liisi saw that Vietnamese silk had a lot of potential so she started a business in her husband's hometown with her own silk brand.
Liisi's husband was then working for a company with a monthly salary of thousands of dollars but decided to quit his job to cooperate with his wife on the business.
"My husband studied business administration, but I was inclined to art. We have different personalities but have the same orientation and support each other in our work," said Liisi.
According to Liisi, silk is a great material for painting. The natural softness of the silk fibers helps the colors to spread and blend together into attractive new colors.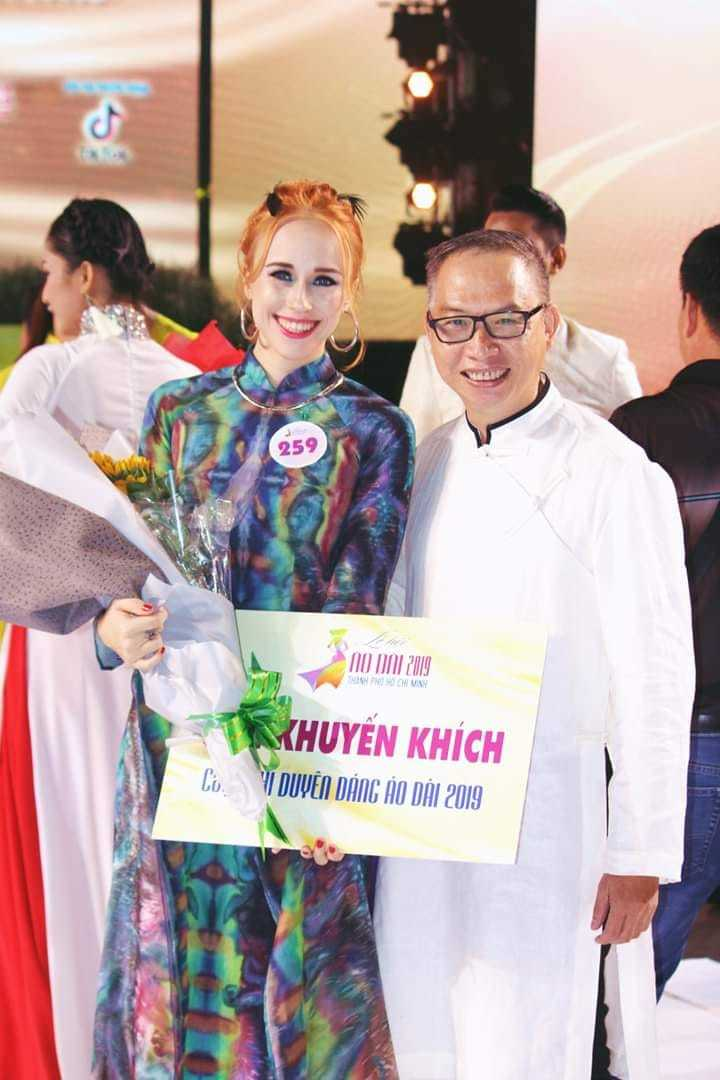 In the contest "Charming Ao Dai 2019", Liisi won 4th place with the Ao Dai she designed. Photo: Vietnamnet
"My products contain my love and passion for silk. The motifs on the Ao Dai are all hand-drawn by me so each set is unique, nothing is mass-produced," Liisi said.
In addition to the Ao Dai, Liisi also developed a hand-painted silk scarf and silk pillows. Just like the Ao Dai, there is only one version for each piece.
In addition to the products drawn by Liisi, the couple also organizes sessions for customers who want to hand-draw the motifs of their scarf or Ao Dai at the sewing factory.
"Painting on silk is an artistic activity that helps people find relaxation, tranquility, stress relief as well as training persistence and creativity," Liisi said.
Bringing Vietnamese silk to the world
The Estonian woman added that, although the business is stable, the couple's silk brand has not officially had a store, but only accepts orders via online form.
In order for customers to choose easily, the couple is using a smart fashion app with a "Try-on" feature - allowing buyers to try on clothes and accessories on models virtually.
After being welcomed by the Vietnamese market, the couple brought "made in Vietnam" products to other countries. However, the distribution stops at retail activities.
According to Liisi, customers in Finland, Estonia, Germany, the US, and China find Vietnamese silk products through the couple's sales page.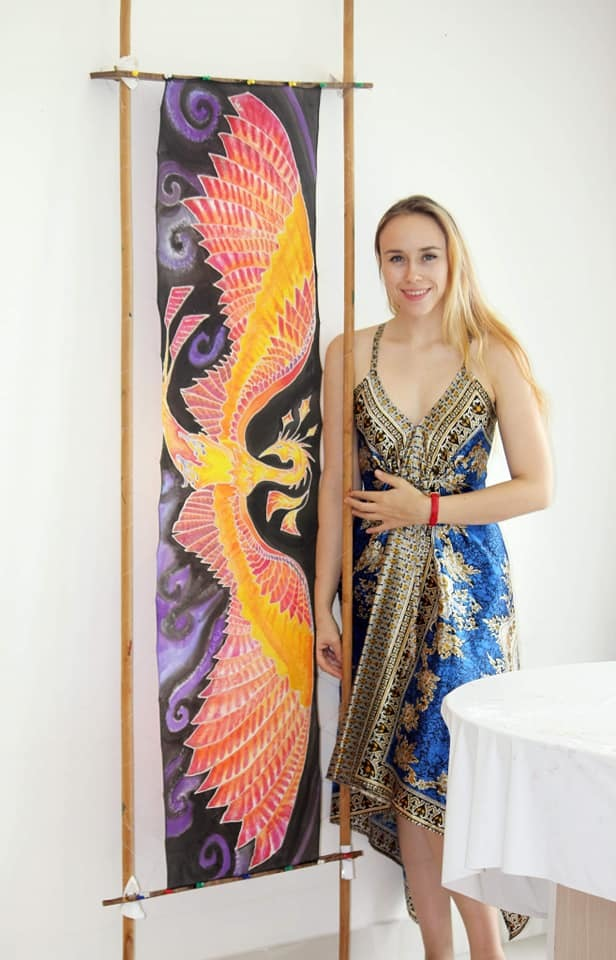 A phoenix silk scarf hand-drawn by Liisi. Photo: Vietnamnet
Mr. Tran Ngoc, Liisi's husband, said that in 2020, the couple intends to export through a large distribution channel, but due to the epidemic, it has been postponed. Currently, this plan has just been restarted. He will focus on exporting to Estonia and Germany.
"Because of limited capital and the lack of conditions to invest in large factories, my wife and I have developed the model of linking, sewing scarves and silk robes with traditional craft villages.
For the standard product line, we order outsourcing. High-end line, exclusive design, we bring them to a small self-production workshop. However, the source of silk fabric must always ensure the standards of Vietnam. Because the foreign market is quite careful," Mr. Ngoc said.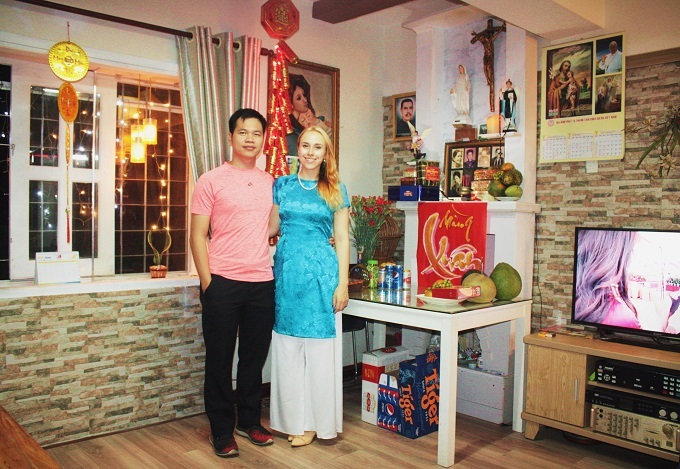 Liisi and her husband introduce the silk brand to the world to promote Vietnamese culture. Photo: Vietnamnet
Mr. Ngoc shared that the couple started a business entirely with their own capital and did not seek funds from others.
The brand name may not be widely developed but the production is there. The quantity of goods is not high but he believes this is a sustainable way to go.
In the beginning, Ngoc and his wife also faced many difficulties in finding markets and approaching customers.
With business knowledge and brand development acquired for many years, Ngoc and his wife promote themselves through social networks. At the same time, the couple brings their products to travel fairs, world consumer fairs, and art shows.
"Silk is woven from insect silk. From this material, we can create many different fabrics, shiny like satin, rough like linen and burlap, hard like organza, etc", the owner added.
People often consider silk as a glossy fabric, loose and not for the young, but this material can be used for all ages, different in color and design.
Liisi said the developing the silk brand is not simply a business. The main purpose is to promote Vietnamese traditional culture and elevate products to art.
"My husband and I are determined to move around and live in both countries - Vietnam and Estonia. So, everyone has the opportunity to be close to their family. In the future, I plan to open a representative office in Estonia. My mother also likes Vietnamese silk products," said Liisi.
The story of Ao Dai
The story of the Ao Dai starts in 1744 when Vietnam was divided into two territories, the Inner Land (Đàng Trong) and Outer Land (Đàng Ngoài.) To distinguish his people, Lord Nguyễn Phúc Khoát of Inner Land asked his subjects to wear a front-buttoned gown with trousers. This five-part dress (áo ngũ thân) was the inspiration for the modern áo dài. Royals and elites made their dresses from the finest silk, with intricate details and vibrant colors to represent rankings in court, according to Vietnam. travel.
In the 1930s, the dress was simplified into two parts by Vietnamese artist Le Mur Nguyễn Cát Tường. The front flap was extended to reach the ankle, and the form became more fitted. As with many 'westernized' ideas, the style was only reluctantly received at first. However, after Le Mur designed an Ao Dai collection for Queen Nam Phương, wife of Vietnam's last Emperor Bảo Đại, urban women started to embrace and popularize the more contemporary style.
After the establishment of the Democratic Republic of Vietnam, Hồ Chí Minh penned an essay in 1947 noting that the Ao Dai was not fit for the fields or the factory, asking Vietnamese to adapt their attire to be more efficient for work. As a result, the Ao Dai became a dress saved for professional appearances and special occasions. Nowadays, across the country, female high school students are required to wear the dress for at least one day a week. Girls in white Ao Dai riding their bicycles to school have inspired many Vietnamese songs, poems, and paintings. The Ao Dai is also worn by ladies of all ages whenever it's time to make a good impression.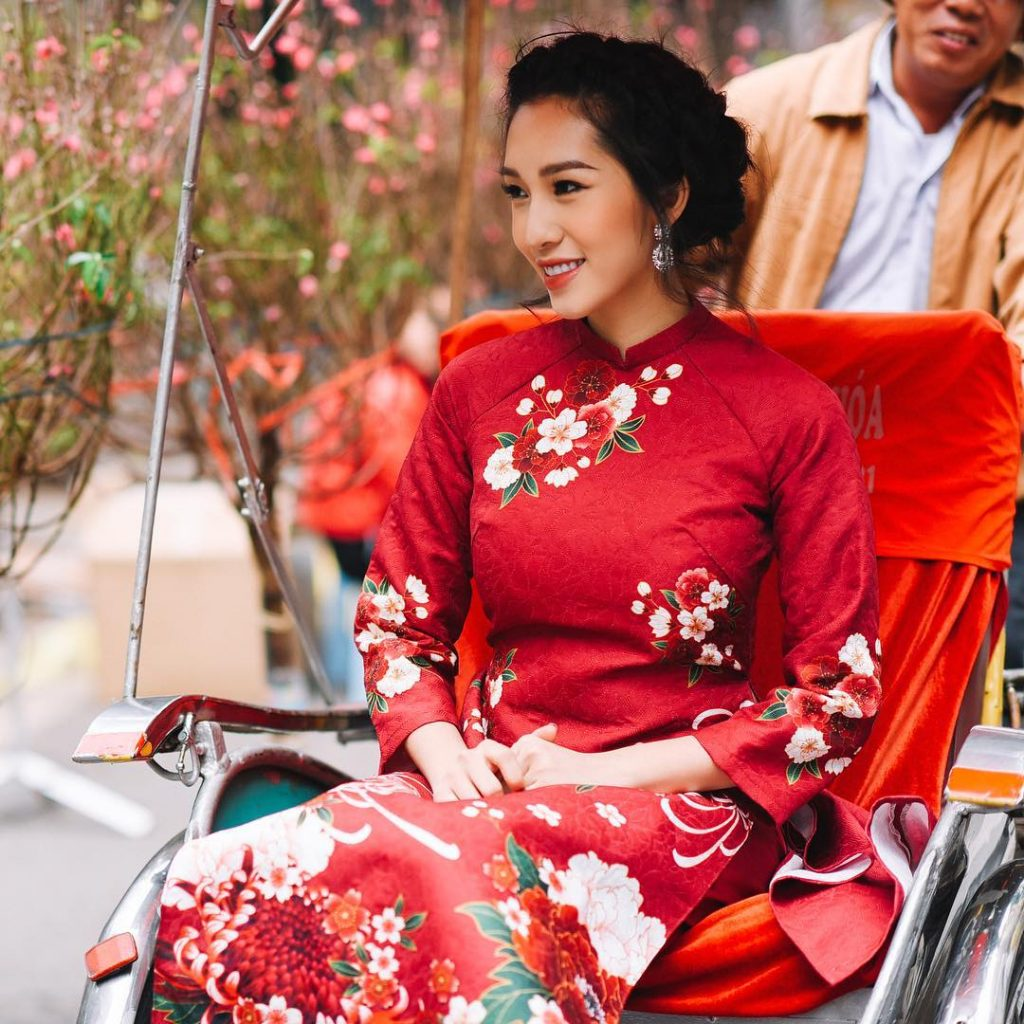 Photo: Kenh14
The role of Ao Dai in Vietnamese People's life
Vietnamese dresses are both traditional and modern. Therefore, women can wear Ao Dai anywhere, for office wear, school uniforms, outerwear, or formal wear at home. The wearing of this dress is not frivolous or sophisticated, things are simple to wear: wear with silk pants or soft cloth, at the foot of comedy, clogs, or whatever shoes are. If you need a formal (such as bridal attire), add a traditional cape or blouse, or a Western crown as you like. The modern Ao Dai (modern Ao Dai) seems to have its own way of honoring everybody. The upper part hugged the body but the two flaps let loose on the wide pants, said Journeyonair.
The pair of lice saw on the waist makes the gesture of the wearer comfortable, the shape of the body, the feminine, just closed because the whole body is covered with soft silk, and also sexy because of the shirt. Exit to live waist. The modern one shows your personality highly. The tailor gets the measurements carefully. When the garment finishes, it is time to put on a new one.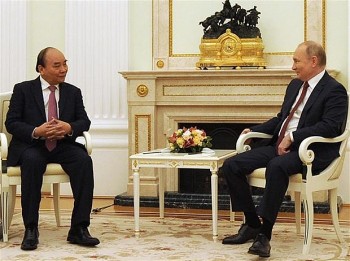 National
An article in Russia's independent newspaper focused on the Vietnam-Russia relationship and the significance of President Nguyen Xuan Phuc's visit to Russia from Nov. 29 to Dec. 2.