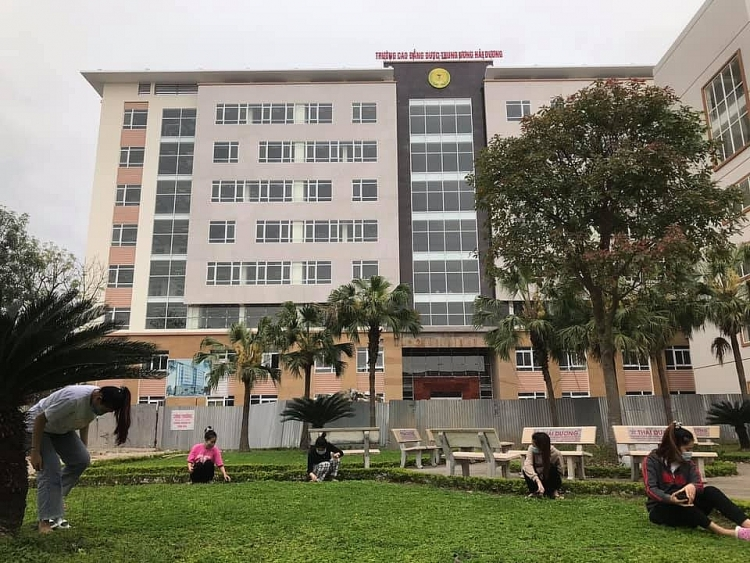 Five Lao students volunteered to join the anti-epidemic team. Photo: Thoi Dai.
There are five Lao students at the Hai Duong Central College of Pharmacy. They are all final-year students, very fluent in Vietnamese and have affection for the country and people of Vietnam in general and Hai Duong in particular.
This year, given the complicated development of the Covid-19 pandemic, they could not return to their country; so, they stayed in Vietnam to celebrate New Year and enrolled in the school's anti-epidemic volunteering group.
Mainitsone Sysavang said "I have been to Vietnam for more than three years. This year, due to the Covid-19 epidemic, I could not come back to my home country. However, I had the chance to experience Vietnamese traditional New Year."
Photo: Thoi Dai.
"The traditional New Year holidays of Vietnam and Laos have many differences. Lao people celebrate the traditional New Year in April with the Water Splashing Festival. Meanwhile, the Vietnamese Tet falls right in January of the lunar calendar, which serves as an opportunity for family members to reunite and extend best wishes to each other. I am extremely happy and touched to receive New Year wishes and lucky money from my school", Noknoy Kingthongphet said.
As for TeakTa Inthavong, the things that she likes most about Vietnamese Tet are peach and apricot blossoms and radiantly-decorated roads. TeakTa Inthavong said she likes to eat Banh Chung (Chung cake) and spring rolls most, adding that she would cook these dishes for her family when returning home.
Taking about the willingness to take part in the anti-epidemic group, all five Lao students said that this action derived from their special sentiment for Vietnam in general and Hai Duong province in particular.
Malie Nguyen