Family of 4 generations sewing Ao Dai in Hanoi Old Quarter: From rusted sewing machine to a famous brand
Mrs. Le Thi Quyen, 80 years old, began learning to make 'Ao dai' at the age of 12. She opened her own tailor factory when she was 40 years old and has created tens of thousands of ao dai bearing the heirloom brand, which is very famous in Hanoi.
Mrs. Le Thi Quyen, born in 1940, is known as the last woman to keep traditional Ao Dai sewing in Hanoi Old Quarter. When it comes to "Ao Dai Luong Van Can", Mrs. Quyen seems to be familiar with the names and titles that people have given her for decades.
Over 70 years with ups and downs of life, the changes of the town and the tailoring profession, the "career blood" in the old man is still preserved, even more earnestly. When talking about the sewing profession, about how she has linked her life with this traditional profession, the old lady sincerely shared her enthusiasm.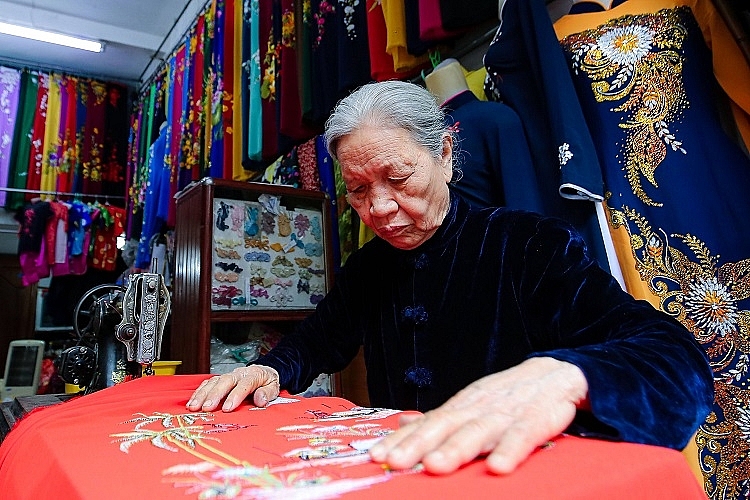 Photo: danviet.vn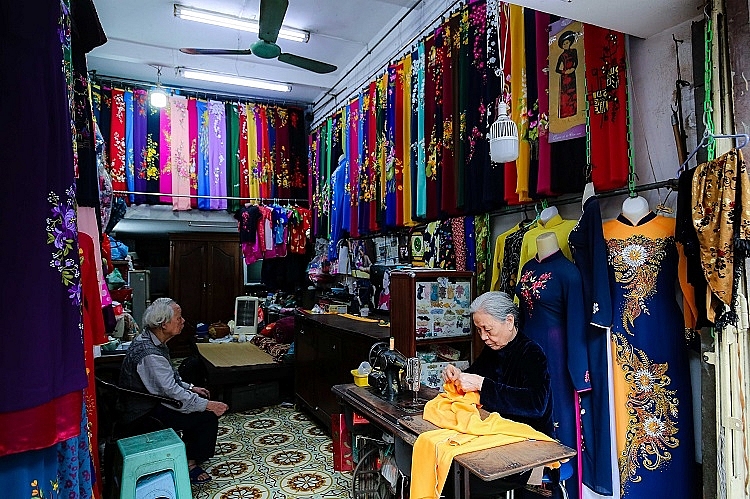 Photo: danviet.vn
Mrs. Le Thi Quyen originally came from Trach Xa village, Ung Hoa District, Hanoi. This is one of the places being famous for sewing traditional Ao Dai for hundreds of years.
Learning how to sew Ao Dai at the age of 12, Ms. Quyen said: "My father was a strict person, when he taught me, he gave strict requirements. If I could not meet them, I would be fined very heavily. Even just sitting in the wrong position while stepping on the sewing machine, I was beaten. From there, I learned to be careful and meticulous. I must be always careful with even a small detail ".
Photo: danviet.vn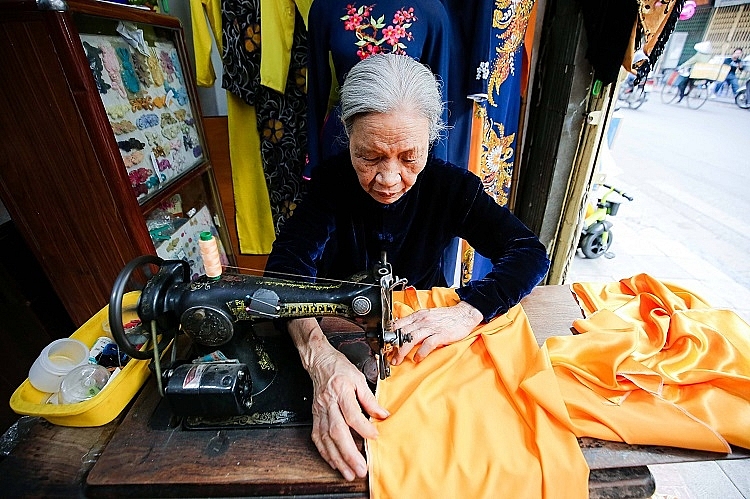 Photo: danviet.vn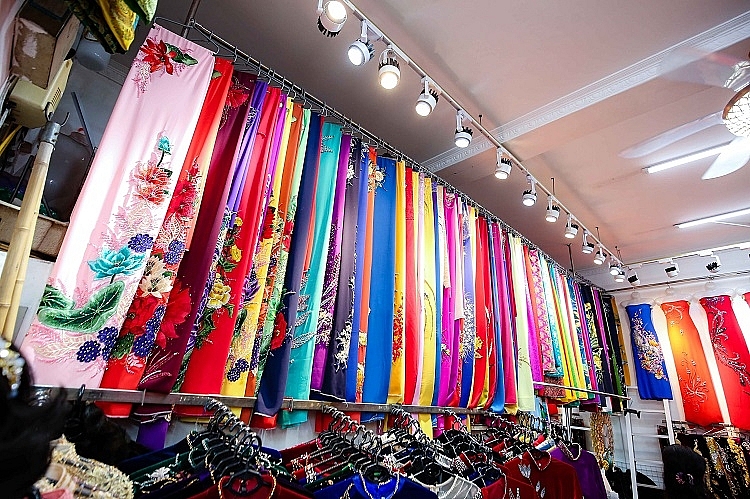 Photo: danviet.vn
Ms. Quyen is one of the first people who brought Ao Dai from Trach Xa to establish a career in Luong Van Can street (Hang Trong, Hoan Kiem, Hanoi).
When Hanoi was dominated by France In the early 50s, the bourgeois demand for dress was strongly influenced by the Europeanization trend. The Ao Dai became a trend that affirms the elegance and charm of Ha Thanh male and female. That day, she followed her father to each client's family to sew clothes for them. It could take them even a week.
In those years, the tailor shop did not have the fabric or ready-made clothes as it is now. Whenever people wanted to make clothes, they often bought fabrics from Indian shops and then called tailors to come to their house. With her dexterity, Ms. Quyen became famous and her name was popularly known by modern ladies along the streets of Hang Dao, Hang Ngang.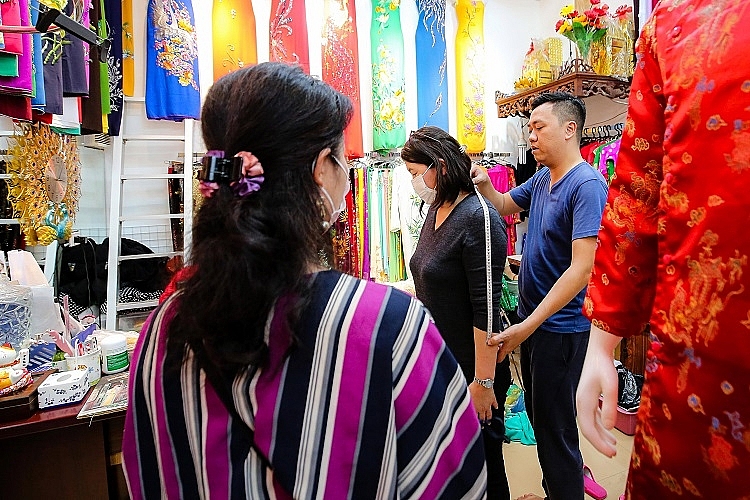 Photo: danviet.vn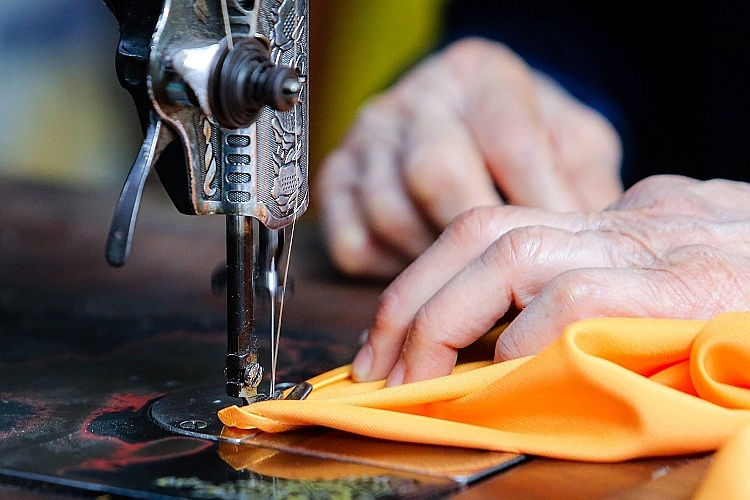 Photo: danviet.vn
Photo: danviet.vn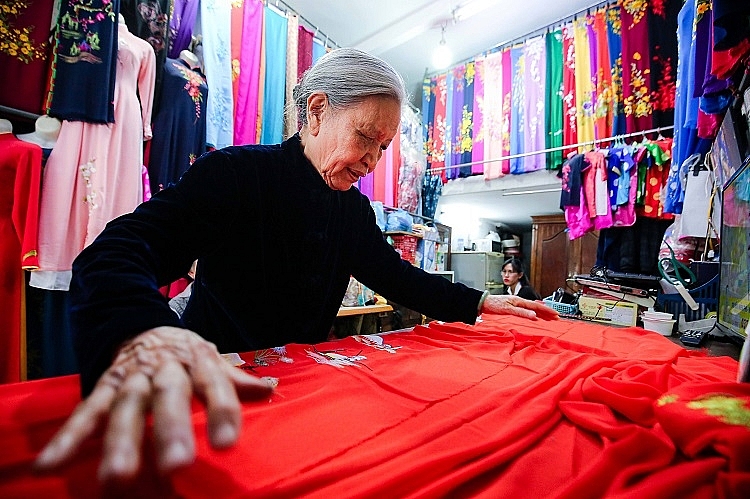 Photo: danviet.vn
According to Mrs. Quyen, the craft of making Ao Dai by hand requires tailors to persevere meticulously and precisely in every small detail. Her own "recipe" dress must be made entirely by hand, from measuring, cutting to sewing.
Nearly 70 years with the Ao Dai sewing profession, Mrs. Quyen witnessed many changes in the sewing profession as well as the traditional culture of wearing ao dai. Nowadays, the variety of designs, materials, the improvement in design gives customers many options, but at the same time, it is also a difficult challenge for longtime sewing tailors like her.
At the age of 80, Mrs. Quyen still devotes to her career every day. "The standard of beauty with ao dai is infinite, I just hope my customers can own the most complete and suitable ones", she shared.
"Sewing for people, to sew better for yourself" - That is the top criterion of the over 80 year old tailor.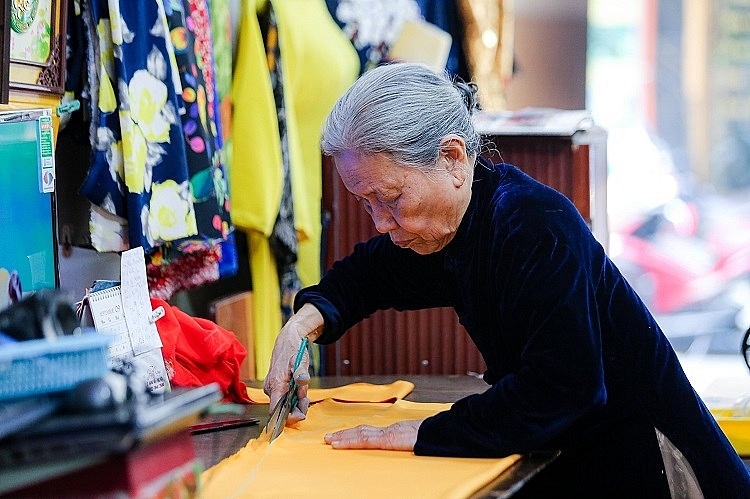 Photo: danviet.vn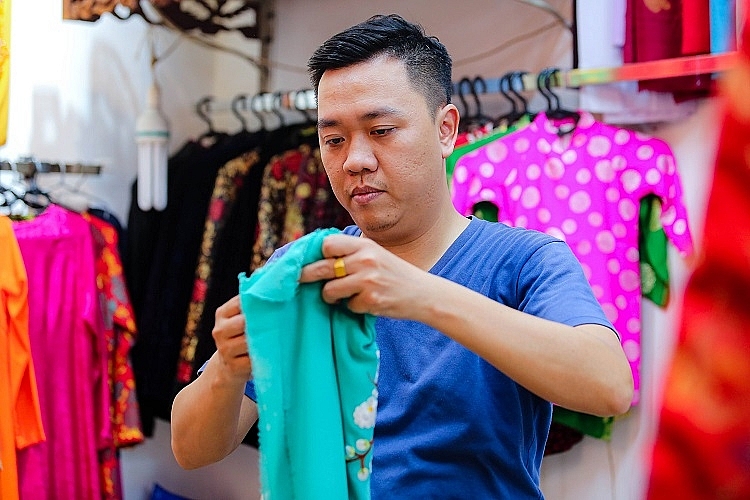 Photo: danviet.vn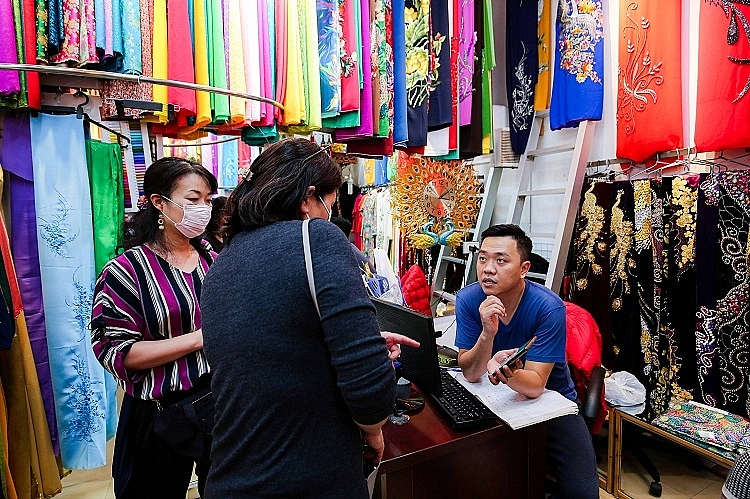 Photo: danviet.vn
Mrs Quyen has 7 children and all of them are bracing for Ao Dai sewing. From a rusty sewing machine, thanks to decades of accumulation and innovation Mrs. Quyen and her husband, together with the 4th generation, have built a famous brand of tailors throughout Luong Van Can street, and throughout Hanoi.
Currently, the price of a tailor-made Ao Dai at Mrs. Quyen's shop ranges from 700,000 VND (30.36 USD) to 1,500,000 VND (65.07 USD) per set depending on different materials and designs.