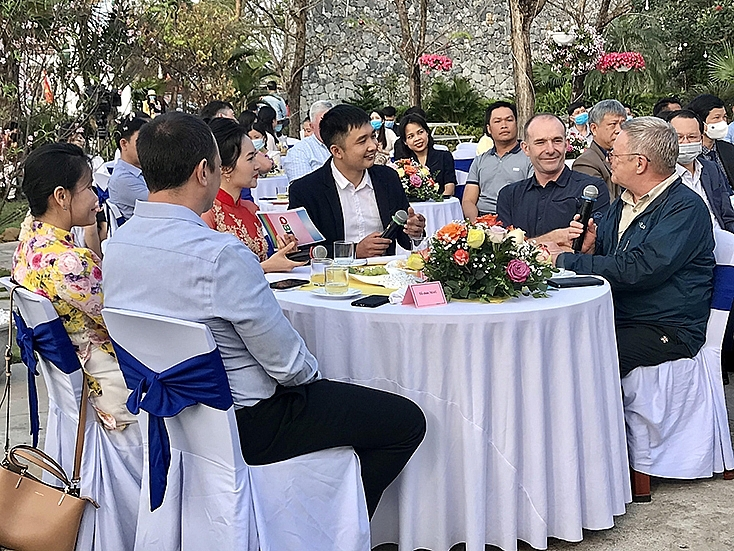 Foreign experts share impressions about the Tet holiday in Quang Binh and plan to promote Phong Nha-Ke Bang. Photo: Quang Binh newspaper.
The program saw the attendance of Vice Chairman of Quang Binh People's Committee Ho An Phong, leaders of relevant departments, branches, and units, the world's leading experts in caves who work in the Phong Nha Ke Bang National Park, Cuban doctors who work at Vietnam- Cuba Friendship Hospital in Dong Hoi, Lao students at Quang Binh University along with experts from Foreign Direct Investment enterprises in the locality.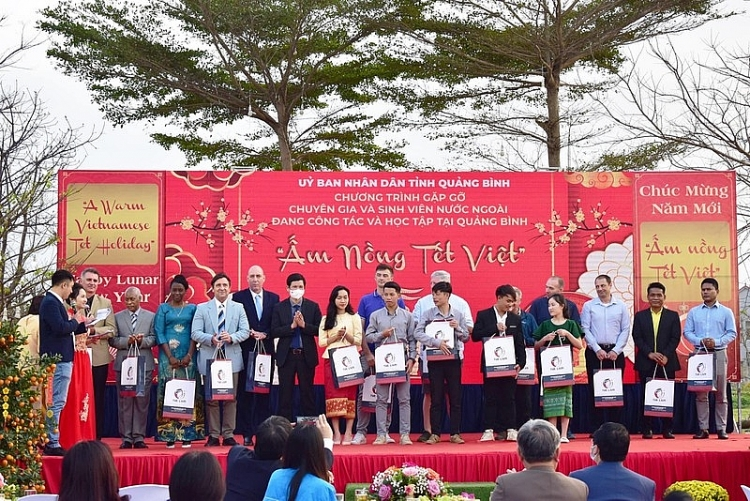 Presenting Tet gifts to foreigners in Quang Binh province. Photo: Phapluatvietnam.
In 2020, given the complicated development of the COVID-19 epidemic, many foreigners working and studying in Quang Binh province could not return to their home countries. Wanting to bring foreigners experiences of Vietnamese traditional New Year, the Provincial People's Committee directed the Department of Foreign Affairs to coordinate with the provincial Radio and Television Station to organize the exchange program "Ấm nồng Tết Việt" (Warm Vietnamese Lunar New Year).
The delegates viewed art performances as well as newspaper reports about their activities before, during, and after Lunar New Year which is associated with the typical culture, cuisine, and customs welcoming Tet in Quang Binh.
Vice-Chairman of the Quang Binh People's Committee Ho An Phong and Cuban doctors exchange arts with singers of Quang Binh Traditional Art Delegation.
On this occasion, foreign experts and doctors also shared the similarities as well as differences in the customs of welcoming the New Year between Vietnam and other countries; impressions, wonderful memories, and the reasons why they decided to stay at Quang Binh for a long time. The delegates had also the opportunity to experience the Vietnamese traditional New Year with Lao students at Quang Binh University.
The event served as an occasion for foreigners in Quang Binh to get a closer insight into the life, the traditional cultural features as well as the customs of welcoming the New Year of Vietnamese in general and Quang Binh people in particular. At the same time, it clearly showed the hospitality of the authority and people of Quang Binh province, thereby, strengthening the traditional relationship, solidarity, the friendship between Vietnam and other countries.
Malie Nguyen