Tet flavor in the Mekong Delta
Photographer has captured the most peaceful and colorful Tet moments in the Western region of Mekong Delta.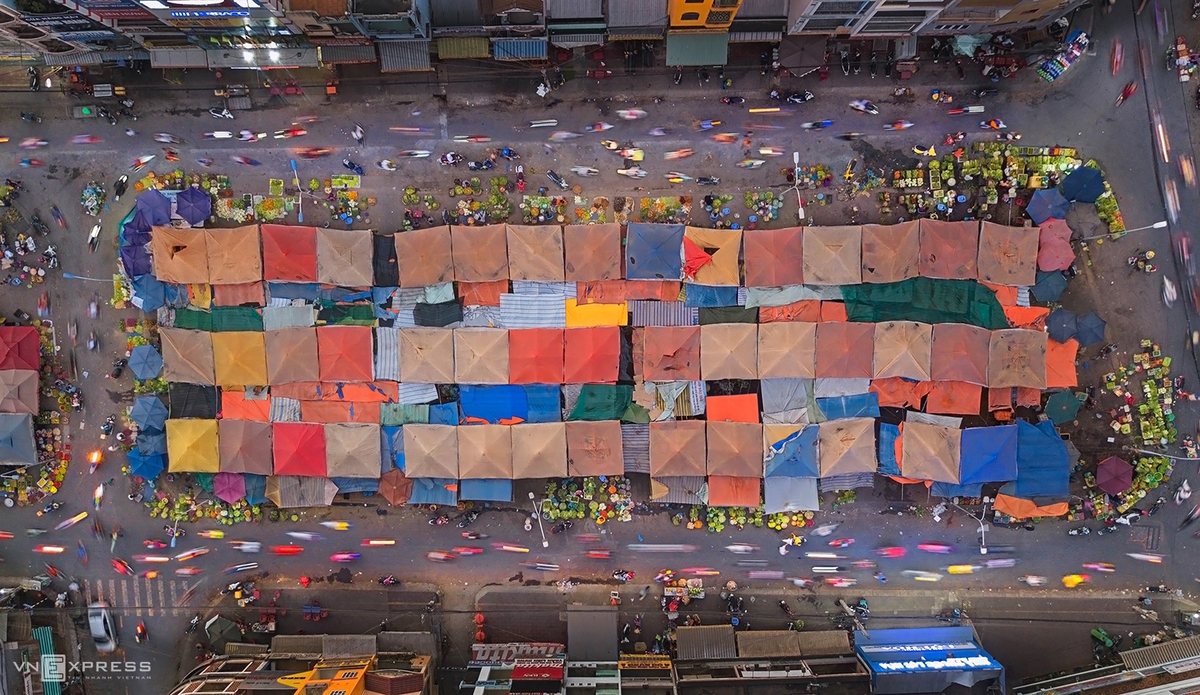 (Photo: VNE)
The photo series "The flavors of Mekong Delta" was taken by photographer Tran Thu An, 28 years old, during his journey to discover the rhythm of daily life and Tet holidays in Soc Trang, Hau Giang, Can Tho.
The photo captures a bird-eye view of a market in the center of Soc Trang province, with patches of colorful umbrellas lining closely, one after another. The market operates from dawn till late afternoon, offering a full selection of foodstuff and daily necessities such as fabrics, home appliances.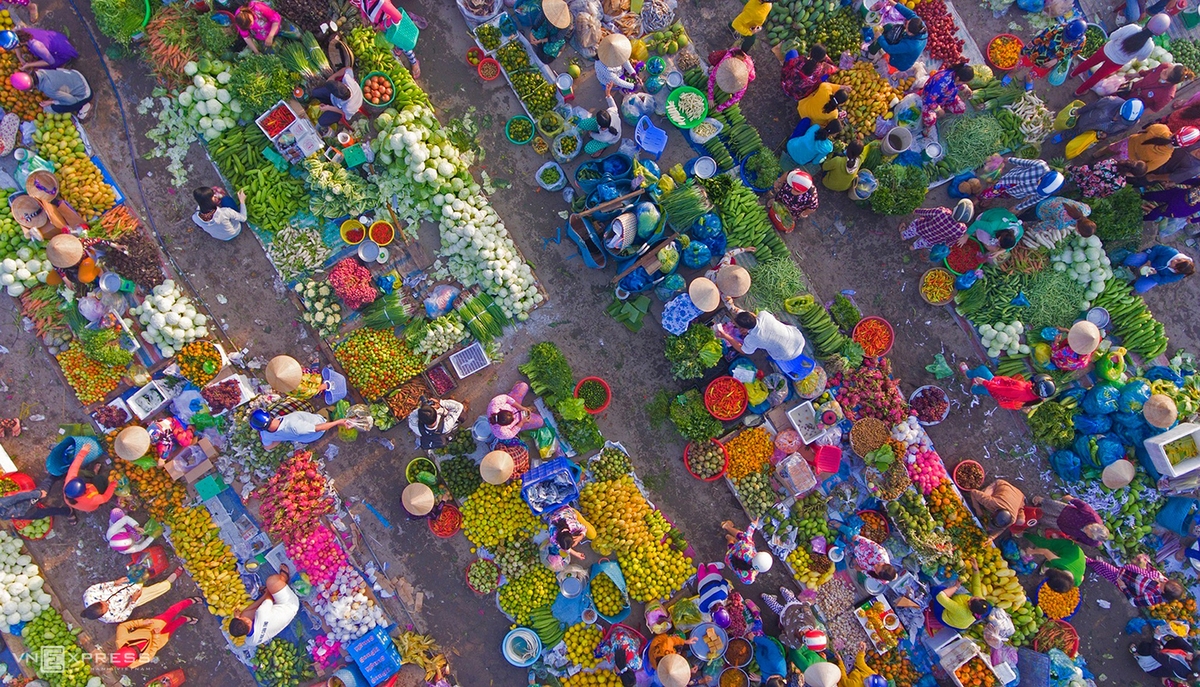 (Photo: VNE)
Thanh Vi market, Hau Giang province, boasts its own special features that no other markets can have. Lying at the heart of the city, its atmosphere in the days leading to Tet is bustling, with an abundance of produces, flowers and flocks of patrons.
Each seller has a fixed place stretching from 2 to 4 meters square, goods are placed around their set. Stalls keep lining up, fill up the market, leaving only small alleys for pedestrians.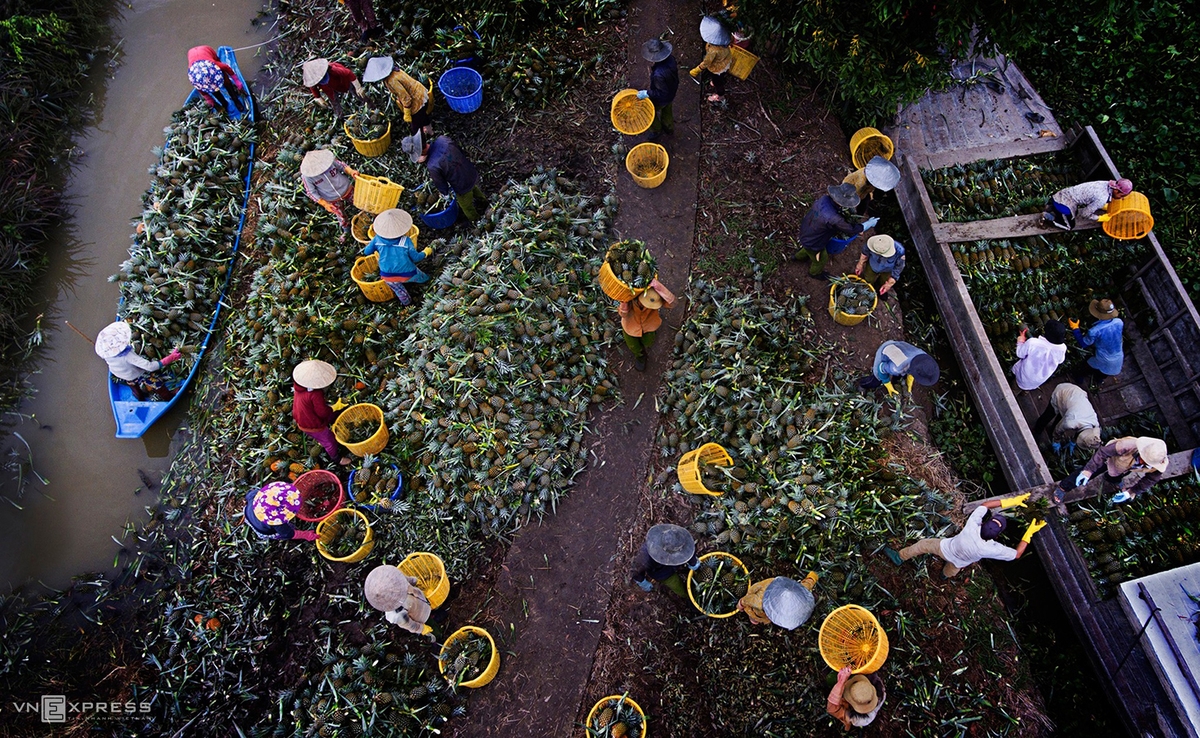 (Photo: VNE)
Locals harvesting on Cau Duc pineapple. The fruit's name comes from the name of the nearby bridge which runs over Cai Lon river, connecting Hau Giang and Tien Giang province. Cau Duc bridge was built in 1930, as reported by VNE.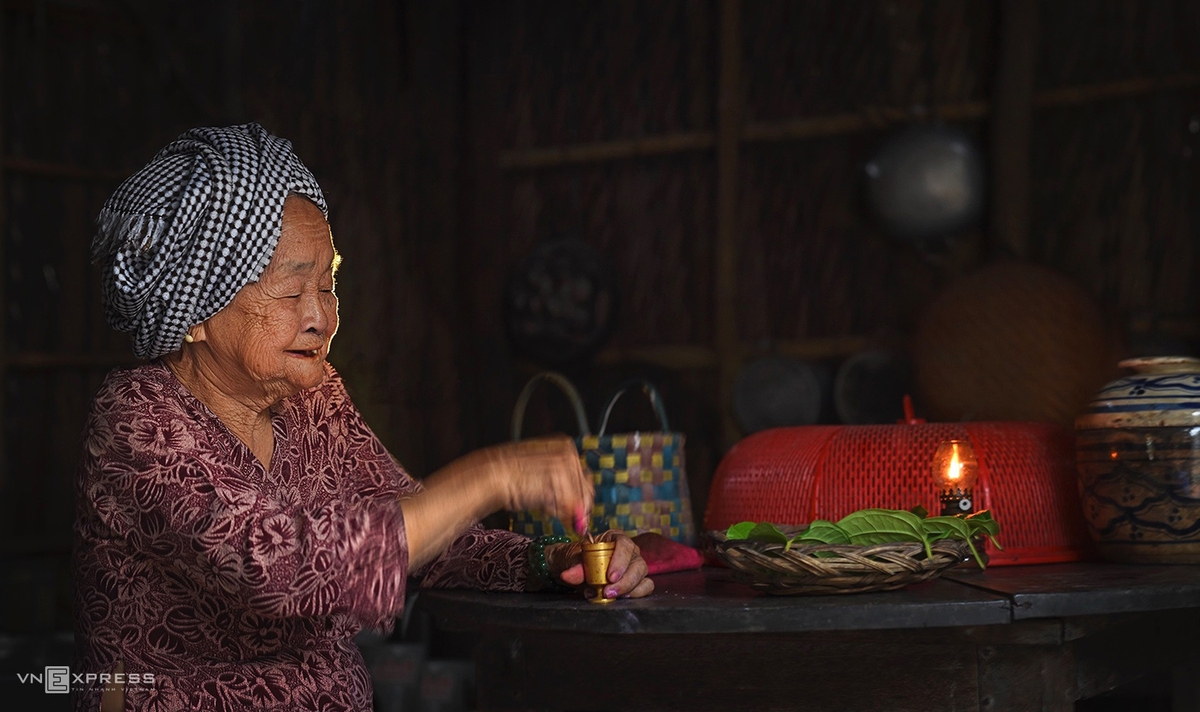 (Photo: VNE)
Mrs. Ut is making a new betel and areca batch for the New Year. Chewing betel is not only a habit of many old Vietnamese women, it is a deep-rooted traditional cultural value for generations of Vietnamese people.
Betel and areca are always placed at the most solemn position on the altar along with other offerings. A beautifully-shaped set of betel and areca is believed to usher in good fortune and well-being in the new year.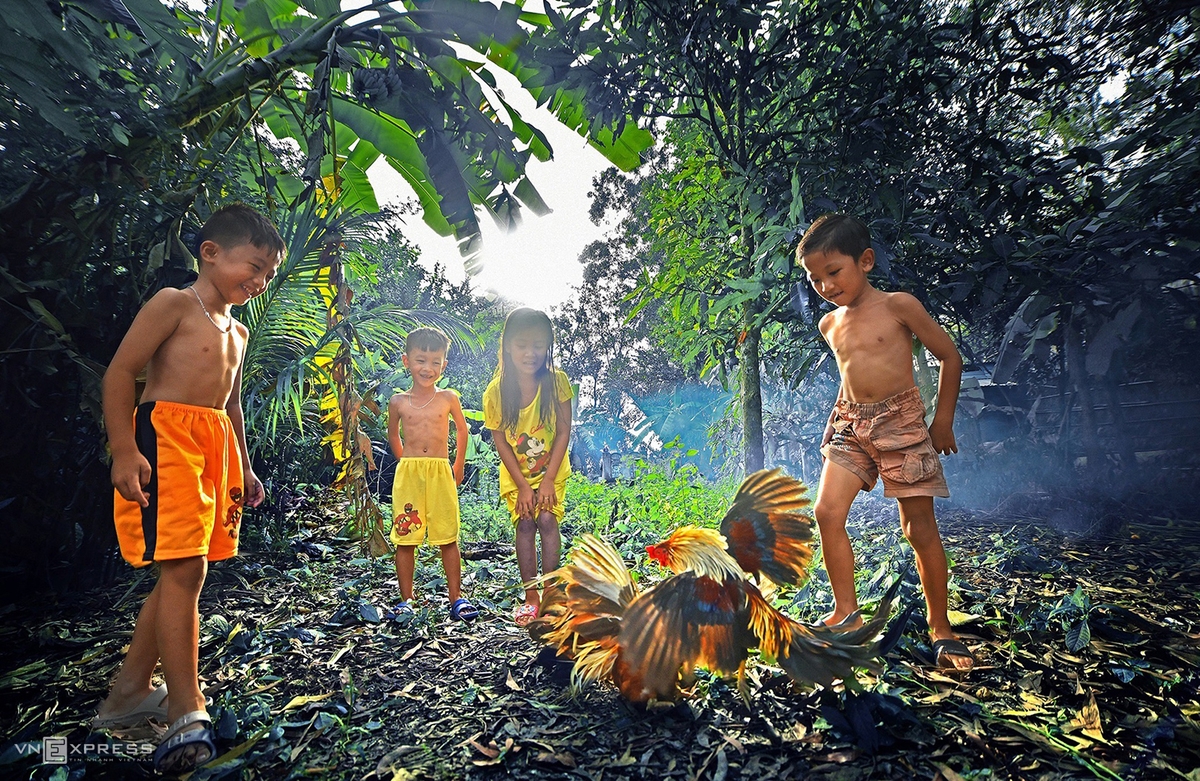 (Photo: VNE)
Cockfight, a folk game of countryside people, has been playing by generations of Vietnamese people. A cockfight is always the center of attention drawing locals, especially during Tet holiday.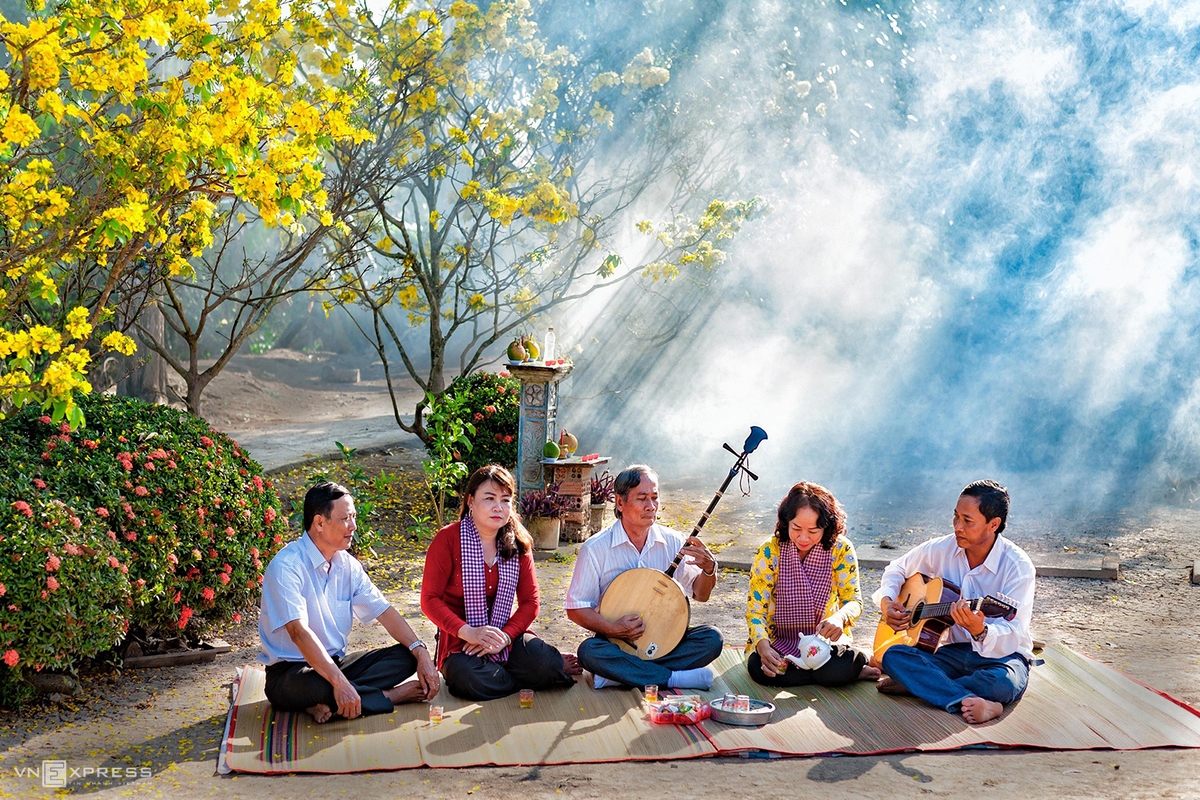 (Photo: VNE)
Local artists at Hau Giang province performing the Southern amateur music. The genre is often played on festive occasions, including Tet. Though contemporary music takes a big share in current music industry, the small show of Southern amateur music proves its strong vitality.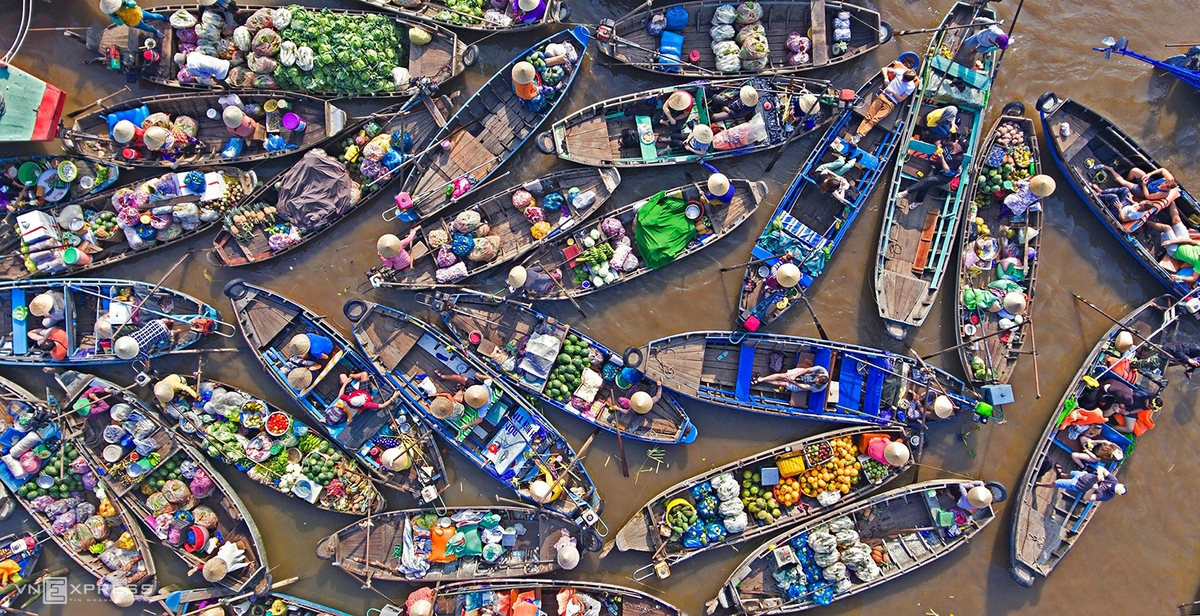 (Photo: VNE)
Phong Dien floating market is more crowded than usual as Tet is drawing.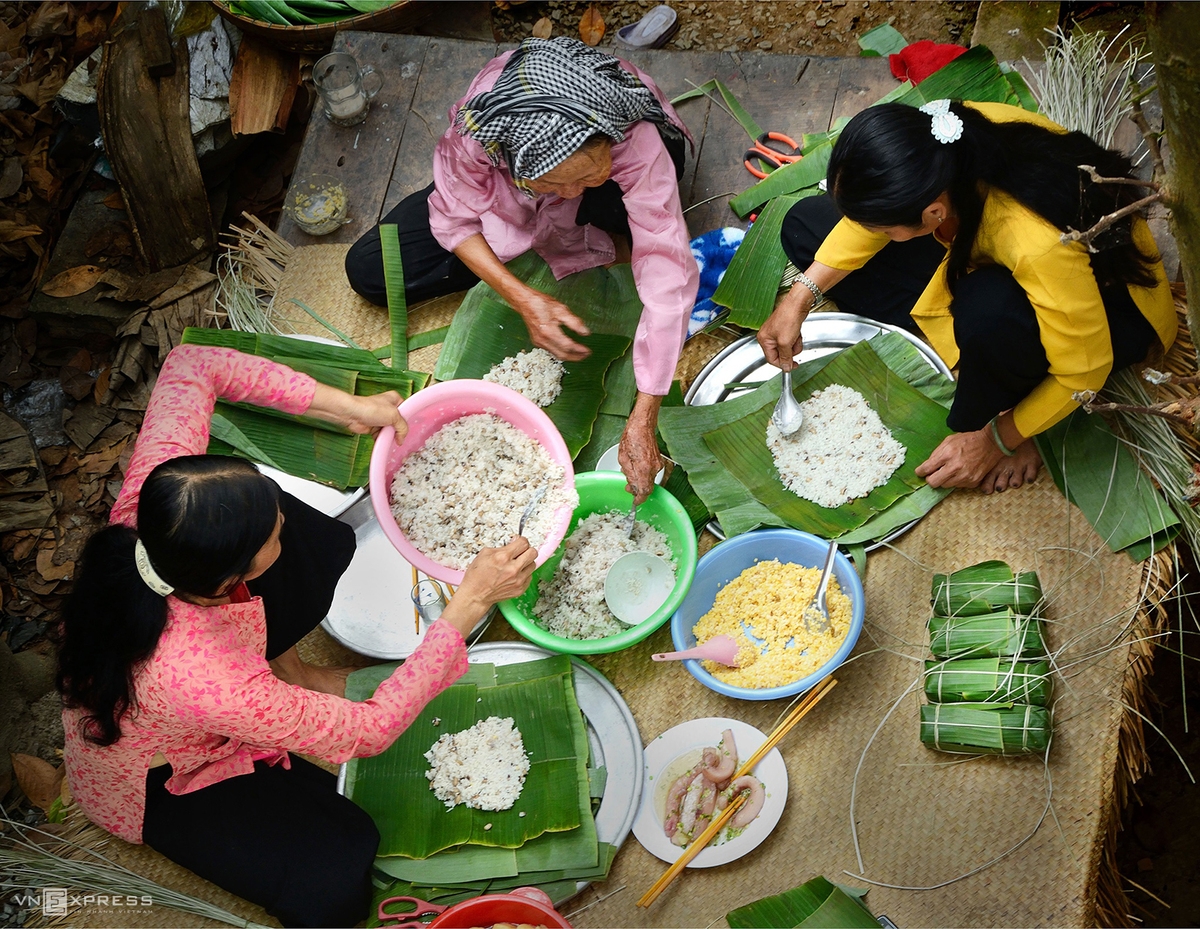 (Photo: VNE)
Hai family gathers to make Tet Cake (cylindrical sticky rice cake). Like Chung cake in the northern, Tet cake is a must-have offering on Tet. It symbolizes the typical Tet values of Southern people.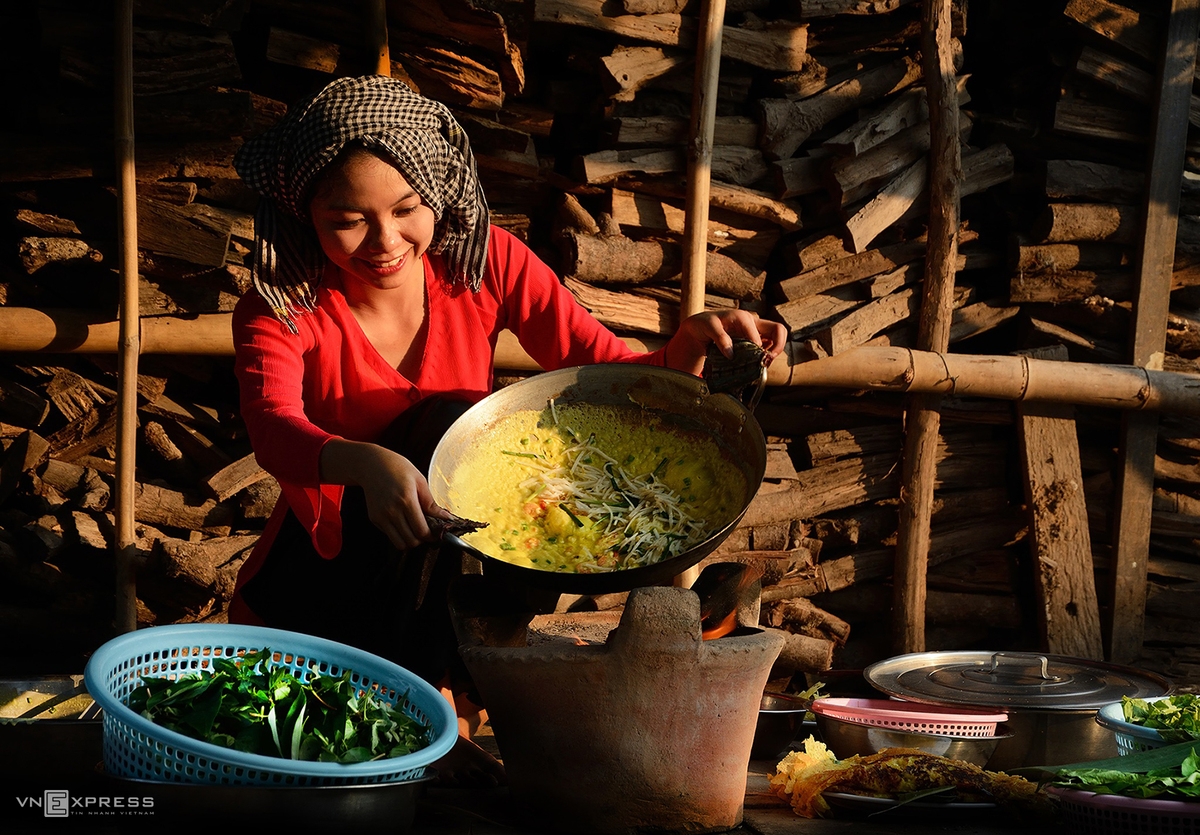 (Photo: VNE)
A Tay Do girl dressed in a Ba ba uniform making banh xeo - Vietnamese pancakes. The Western dishes are filled with shrimp, bean sprouts, served with broccoli, lettuce, fish lettuce, herbs, sour slices of star fruit or pickled rice.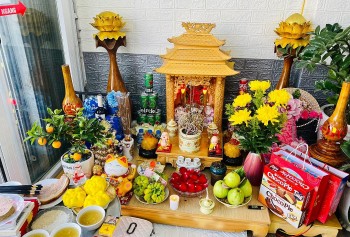 Handbook
Learn more about an ancient Vietnamese tradition that may bring you good fortune!