Vietnamese community in India gathers for Tet late due to Covid-19
The Vietnamese Embassy in India held a meeting with overseas Vietnamese in India on February 20 to celebrate the Year of Buffalo 2021. Given the complicated development of Covid-19, the meeting took place later than in previous years. Nevertheless, the cozy atmosphere along with the Embassy's care helped Vietnamese ex-pats to reduce their nostalgia for the home country.
At the meeting, Vietnamese Ambassador to India Pham Sanh Chau extended New Year wishes from the Party General Secretary, State President Nguyen Phu Trong to the Vietnamese community in India, hoping them to surmount the challenges caused by the epidemic, unite, mutual support and actively contribute to stepping up cooperation and people-to-people relations between Vietnam and India.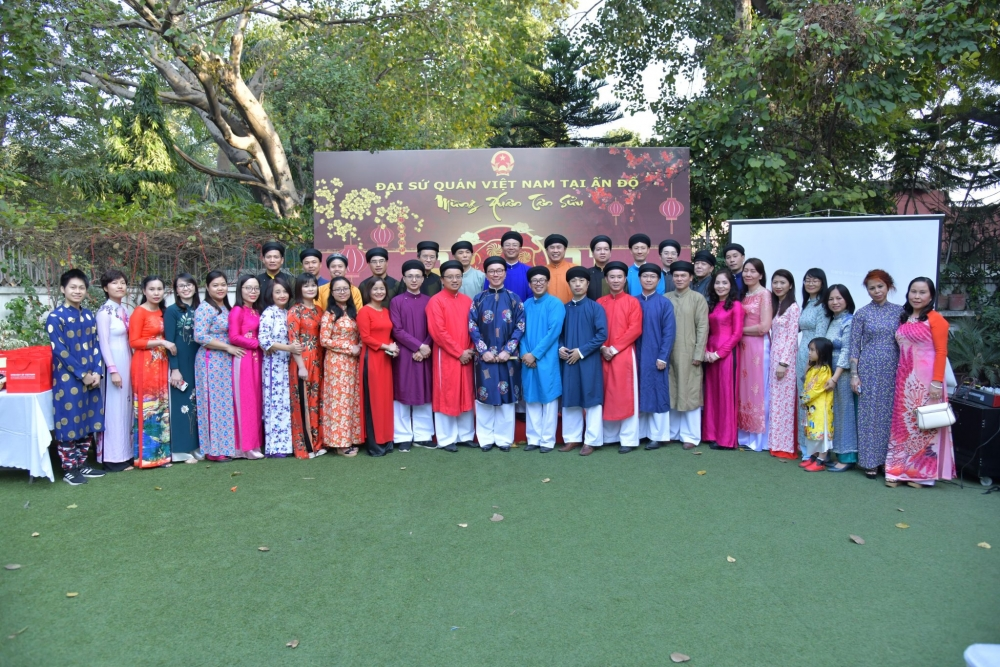 Overseas Vietnamese in India and Vietnamese Ambassador to India Pham Sanh Chau pose for a group photo. Photo: the Vietnamese Embassy in India
On the occasion of New Year, Ambassador Pham Sanh Chau shared his elation with overseas Vietnamese, congratulated and honored the staff of the Vietnamese Embassy in India for their efforts in excellently fulfilling their tasks, contributing to further promoting the Vietnam-India ties despite the impacts of the Covid-19 pandemic.
In the context of an Embassy's officer and family members infecting with the novel coronavirus, people stayed calm and united to overcome difficulties and continue with work. Given the complex situation of Covid-19, the Embassy rapidly shifted to organizing activities in online forms as well as incorporating a variety of methods to maintain and foster the relations between Vietnam and India.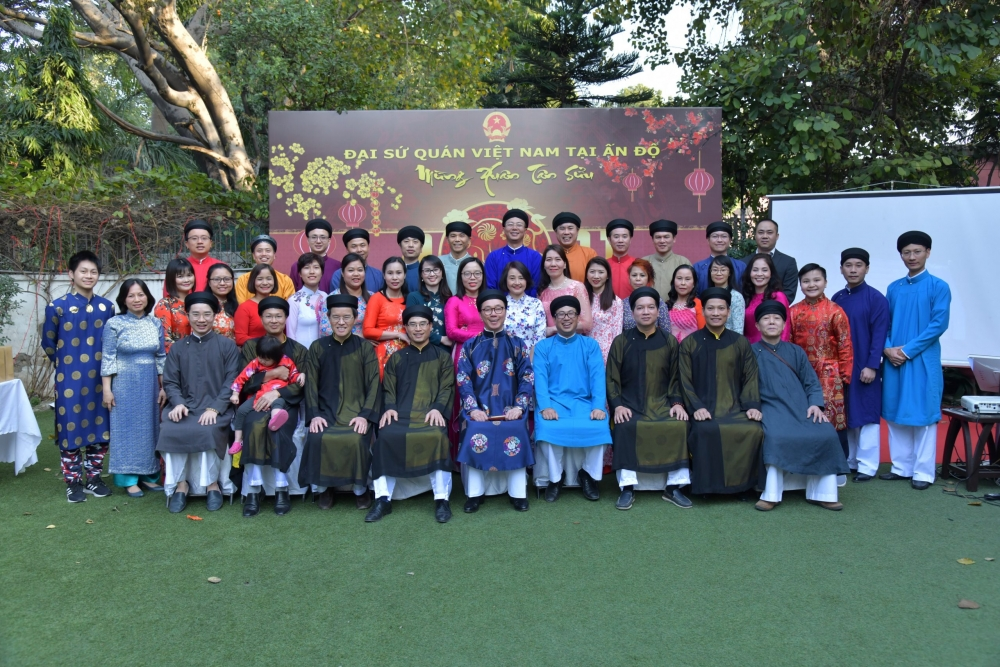 Photo: the Vietnamese Embassy in India
Hence, in 2020, the Vietnamese Embassy in India has accomplished a lot of great responsibilities, especially deepening the Vietnam-India Comprehensive Strategic Partnership, as reflected by the visit of Vice State President Dang Thi Ngoc Thanh to India (February 2020), the virtual summit between the two Prime Ministers (December 2020) and the 17th Meeting of the Joint Commission on Economic, Commercial, Scientific and Technological Cooperation co-chaired by the Deputy Prime Minister and Foreign Minister Pham Binh Minh and Indian Minister of External Affairs Subrahmanyam Jaishankar (August 2020), etc.
At the meeting, officials and staff of the Embassy also reviewed achievements in 2020 and drew up plans for the New Year 2021.