Four must-try raw fish salads from Vietnam's sublime coastline
Each coastal area in Vietnam has its fish that can be made into a raw salad. Read on to find out some of the most delectable specialties made with raw fish in coastal Vietnam.
Sardine salad
Raw sardine salad (gỏi cá trích) is a traditional dish on Phu Quoc island. A favorite amongst tourists, it is considered a must-try in Kien Giang province's famous tourist destination. Sardine used to make Phu Quoc's salad has a dark color, small bones, long bodies and thin, round scales.
Raw herring salad on Phu Quoc island. Photo: VnExpress
The chef must select fresh sardine so the flesh is rich in umami flavor but has little fishy odor. After cleaning the scales and removing the intestine, heads and tales, the chef uses a knife with a thin blade to remove the bones, then takes the flesh on the sides to mix with onion, carrots, scraped fresh coconut, fried shallot and a dressing made of ripe guava vinegar, sugar and salt. The dressing brings a refreshing, pleasantly tangy flavor to the dish.
To eat Phu Quoc's raw sardine salad, take a piece of thin rice paper, topped with fresh herbs, cucumber and the salad, then roll the paper tightly and dip in a local sour-sweet sauce.
Sand borer salad
Raw sand borer salad (gỏi cá đục) is a specialty in coastal areas of Ha Tinh province such as Loc Ham Nghi Xuan and Thach Ha. Inhabiting close to the shore, sand borers are about 13 – 18 cm long, with bodies slightly larger than human's thumbs and an appearance similar to the freshwater gudgeons. Sand borers can be prepared using various methods, most notably raw salad and grilling, as their flesh is white, firm and full of umami flavor. In addition, sand borers are available all year round.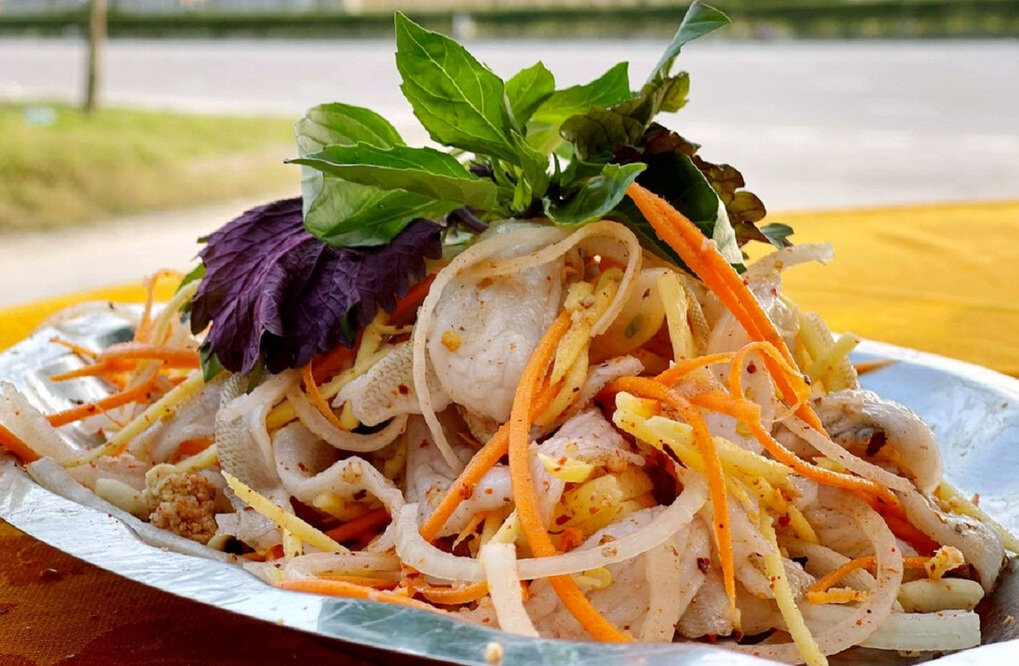 Raw sand borer salad in Ha Tinh province. Photo: Tuy Phong
To make sand borer salad, the chef first cleans the scales and removes the heads, then slices along the fish's body to take the flesh and marinate the flesh in lime juice for about 15 – 30 minutes. After marinating, the fish must be squeezed to remove excess water. The chef uses the marinating sauce as the base for the dish's dipping sauce by mixing it with lime juice, minced garlic, tomato, shallot, peanut and chilly and boiling the mixture to create a thick, sweet and tangy sauce. To enjoy the dish to its fullest, wrap the raw sand borer salad with fresh herbs, shiso leaves, lettuce, thinly sliced cucumber in rice paper before dipping in the sauce.
Deep herring salad
You can easily find deep herring salad, or gỏi cá mai, in any restaurants or food stalls in the coastal city of Nha Trang in Khanh Hoa province. Deep herring is a small, tropical fish inhabiting the Indo-Pacific. It is about the size of a thumb and almost translucent. While it might look like anchovy, the deep herring does not have any scales and is hardly fishy.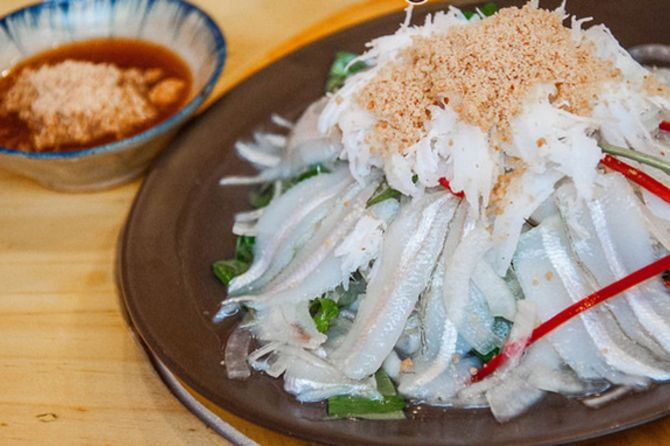 Deep herring salad in Nha Trang. Photo: Travelmag
Deep herring used to make raw salad must be fresh and have its bones removed. There are many ways to cure deep herring, such as using tamarind sauce, lime juice or vinegar. After mixing with the curing agent, the flesh turns from white to slightly yellow. The chef sprinkles powdered grilled rice on top of the cured fish before mixing it with thinly sliced onion, ginger and fresh herbs such as basil, coriander, shiso leaves and fish leaf and adding other seasonings.
A quality dish of deep herring salad must be a perfect combination between the slight sourness of lime juice, spiciness from the chilly, umami flavor from the fish, freshness of the herbs and the rich dipping sauce.
Paddy field eel salad
Not only highly nutritious, paddy field eel salad (gỏi cá nhệch), a popular dish in Nga Son district in Thanh Hoa province, also attracts food lovers for its unique texture, rich umami flavor and method of serving. To prepare the dish, the chef cleans the slimy outer part using ash or diluted lime water before removing the intestines, heads and tails and setting aside the bones and flesh. The chef must be careful so the delicate flesh of the eel does not fall apart or contain small bones.
After being sliced thinly, the flesh is cured in fresh lime juice, then squeezed dry before mixing with seasonings and powdered grilled rice. Its skin is fried until crispy to roll with the salad. The bones are ground finely to make chẻo, a special dipping sauce.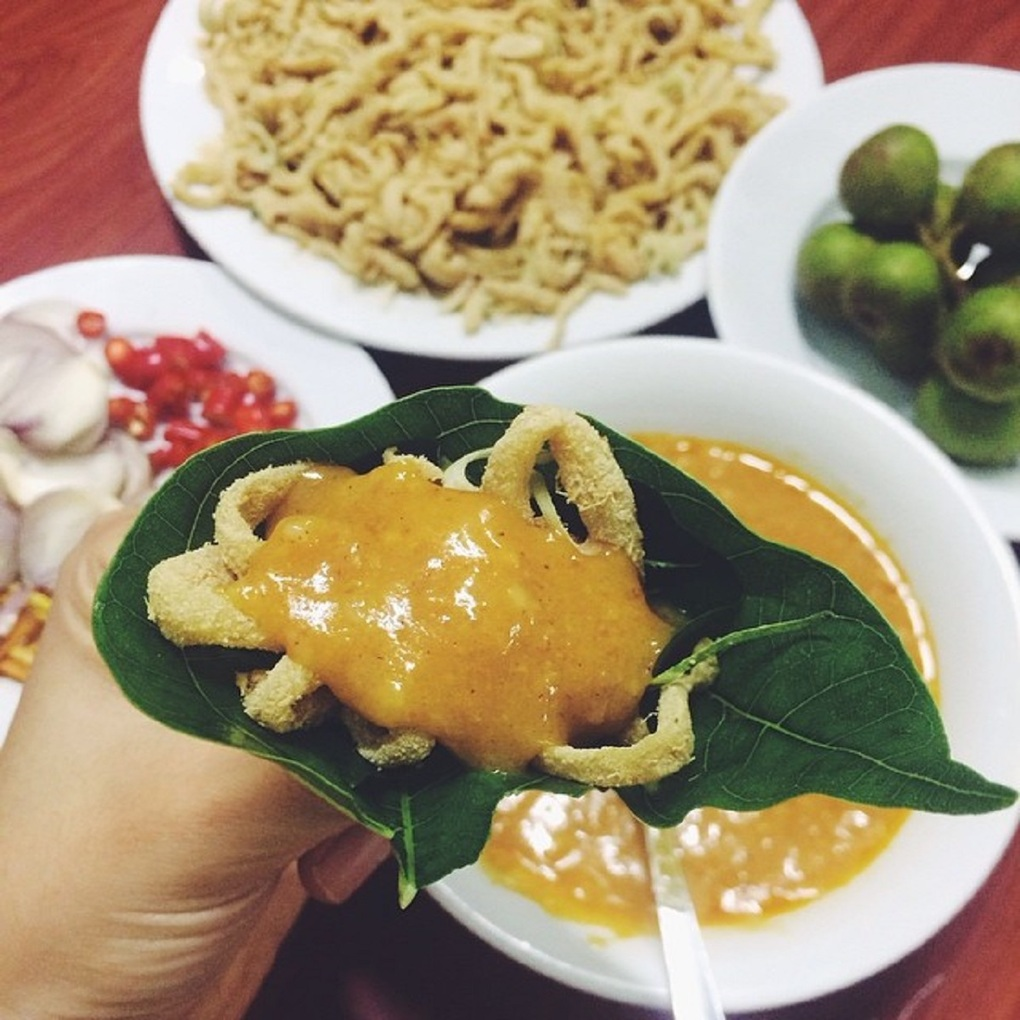 Paddy field eel salad in Nga Son district of Thanh Hoa province. Photo:

@thuythuy167/Instagram
The best way to enjoy paddy field eel salad shaping two layers of leaves like a funnel before adding the salad inside and pour chẻo over the salad. The first, outer layer consists of fig or guava leaves, and the second layer contains a variety of leaves such as apricot leaves, basil, sawtooth coriander, Ming aralia, Gotu Kola and mint. Ginger, scallions or crispy rice paper may be added to the roll, depending on personal tastes.