Top 5 Must-Try Dishes in Nha Trang
Nha Trang, a bustling coastal city in Khanh Hoa province, Vietnam, attracts tourists not only for its beaches and diving sites but also diverse cuisine. Read on to find out the top five dishes that you must try in Nha Trang
Bun noodles with fish cake (bun ca)
This is virtually the first dish most people try when they arrive in Nha Trang. Fish cake in Nha Trang is made from common fish in the region such as sailfish, cod and barracuda. While the cake is mostly steamed or fried, locals also grind steamed fish cake. Each method of preparing fish cake results in a different texture: While the fried fish cake is crispy, fish cakes that are steamed or ground are much softer. The flavorful fish cakes harmonize with clear fish bone broth, bringing a distinctive umami taste that you must not miss in Nha Trang.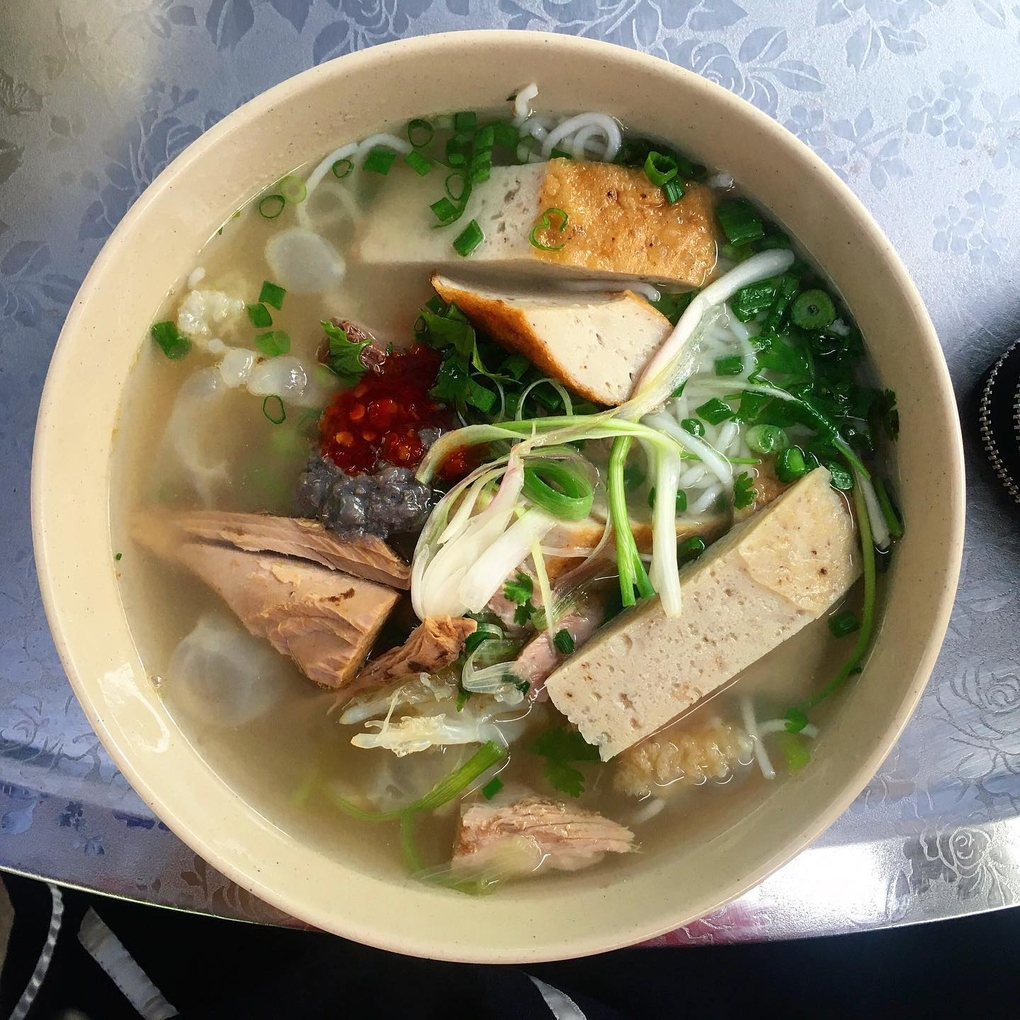 Bun noodles with fish cake, a dish that tourists must try in Nha Trang. Photo: VnExpress
When enjoying bun ca, you can order banh canh, a different type of rice noodles, instead of bun. You can also ask for extra toppings such as squid, shrimps or jellyfish, in addition to fish cakes.
Ninh Hoa grilled rolls (nem nuong Ninh Hoa)
Grilled rolls are not a new creation. In Ninh Hoa, a coastal town 33km away from Nha Trang, grilled rolls are also made with minced pork with pork skin. What sets Ninh Hoa grilled rolls apart is the dipping sauce, which must be slightly sweet, tangy, spicy and nutty, and must have a distinct shrimp flavor.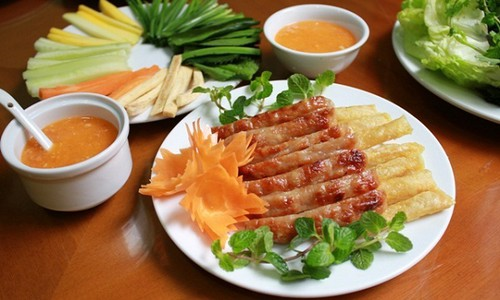 Ninh Hoa grilled rolls are famous for the unique dipping sauce. Photo: VOV World
The thick, orange sauce, made from sticky rice, peanuts, pork, tomato and shrimp, will leave a lasting impression on anyone who tries it.
In addition to the unique dipping sauce, Ninh Hoa grilled rolls are served with crispy rice papers, fresh herbs and soft rice sheets.
Rice cake with seafood (banh can hai san)
Banh can, or rice cake, originates from Da Lat, a mountainous city in the central highland province of Lam Dong, and becomes popular throughout the south-central coast. Nha Trang locals put a twist on the iconic dish by using seafood in addition to quail eggs and minced pork as fillings.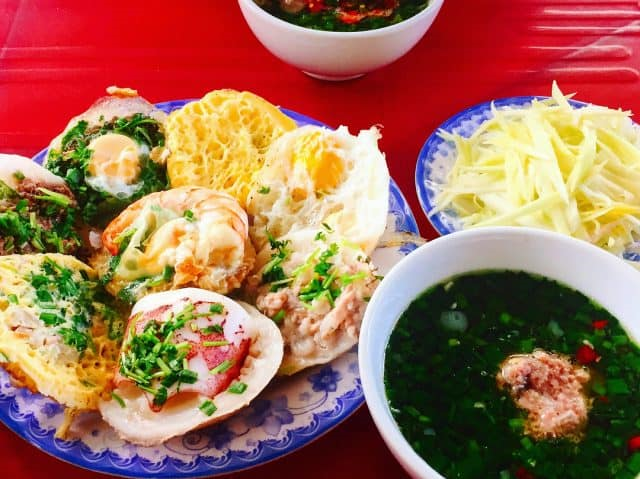 Banh can in Nha Trang has a wide range of fillings. Photo: VnTrip
A portion of banh can often have an assortment of various fillings, such as squids, shrimps, quail eggs, ground mussel, and octopus. Banh can is served with fresh herbs and distinct dipping sauces made with fermented fish such as mam nem, mam ca and mam ngot. Banh can is a dish you must try on your journey to explore Nha Trang, with its diverse fillings, crunchy base and flavorful dipping sauce.
Lac Canh roasted beef (bo nuong Lac Canh)
Although it does not have seafood like most dishes in Nha Trang, Lac Canh roasted beef should be on any tourists' culinary bucket list when visiting Nha Trang. You can only find this famous dish at Lac Canh restaurant, located at 44 Nguyen Binh Khiem street. The restaurant has been serving food for over 40 years.
Lac Canh roasted beef is served only at Lac Canh restaurant. Photo: Travelmag
Lac Canh roasted beef is marinated with honey and a plethora of other seasonings, creating a pleasant taste and distinctive red color. The chef roasts marinated beef on medium heat over charcoal to bring out all the dish's freshness and flavors.
You can enjoy Lac Canh roasted beef with bun noodles and fresh herbs or use it as fillings for a delightful loaf of banh mi, or Vietnamese baguette.
Raw deep herring salad (goi ca mai)
Dishes made with raw fish are a typical trait of coastal cities, where freshly caught seafood is immediately made into delicious dishes. Nha Trang is not an exception. Your journey in Nha Trang will not be considered complete if you do not try its raw deep herring salad, or goi ca mai, as the fish is a type of fish characteristic of Nha Trang's coastal areas.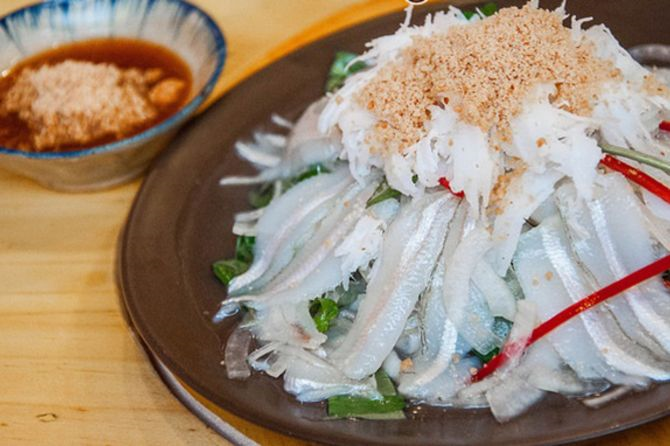 Raw deep herring salad - A specialty of Nha Trang. Photo: Travelmag
Deep herring is a small, tropical fish of the Indo-Pacific. Its flesh is almost translucent and hardly fishy, which makes it a perfect ingredient for raw fish salad. Deep herring is not prepared in advance, so sometimes you must wait to enjoy the dish. When receiving orders from customers, the chef cuts open the fish to remove its bone, then mixes the flesh with lime, sour starfruit until the flesh turns slightly yellow. After the fish is cured, the chef mixes it with ground peanuts, coriander and serves with sour starfruit, banana, fresh herbs and rice papers.
A dish of deep herring salad will not be complete without the dipping sauce, made from fermented fish and various condiments. The flavorful sauce complements the dish nicely, urging eaters to keep coming back for one more bite. Don't miss out on this dish when you are in Nha Trang!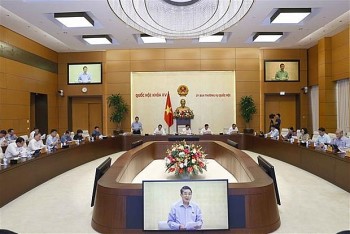 National
The National Assembly (NA) Standing Committee examined the draft revised Law on Protection of Consumer Rights on August 15 as part of its monthly session.