French Expat Learns Vietnamese to 'Survive' during Social Distancing
Hugo Blin was determined to learn Vietnamese to better converse with drivers and restaurants during the citywide social distancing in HCMC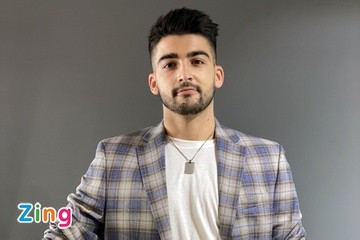 Hugo Blin. Photo courtesy of Hugo Blin/ via Zing
Tôi là Hugo. Tôi là người Pháp. Tôi năm nay 24 tuổi. Tôi đang sống ở quận 2. Tôi ở Việt Nam một năm rưỡi," the French national wrote in Vietnamese after one month learning the language. In the sentences, he introduces his name is Hugo, he's from France, 24 years old and is living in District 2.
Hugo has been learning Vietnamese in the past couple months but only taken it seriously starting in August when he had more free time at home.
"I want to learn Vietnamese to be able to communicate with local people, especially to facilitate communication with business partners," Hugo told Zing News. "I barely understood what they said, sometimes I felt lost and very awkward."
What's more, the expat said, he couldn't place orders on food when the city only allowed shipping during its stay-at-home order.
"I called to stores to order meat and several Western dishes. But the other side kept hanging up because I didn't speak in Vietnamese. I felt very disappointed," he said.
Hugo was then introduced to a buy-and-sell-food group in Thu Duc on Zalo, where he could rely on the translating tool to order Vietnamese dishes, which he was difficult and timesaving for the isolated expats.
Such inconvenience has prompted Hugo to start to learn Vietnamese. He reportedly first joined an international online site where other users guided him on how to write and speak in Vietnamese the content he gives. He then imitated and repeated the Vietnamese phrases or sentences.
Hugo gradually memorized letters and tones in the Vietnamese alphabet. Still, there were many words he understood but couldn't form sentences and found it's difficult to pronounce words with the letter "ng".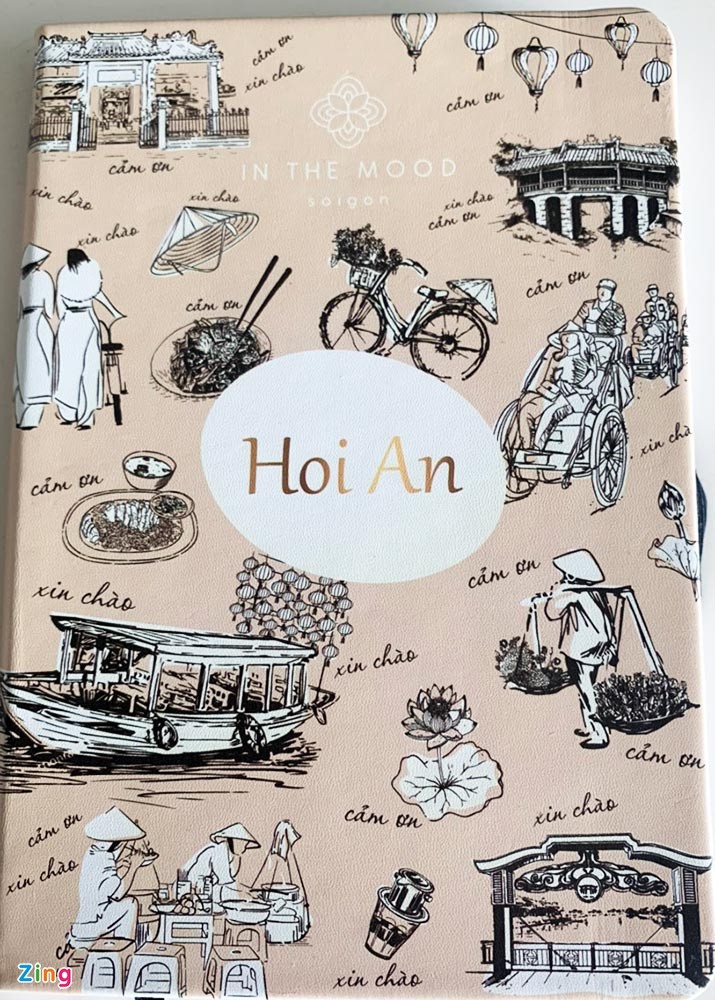 He bought the book whose cover features symbols of Hoi An city to learn Vietnamese. Photo courtesy of Hugo Blin/ via Zing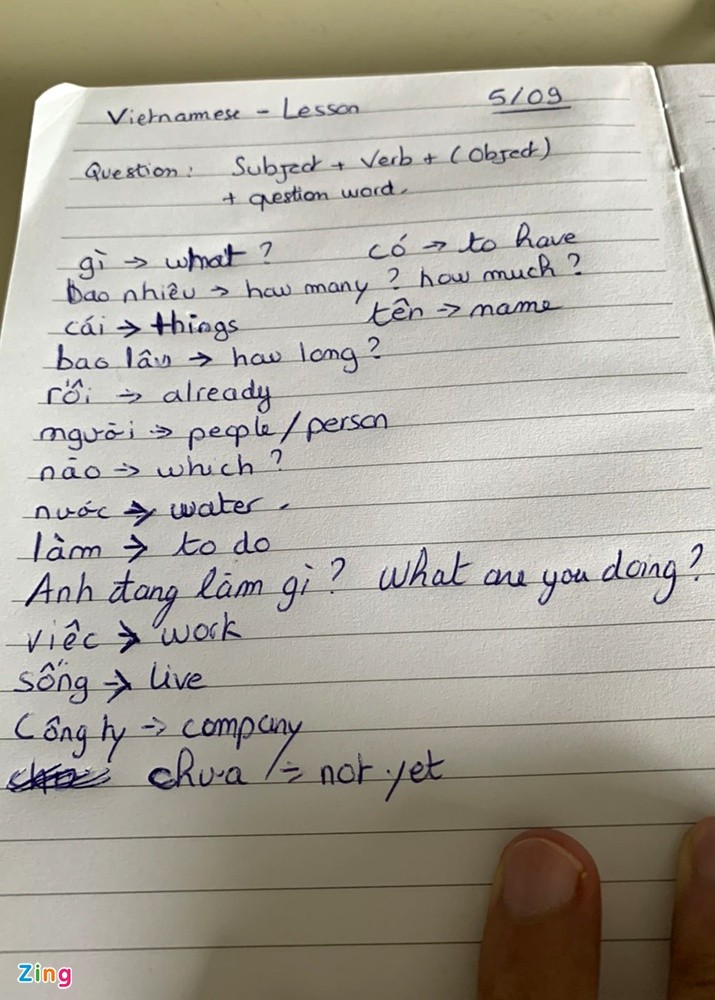 He learns to write basic Vietnamese words and has the English translation next to each word. Photo courtesy of Hugo Blin/ via Zing
The French national later switched to offline learning as he found online lessons weren't effective.
In Sept. 5, he started online lessons with a native teacher who was said to have made his learning more interesting. He asked the teacher to give him in-person classes for better interaction after several virtual sessions.
"My ideal lessons take place in a quiet coffee house. My teacher and I will sit together, both studying and chatting. I'm sure it's much more effective," the 24-year-old man added.
Hugo has earlier learned several vocabs about Vietnamese foods, such as iced milk coffee, pho, bread, iced tea, but didn't have the opportunity to practice these words. The expat is looking forward to the day HCMC resumes normal activities so that he can confidently walk in a restaurant and order his favorite dishes in Vietnamese.
"À, anh chưa có bạn gái" ("Ah, I don't have a girlfriend"), Hugo said in Vietnamese in a recent video posted on his social media account.
Many foreigners in HCMC also choose to study Vietnamese to make use of idle time during the social lockdown.
A number of Vietnamese language centers are providing one-on-one classes or classes for a group of 2 – 3 if requested. A representative of the Learn Vietnamese With SVFF center said they were supporting 10,000 foreigners studying Vietnamese online.
The Vietnamese Language Studies center also records a sharp increase in the number of students registering for online courses, from 7% in 2019 to 73% in 2021. Assessing the data, the center's representative believed that online classes are not less advantageous than face-to-face classes.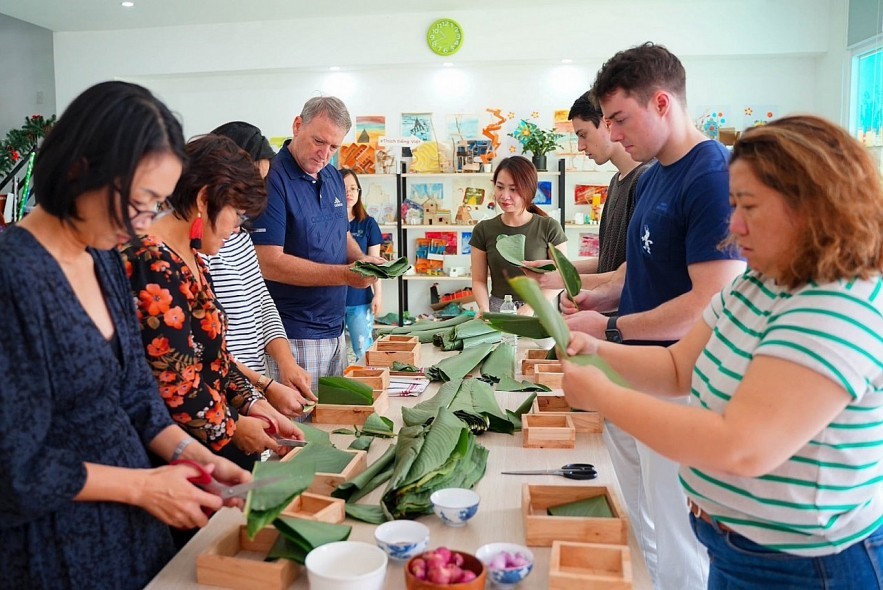 Foreigners learning about traditional Vietnamese culture in traditional Vietnamese language classes. Photo: Vietnamese Language Studies Fanpage
The Foreign Service Institute ranks the Vietnamese language at Category IV on the language difficulty rankings, which groups together languages with significant linguistic and/or cultural differences from English. For a native English speaker, this means that in theory, it would take 44 weeks or 1,100 hours to use Vietnamese fluently.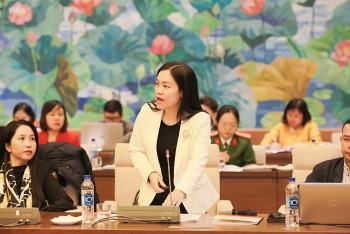 Friendship
Doan Thu Huyen, Vietnam Country Director for Campaign for Tobacco-Free Kids, made the statement at the "Child Downing Prevention" seminar.