Expat Family Feeds Hungry Frontline Workers, Needy HCMC Residents
An Armenian family has been using their own money and donations from benefactors to prepare free meals for the Covid-19 frontline workers and needy households in HCMC
Shant Mkrtchian's family has been distributing over 5,000 free meal sets to frontline workers and needy people since August 10. Photo courtesy of Shant Mkrtchian/ via Zing News
The family of 6 owns a restaurant Ararat Messo located on Street No. 12, Thao Dien ward, Thu Duc City. While life on the street almost comes to a standstill due to the citywide social distancing, the restaurant is still busy.
Shant Mkrtchian, 22, and his family members start their every day at 5 a.m. Mkrtchian and other family members take turns to cook, pack the food and deliver them to recipients on motorbike. It's not until 5 p.m. that they can take a rest and prepare for the serving the following day.
Mkrtchian said his family caters some 250-300 meal sets a day to the Field Hospital No.8, Thu Dien City People's Committee and underprivileged households in the area.
"This is not a job, it's our way of life. We love to wake up early, do morning exercises and have a cup of coffee. Then we start prepping foods and ingredients to distribute for needy local households," the young expat told Zing News. "It's very pleasant to see people smiling and are no longer hungry."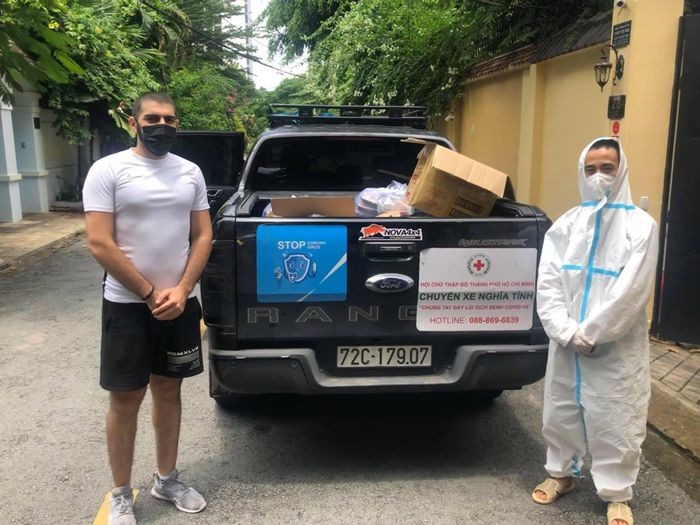 Mkrtchian in one drive to deliver food. Photo courtesy of Shant Mkrtchian/ via Zing News
'Vietnam is my second home'
Born and bred in Armenia, however, Mkrtchian's family moved to Vietnam 10 years ago. They've been running Ararat Messo restaurant and several tea and coffee shops in Mui Ne City, of the southern Binh Thuan province.
The prolonged Covid-19 pandemic, however, has forced them to close the business and moved to HCM.
"Things were not easy at first, but after months searching for new premises, we were lucky to be able to reopen our restaurants, which have been shut since the social distancing order," he added.
Two months after the stay-at-home order, the expat family decided to use their kitchen area to cook for charity. To better serve the taste of Vietnamese people, they made some changes in recipes, which were originally cooked in Western style.
Mkrtchian's kitchen has serving over 5,000 meal sets. They also distributed some 800kg of fresh vegetable, 300kg of rice and some clothes to 100 households.
"HCMC is our second home. Our sharing during this pandemic is to pay for what we have got from this land," he said.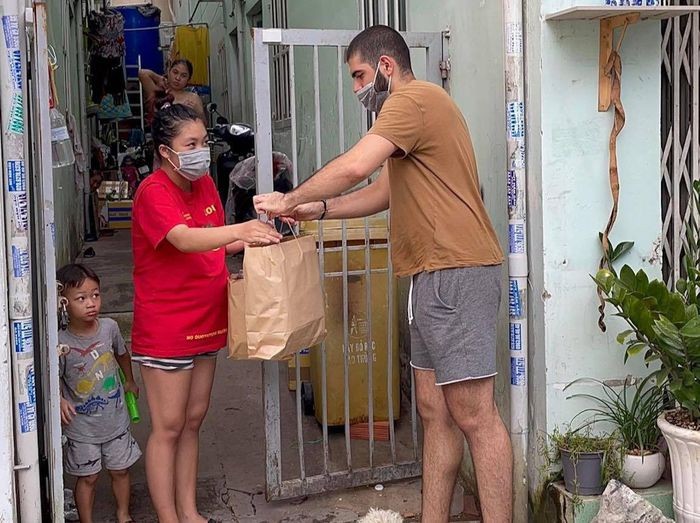 The 22-year-old man gives food to a household in need. Photo courtesy of Shant Mkrtchian/ via Zing News
The wish to spread positivity
Like many city-dwellers, it's not easy for Mkrtchian's family to find ingredients while they are not allowed to go to groceries or supermarkets. Luckily, they got a helping hand from acquaintances and benefactors.
Ngan Pham, working at Field Hospital No. 8, is one of the helpers. She often supplies fresh ingredients to Mkrtchian's kitchen and helps deliver food to her workplace.
"I'm touched by what Mkrtchian's family has done to the community. Mkrtchian even gave me a list of 300 expats in need of help in Thao Dien ward, which was very thoughtful of him," Ngan was quoted. "To be honest, not anyone can do what they are doing."
Talking about the most memorable part of his charity work, Mkrtchian said he was interested in the way many Vietnamese recipients used body language to receive the food and thank him as they didn't speak English.
"You know, it's a pleasure to be able to bring a smile to someone at this special time. I'm very proud and happy with what I'm doing," he added. "This is a daunting job, taking a lot of money and energy. We are very glad if anyone reading this article wishing to join our charity project."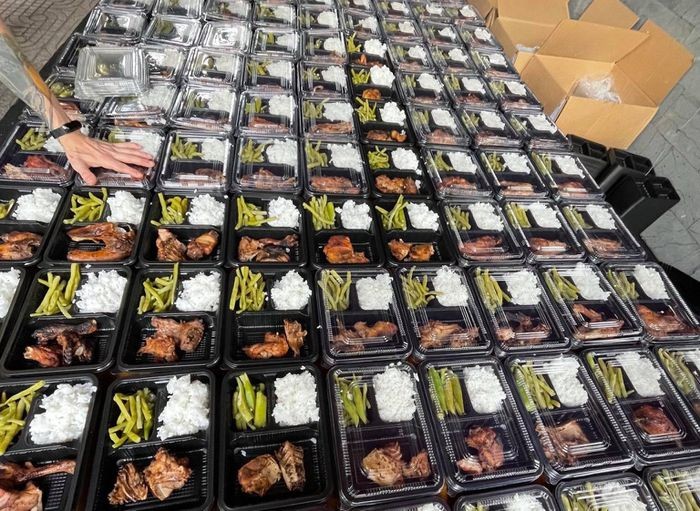 Photo courtesy of Shant Mkrtchian/ via Zing News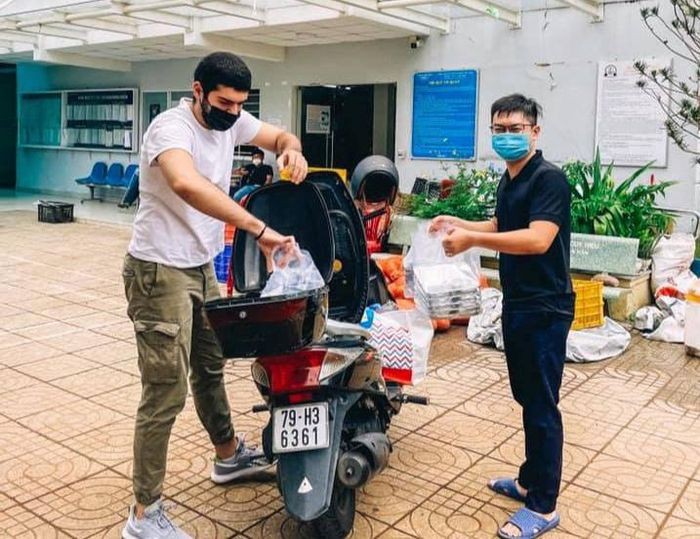 Photo courtesy of Shant Mkrtchian/ via Zing News
HCMC is the epicenter of the fourth Covid-19 wave to hit in late April, recording more than 298,000 cases and almost 12,000 deaths.
It has gone through various levels of social distancing since May and is currently under the most stringent, which requires everyone to stay at home until Sept. 15.
Municipal authorities plan to continue imposing the tough Directive 16 through the second half of September, even making it more stringent in some places.