French newspaper praises Vietnam's efforts in COVID-19 fight
French newspaper Les Echos has recently published an article titled "COVID-19: an exception to Vietnam" saying that economic activities have been restarted post-COVID-19 pandemic and the country can take pride in its containment efforts.
According to the article, Vietnam has reported a total of 1,077 infections and 35 deaths as of September 29, while going through more than 27 days without detecting any infectious cases in the community compared to a population of nearly 100 million people.
Upon the first COVID-19 cases were discovered in Wuhan (China), the Vietnamese Government rapidly implemented disease control measures nationwide, including travel restrictions, suspension of international flights, border closure with China, whilst simultaneously putting new arrivals into quarantine.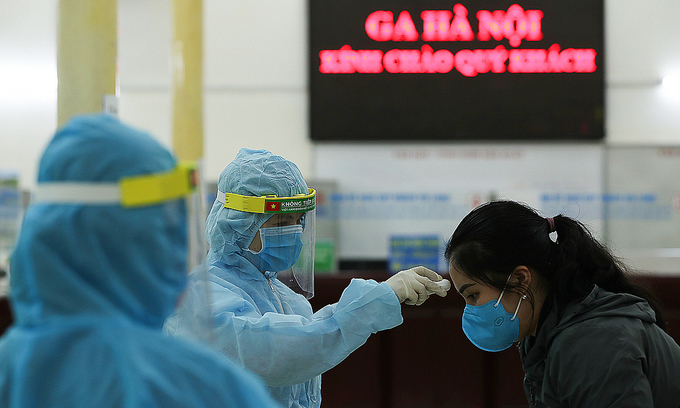 A passenger (R) has her body temperature checked at a railway station in Hanoi. Photo: VnExpress/Giang Huy.
Although cross-border trade was severely impacted, Vietnam's GDP in the third quarter of 2020 still increased by 2.62% compared to the same period last year. According to the General Statistics Office of Vietnam, the nation's 2% growth target for this year is totally possible.
The article also said that over the past nine months, Vietnam's exports increased by 4.2% and production also increased which can possibly maintain the same pace as the previous year.
A survey showed that 81% of Vietnamese people believe that the nation's economy would be able to maintain its growth momentum. Also according to General Statistics Office, the Vietnamese Government has given priority to public investment and will be maintained next year, while household spending will restart and will last until the Lunar New Year on February 12, 2021.
Recently, a series of international newspapers also hailed Vietnamese efforts in curbing COVID-19.
American magazine CounterPunch ran an article highlighting Vietnam's strength in social solidarity during the fight against the COVID-19 pandemic. "Vietnam acted quickly and decisively to contain the coronavirus by closing the border with China, prohibiting flights from that and other countries, no longer issuing visas to foreign nationals, contact tracing, quarantines, and a short-lived nationwide shutdown", the article said.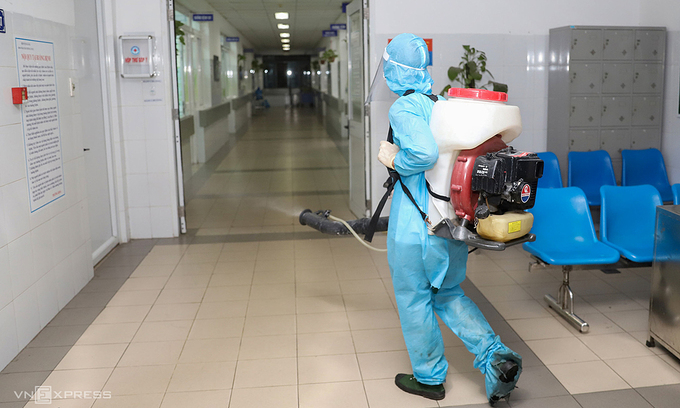 A medical staff disinfects Da Nang Hospital Photo: VnExpress/Nguyen Dong.
Telegraph also published an article stating the reasons how Vietnam promptly contains the 'second' coronavirus outbreak twice, the success that the nation could take pride in.
CNBC Indonesia on September 25 ran an article revealing Vietnam's secret to the success in COVID-19 combat, simultaneously provide data on Vietnam's economic growth in the global crisis context. The headlines read "Vietnam Hebat", which means "Great job, Vietnam".