Foreign visitors to Vietnam declines more than 99%
In the first nine months of 2020, the number of international visitors to Vietnam only reached 3.8 million, down 70.6% (equivalent to 9 million) compared to the same period last year.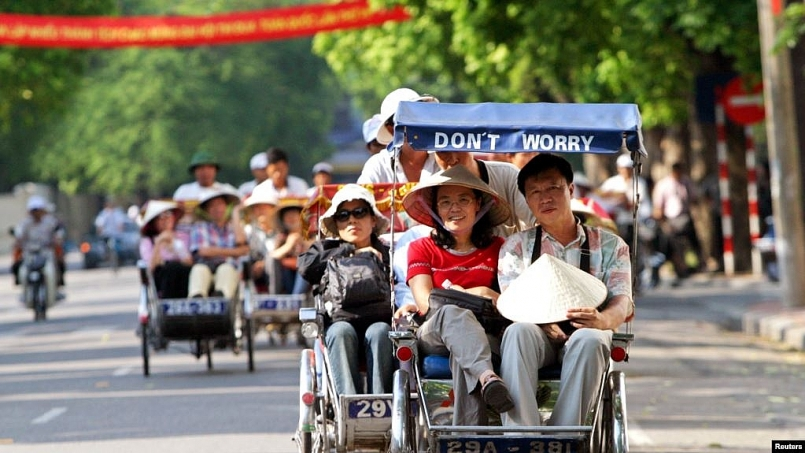 Illustrative photo: HanoiTimes
According to the General Statistics Office, in September 2020, foreign touristscoming to Vietnam were estimated at 13,800, down 15.5% over the previous month and 99.1% down over the same period last year. At this time last year, the tourism industry was setting a record for the fourth consecutive month of welcoming more than 1.5 million international arrivals each month, VNExpress reported.
In the first nine months of 2020, foreign visitors to Vietnam reached nearly 3.8 million, down 70.6% over the same period last year, of which more than 97% were ones coming in the first quarter of 2020. According to the General Statistics Office, the decline resulted from the suspension of international flights due to the COVID-19 pandemic.
The COVID-19 pandemic also causes a decline in the revenue of accommodation and food services in the nine months of 2020. The tourism revenue in 9 months was estimated at 14.2 trillion VND (US$ 615 million), down 56.3% over the same period last year. A number of provinces and cities incurring a sharp decrease such as Khanh Hoa (78.7%); HCMC (73.7%); Quang Nam (70.6%); Ba Ria - Vung Tau (68.5%); Da Nang (68.1%), etc.
The Vietnam National Administration of Tourism estimated that if the tourism industry reoperated normally in the fourth quarter of this year, Vietnam would welcome 4 to 4.5 million international visitors, a decrease from 13, 5 - 14 million over last year.
Travel agencies, despite expecting to receive international arrivals soon, are not optimistic that tourism would quickly recover by the end of this year.
"Many partners said they intend to bring visitors back in early 2021 and are waiting for approval of Vietnam", said Nguyen Ngoc Toan, Director of Images Travel Company. The European partners of his company only gradually canceled tours based on the moves of opening the tourism market from the Vietnamese government.
So far, Vietnam has recorded 1,095 infections and 1,010 have recovered, 35 have died with Covid-19 while three other patients died of other diseases after having recovered from Covid-19.

Of the total number of Covid-19 patients, 691 were local transmissions, and the rest imported. The nation has gone 28 days without recording a locally transmitted case.

The pandemic has spread across the world, with more than 34.1 million confirmed cases and over 1 million deaths.