From a Child in Exile to a Professor Who Founded a Vietnam Major in the US
"I fell in love with Vietnam as soon as I touched this place,'"remarked Professor Nguyen Thi Lien Hang (Columbia University, New York, USA) when asked about her first visit to Vietnam as a 19-year-old student in 1994.
"Why Vietnam?"
"I grew up in a very Vietnamese family. My siblings are not allowed to speak English at home. Parents still cook Vietnamese dishes every night. We also plant bamboo around the yard. And you know, when I come back to Vietnam, I feel welcome, as if it was coming home," said Professor Lien Hang.
In 1975, when she was 5 months old, Nguyen Thi Lien Hang left Vietnam with her family. After a long time, Hang's parents responsible for the family of 9 children decided to settle down in the suburbs of Philadelphia, Pennsylvania (USA). Questions and stories told during her childhood years prompted her to understand more about the history of the war in Vietnam. The Vietnamese girl who grew up in the U.S. chose to study history at the University of Pennsylvania to find the answer herself.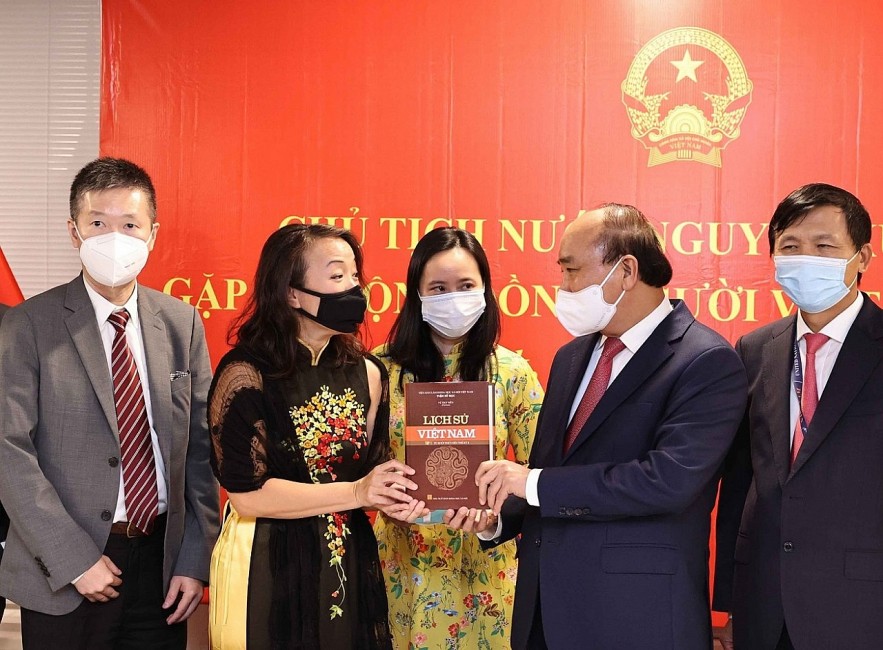 In September 2021, President Nguyen Xuan Phuc presented a 15-volume set of Vietnamese history books to Professor Nguyen Thi Lien Hang and Vietnam Studies at Columbia University, New York. Photo: Thanh Nien
Nguyen Thi Lien Hang attended university at the same time as the US and Vietnam started the process of normalizing relations. Nguyen Thi Lien Hang spent a year conducting her studies after coming back to Vietnam for the first time four years later. Following that, she makes an effort to visit Vietnam once a year to study, research, and write about the past and the potential for future peace and collaboration between the two nations.
Hang's major when she began her Ph.D. at Yale University was the history of American international relations rather than contemporary Vietnamese history. That piqued her interest in more than simply Vietnam War history. According to Professor Lien Hang, there are several interpretations of the question "Why Vietnam?" that Archimedes Patti chose as the subtitle of his renowned book.
"Why has Vietnam grown rapidly, surpassing Thailand to become one of Southeast Asia's major economies? Why is Vietnam eligible to preside over the UN Security Council? Many people are curious as to why Vietnam has grown to be such a significant regional force," Prof. Lien Hang said.
Top of the chart in Vietnam studies in the US
Professor Lien Hang was compelled to take action to foster ties between the Vietnamese minority in the US and the general populace after seeing the two countries, Vietnam and America, come together. She was given the chance in 2016 when she was hired as an associate professor to focus on American history in East Asia at Columbia University's Department of History.
Professor John Phan from the school's School of East Asian Languages and Cultures met Professor Lien Hang there. A branch of Vietnamese studies was established at Columbia University in 2017 by two professors from separate faculties. The branch offered two courses on the history of Vietnamese culture each lasting one academic year.
"We're not just discussing wars." According to Professor Lien Hang, "Our program covers the entire process of Vietnamese cultural history, from politics and society to culture and civilization in Vietnam."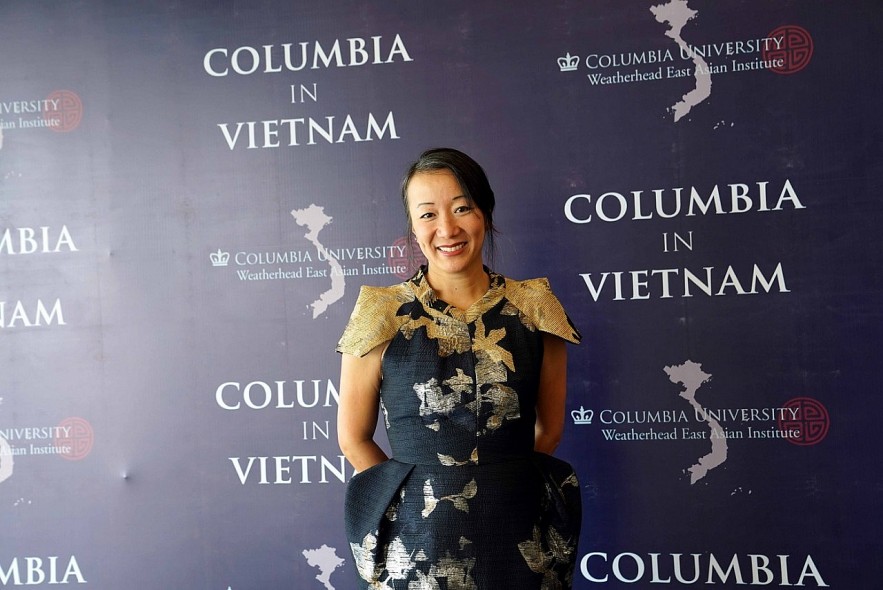 Prof. Nguyen Thi Lien Hang. Photo: Thanh Nien
After a year, Chung Nguyen and Dr. Nguyen Quoc Vinh joined them as additional partners to expand the Vietnamese study program at Columbia University to include the Vietnamese language curriculum at all four levels. The Vietnamese language program's Chung Nguyen said that Professor Lien Hang and John Phan's content classes are overflowing with students. While the school limits a maximum of 75 pupils to each class, there are typically 90 to 100 kids enrolled. "Students who want to enroll in a class are always on a waiting list. John Phan requested that the class size be increased to 100 this semester, but the school declined since the classrooms weren't filled," said Chung Nguyen.
"Not all of the students that attend the Vietnamese class are native Vietnamese speakers. Numerous students from different nations, as well as many Americans. They had an interest in Vietnam after the war, which is no longer relevant to the conflict. Many American students want to learn about Vietnam so that they may go or perhaps work there," Hang explained.
In order to fill the interval of the "empty" generation that returned to Vietnam after studying on the east coast of the United States, Columbia University wants to focus on developing young scholars to study Vietnam. This is according to Dr. Nguyen Quoc Vinh, an advanced Vietnamese lecturer for graduate students studying Vietnam at Columbia University.
Unlike at Columbia University, where two professors, Lien Hang and Professor John Phan, are in charge of two intensive courses on Vietnamese history and culture, many American universities with programs in Vietnamese studies typically only have a few professors, one of whom is in charge of the content course and the other of the languages. Dr. Vinh further said that since 2017 two PhDs (1 Vietnamese, 1 American) and 3 masters in Vietnamese studies have been earned from Columbia University.
The Party and State appreciated the work done by Professor Nguyen Thi Lien Hang's team at Columbia University. Prof. Lien Hang and her colleagues were invited to the working meetings with Vietnamese intellectuals and expats in the US that President Nguyen Xuan Phuc and Prime Minister Pham Minh Chinh held in September 2021 and May 2022, respectively. Along with a 15-volume bundle of Vietnamese history, President Nguyen Xuan Phuc gave Professor Lien Hang the same field of study of Vietnam that he had at Columbia University.
To advance the growth of Vietnamese studies at Columbia University, Professor Lien Hang traveled to Vietnam with her colleagues in the early fall days of Hanoi, where she expressed her particular appreciation for the maintained old environment.
The conference, which includes several MOUs between Columbia University and partner universities in Vietnam, will give Vietnamese academics the chance to study and conduct research at Columbia while also enabling Columbia students to do research abroad in Vietnam. Prof Lien Hang's two kids, who were educated to speak and comprehend Vietnamese at an early age like her, accompany her every year to Vietnam and, despite being second-generation American, still identify as Vietnamese.
Promoting Vietnamese Culture to The World

"Vietnam experienced a successful 2022 with many achievements in culture. That result partly comes from Vietnam's tireless efforts in promoting its language and culture globally," ...