Vietnam plans on the second Covid-19 vaccine distribution
In the latest Covid-19 distribution plan of the Ministry of Health, Ho Chi Minh City and Hanoi are allocated the largest number of Covax's AstraZeneca vaccine.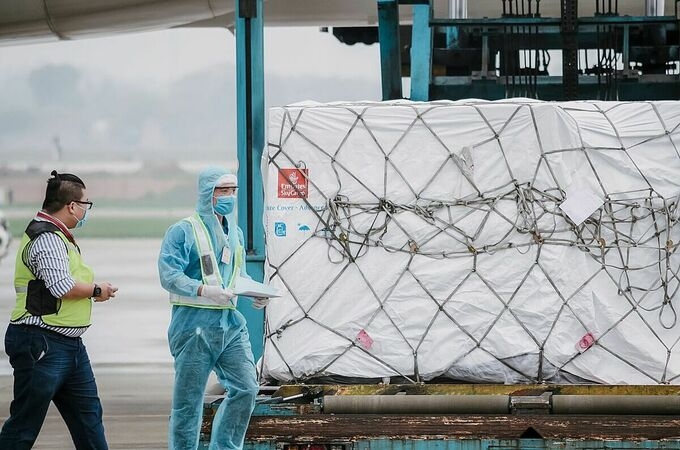 Over 800,000 does of AstraZeneca arrived in Vietnam on April 1 (Photo: VNE)
Of the 811,200 doses of AstraZeneca vaccine that arrived in Vietnam on April 1 via the global Covax program, Ho Chi Minh City will get over 56,000 jabs while Hanoi will get 53,000 jabs, according to the Ministry of Health.
Meanwhile, other pandemic-hit localities lately will also get the allocation. Hai Duong – the biggest epicenter in the so-called "third wave" in Vietnam is set to receive 43,000 doses, populous provinces like Thanh Hoa, Nghe An receives 18,000 – 20,000 doses each. Provinces bordering Cambodia are granted a larger proportion than the remaining localities in the prioritized list.
This marks the second Covid-19 vaccine distribution in Vietnam. The country kicked off its nationwide vaccination program on March 8, prioritizing frontline forces, border guards, high-achieving athletes, etc. To date, over 54,000 people have been vaccinated, no serious reactions post-injection are reported.
The list of prioritized groups in the second vaccination scheme will be expanded to essential workforces, including teachers, aviation staff, administrative staff, etc.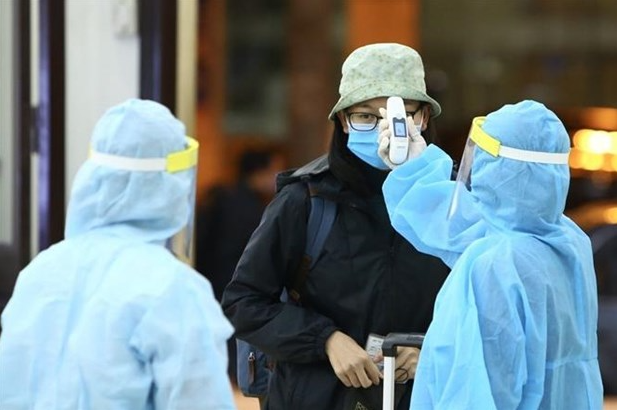 (Photo: VNA)
The Ministry of Health has just issued a dispatch asking 63 provinces and cities nationwide to promptly review and define the priority groups for the free injection of COVID-19 vaccines.
Accordingly, the Ministry of Health requested the Departments of Health of 63 provinces and cities urgently make a list of 10 priority groups to be vaccinated in accordance with Resolution No.21 of the Government and Announcement No. 47 of the Government Office.
The 10 priority groups should include medical workers, people in the anti-pandemic effort (COVID-19 prevention and control steering committees at all levels, quarantine facility workers, reporters, volunteers, etc.), military forces (local forces participating in pandemic prevention), public security forces (forces working at localities in the anti-pandemic effort); diplomats; customs officers and people working entry and exit procedures; essential workers (aviation, transport, tourism staff, utility workers, etc.); teachers; people with chronic health issues; elders above 65 years old; people in virus-hit regions; the needy, policy beneficiaries; and people who want to study or work overseas.
The Ministry of Health requires the number for each group to be sent to the Preventive Medicine Department and Pasteur institutes before April 15, this will serve as the basis for the ministry to develop a plan to distribute the vaccine and implement vaccination.
Vietnam is expecting 60 million doses of the UK's AstraZeneca vaccine, with 30 million sourced via Covax and another 30 million by order.
The 811,200 doses of AstraZeneca vaccine arrived at Noi Bai International Airport Thursday morning is the first batch among the 30-million-dose allocation from the global vaccine access mechanism Covax. Over 3,3 million more doses are scheduled to land in Vietnam in May while the rest will arrive by late 2021, according to Zing News.
The 30 million doses, which are supplied by the United Nations International Children's Funds (UNICEF) via Covax, are deemed to cover 20 percent of the Vietnamese population, prioritizing frontline workers.
On February 24, the first 117,600 purchased doses arrived in the country and have been administered to nearly 50,000 prioritized recipients in the National Expanded Vaccination program.
On March 23, Vietnam greenlighted Russia's Sputnik V vaccine for emergency use.
Eleven new COVID-19 cases, all imported, were recorded in Vietnam on April 7afternoon, the Ministry of Health said. Among the new patients, there are a 30-year-old Singaporean man, a 46-year-old Pakistani man, and nine Vietnamese. They have been quarantined upon their arrival in the country.
Vietnam records no new COVID-19 cases, either community or imported, on April 8 morning.
Travel
After almost 200 years of existence, the Ho Quyen arena relic is considered by researchers as a "unique" architecture in Asia, where the life-and-death battles between elephants and tigers took place.