Gemini Horoscope September 2021: Monthly Predictions for Love, Financial, Career and Health
Gemini Horoscope September 2021: You will get opportunities to learn from your mistakes. You should have a positive frame of mind and try to extract good things from bad experiences. The beginning of the month presents you with opportunities to excel yourself while facing hardships.
Monthly Planetary Horoscope
When Mercury goes retrograde on the 27th, 60 per cent of the planets will be travelling backwards – the maximum for the year. Things seem to be going backwards in the world and perhaps in your life (though your finances are not affected). These retrogrades are generally not life threatening, just annoying and frustrating. If you understand what's going on you become more philosophical about it. It is easier to handle. The timing of this is very good, however. Your 5th house of fun, children and creativity is very strong. The world of fun and leisure calls to you – and you may as well indulge as you won't be missing anything in the world. With some creativity you can make this period fun.
Health still needs watching until the 22nd but after that date there will be a dramatic improvement. In the meantime, enhance the health in the ways mentioned in the yearly report.
Love is better than last month, but your love planet is still retrograde. So go slow in love. Let relationships develop as they will. There's no need to make important love decisions. Time will reveal what needs to be done.
This is still a month for making psychological progress – last month was too. Whether you're involved in formal types of therapy or not, there will be psychological breakthroughs. The new Moon of the 6th will further clarify emotional and family issues. Information will come to you – as the month progresses – that will answer all your questions.
Finance doesn't seem an issue this month. Your money house is empty, and only the Moon moves through there, on the 1st, 2nd, 29th and 30th. Because the Moon will move through the money house twice this month, earnings should be better than last month. Financial energy and enthusiasm are stronger from the 6th to the 20th as the Moon waxes. Money and financial opportunity can come in many ways and through many people.
Be more patient with elders, bosses, parents and parent figures on the 1st and 2nd. Children and children figures in your life have a good social period on the 5th and 6th. The 19th and 20th is a good romantic period – but the love planet is retrograde, remember, so there could be a delayed reaction.
Gemini Horoscope September. Photo: astrologyzone.
Gemini Monthly Horoscope
Gemini, mixed results are in store for you this month. Good and bad circumstances, you will be at the receiving end of both. In terms of career, you will achieve some favourable results. The harder you work, the more you gain in your career. If you pitch in your honest efforts, your business can expand.
After a few hurdles in the beginning of the month, your academic life will be fruitful. If you work hard, there are chances of getting success in competitive examinations too. Your family life will be satisfactory in the first half of the month, but you may face some difficulties in the second. The financial situation will also be sensitive this month. Income will improve, but there is also a possibility of loss of money. Health problems may raise some concerns, which is why you should be aware.
Keep away from the turmoil in the family environment. The month offers you wonderful opportunities for getting into affectionate love partnerships. Gemini personality have to overcome the challenges you may face from the family environment. Peace will be restored by the end of the month.
Starting a new school year for Gemini can be challenging in many ways. Whether it's nervousness at work, study duties, or worries about children, you won't tolerate them very well. You postponed many tasks indefinitely before the holidays, and are now starting to catch up with you. At the end of September, you will be significantly affected by the phases of the Moon, so you should be more careful about your health. There is a risk of injuries to the upper limbs or diseases of the respiratory system. Therefore, do nothing risky and save yourself.
If you've been fond of a person for some time, September is an ideal time to make the first step. For their potential partner, Gemini will be charming and convincing, meaning having great chances for a serious relationship. Therefore, watch out for health complications, which could be induced by stressful events in the family circle. It's necessary to take care of your body, so don't forget to exercise and eat a diet full of vitamins and minerals.
Gemini Monthly Love Horoscope
Gemini compatibility should not be influenced by family problems this month. You should try to maintain harmony in your relationship by avoiding all conflicts.
Marital relationships will undergo some transformations and whenever there are hiccups in the marriage, your partner will turn it around. The bond with your spouse becomes stronger with the birth of a child.
Single persons may not be able to find any love relationships this month. You should focus on other things in your life and decide on the action to be taken. During the last week of the month, you may get some help from outside contacts.
For your love life, the beginning of the month will not at all be favourable. There will be problems in your relationship. Both of you may also not get the right opportunities to meet one another.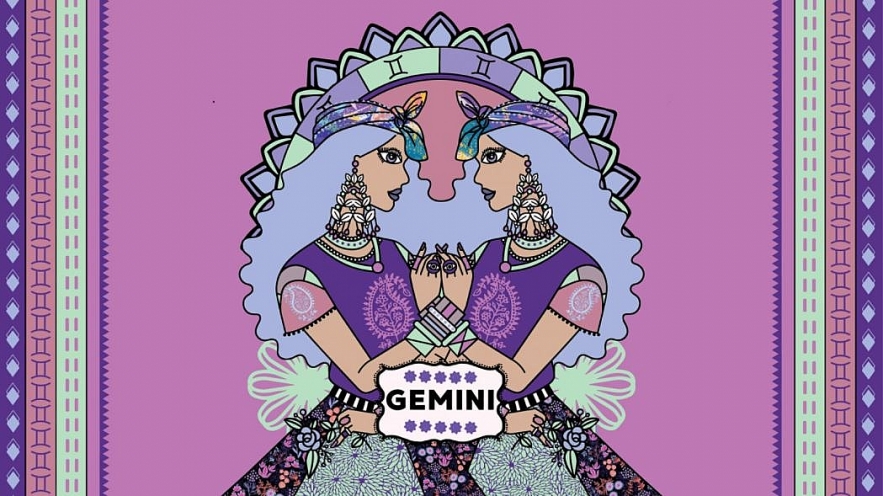 Gemini Horoscope September. Photo: vogue.
However, such situations will return back to your favour once the transit of Venus takes place in your seventh house. Considering the fact that this particular planet is the significator of love, you will come to terms with some favorable results. That reaction between you too will increase and so will the love. Overall speaking, you will be seen focusing on your bond and your intimacy during this period.
For your married life, the beginning of September will remain favourable. Conjugal life will be blissful. You will enjoy a good compatibility which will lead to an increase in love. However, the second half of the month will turn out to be quite challenging for married natives.
On the 15th of September, Jupiter in a retrograde motion will enter your house, because of which some ups and downs will remain a part of your conjugal life. Ego clashes will take place between you two along with some internal conflicts. Try to act carefully if you want to stay away from such problems.
For the domestic life of Gemini natives, this month will be full of ups and downs. The initial half of the month will be quite favourable for your domestic life but the problems can usher in during the second phase.
The presence of Venus and Mercury will be witnessed in your fourth house, which is considered to be quite favourable for your family environment which will remain positive during this time. The harmony between family members will increase and a joyous event may also be organised. However, when the planet Saturn will affect the second house, situations will remain topsy-turvy.
Clashes and debates can take place between the members of your household. This will be primarily in relation to money or a certain kind of property. During the second half of the month, the Sun and Mars will remain placed in your fourth house. Due to this particular conjunction, your mother may suffer from health problems, which is why you are advised to remain specifically careful. You may also suffer from mental stress during the second half of the month.
Gemini Monthly Money Horoscope
From an economic point of view, the month of September will not turn out to be favourable for natives belonging to the zodiac sign Gemini. Your financial condition will be full of ups and downs. On the 6th of September, the planet Mars will remain posited in the fourth house of your Kundli, which will bring improvements to your existing source of income.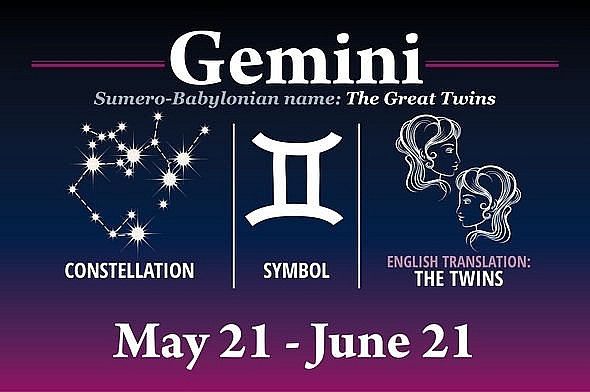 Photo: Daily Express
Job holders can also expect a promotion or a salary hike during this period. Self employed or business professionals are also likely to make some great amount of profits. However, when the planet Saturn remains posited in the eighth house on 15 September, when Jupiter enters the same house there are chances of incurring some economic losses.
Try to avoid the unnecessary expenses during this period. Stick to a regular source of income which will ensure the constant inflow of monetary resources. Avoid taking loans from anyone as the time is not quite right for it. Also, keep your eyes and ears open while making any transactions during the month of September.
2021 September forecast for Gemini zodiac is not at all profitable for the activities of business persons and traders. People engaged in fine arts will fail to come out with saleable products. As the financial returns are not enough, they may have to take out money from their savings to meet their expenses.
Star positions are not propitious and this makes initiation of new projects meaningless. Investments and speculations will not yield the necessary returns. You may fail to get help from your social contacts and financial institutions.
Gemini Monthly Career Horoscope
For the natives belonging to the zodiac sign Gemini, the month of September will prove to be quite favourable for your professional life. The ruling lord of second and seventh houses' ruling lord, Venus is aspecting the tenth house which is the house of profession. Along with Venus, the ruling lord of the second and third house, Mercury is aspecting the tenth house.
The aspection of both of these planets on the tenth house will bring joy and satisfaction to your professional life. You will climb the ladder of success gradually. If you are a job holder, then a promotion is likely on the cards your authority and responsibilities may increase. Trade ventures are also likely to get expanded.
Third house of your Kundli is under the occupancy of the royal planet, Sun along with the red planet Mars. The amount of dedication and perseverance with regards to your career will decide how successful you turn out to be. This is the time to take your business forward and make the necessary arrangements for your future.
2021 Gemini horoscope for career indicates adverse planetary aspects for career progress. The environment at the workplace will not be conducive to achieving your targets. There will be conflicts with your colleagues and seniors. After all the hard work you put in, benefits will be meager.
You can achieve some mental comfort by resorting to humanitarian activities and spiritual engagements. Professional expertise can also be enhanced through advanced studies and training.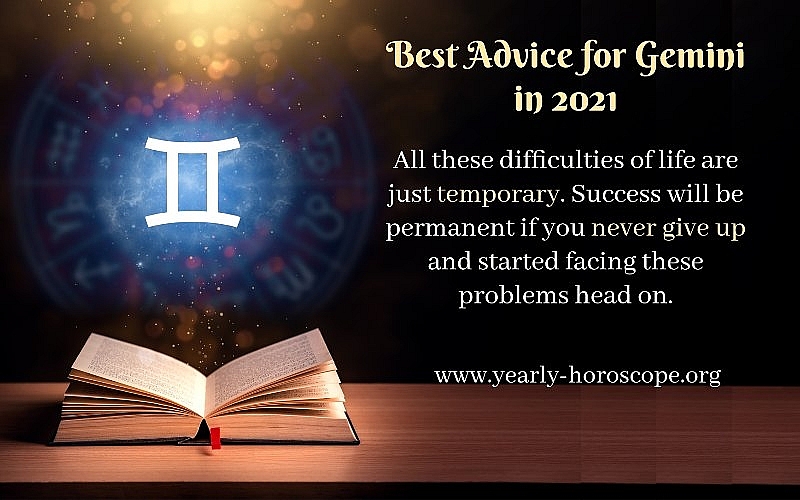 Photo: yearly horoscope
Gemini Monthly Health Horoscope
This month will turn out to be weak for Gemini natives in terms of health. Planets in your Kundli are indicating that you may have one or two health problems. The grey planet Ketu is present in your sixth house, which is the significator of diseases and debts. Saturn is situated in the eighth house, which is the significator of one's life expectancy.
This position of both these planets indicates the onset of some serious disease. Therefore, remain as careful as you can. Do not ignore any kind of health related problems. Jupiter in a retrograde motion entering your eighth house can make the situation a little worse. The health problems can escalate. Seek the guidance of a medical professional immediately.
September 2021 Gemini horoscope foretells unfavorable conditions for health. You are susceptible to relapse of chronic disorders and you may require constant medical attention. Stress-related health problems will lead to general weakness. Bad health may lead to a depressing state of mind.
Under these circumstances, it is important to improve your fitness by a regular exercise regime and a healthy diet plan. Mental stress can be reduced by relaxation techniques such as meditation and sports activities.
Best Days Overall: 8, 9, 17, 18, 26, 27

Most Stressful Days Overall: 6, 7, 12, 13, 19, 20

Best Days for Love: 9, 12, 13, 18, 19, 27, 29, 30

Best Days for Money: 1, 2, 6, 7, 9, 15, 18, 26, 27, 29, 30

Best Days for Career: 2, 11, 19, 20, 30

Important numbers: 3, 4, 15

September important dates: 3, 7, 14, 16, 20

Horoscope September special note:

"Instead of spending - put off. A wide arc bypass shopping malls. Make purchases smarter. It can not be ruled out that you will receive beneficial proposals to improve your home budget. At the end of the month, calmly analyze your receipts and expenses. Plan your budget for the upcoming months."