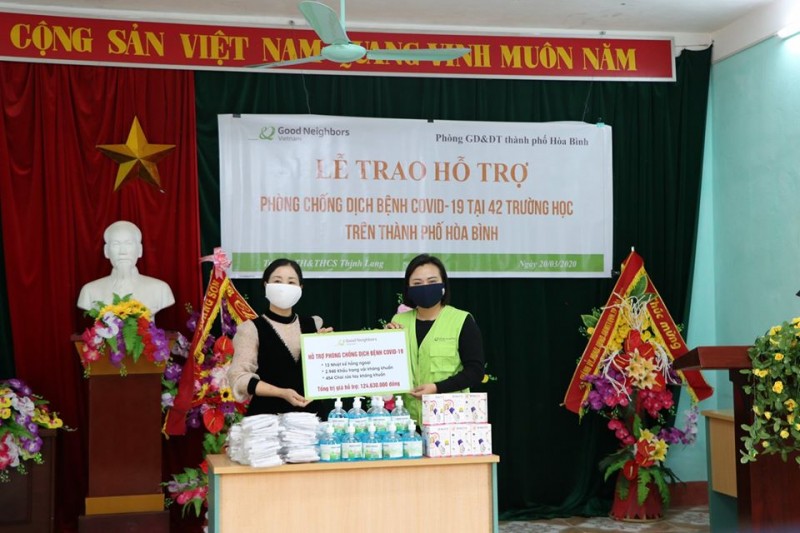 GNI donated hand sanitizer, face masks and infrared body temperature meters to 42 Hoa Binh's schools. (Source: GNI)
The donations included 12 infrared thermometers; 2,940 antibacterial face masks and 454 bottles of instant hand sanitizers.
GNI said the organization is willing to join hands with the Government and the people in the fight against the COVID-19 epidemic.
Previously, on March 6, GNI Vietnam also presented gifts to children with difficulties in Tho Vuc Village, Ninh Khang Commune, Vinh Loc District, Thanh Hoa Province.
As a student of Vinh Ninh Primary school, Ninh Khang Commune, N.Th.T faces many life difficulties: her father, a 63-year-old man, still works as builder to earn money for his wife's medical treatment. Her mother, suffers thyroid cancer and has to take radiation therapy in General Hospital of Thanh Hoa Province every month.
GNI gifted the family bike, table, study lamp, clothes, sandals and milk. In addition, GNI also provided support for the family to pay school-related fee of school year 2019-2020, with total value of 5,2 million VND.
Good Neighbors is an international humanitarian development non-government organisation in the Republic of Korea in 1991, working in 37 countries and supporting more than 9.6 million children in the world. The organisation has been active in Vietnam since 2005 focusing on such areas as child protection, education, health promotion, clean water and sanitation, livelihood development, networking, mobilisation and emergency relief./.
Lao Cai children receive warm clothes

Recently, the Good Neighbors International (GNI) in Vietnam handed over more than 26,000 pieces of warm clothes to children in 9 communities, districts and cities ...
Hannah Nguyen