Government plans to invest US$345 million to bail out Vietnam Airlines
The State Capital Investment Corporation (SCIC) plans to invest 8 trillion VND (US$ 345.49 million) in Vietnam Airlines JSC (HVN) through a rights issue.
It follows a government resolution to resolve the difficulties faced by the airline due to the impact of the Covid-19 pandemic, Nguyen Chi Thanh, general director of the sovereign fund, said at a press conference late last week.
The resolution requires the State Bank of Vietnam to reimburse loans of up to VND4 trillion to credit institutions that have lent to Vietnam Airlines and allows the carrier to make rights issues to existing shareholders to supplement its capital.
Thanh said: "Vietnam Airlines will issue shares worth VND8 trillion to existing shareholders, accounting for 25 percent of the carrier's charter capital. SCIC, acting on behalf of the Government, plans to buy these shares."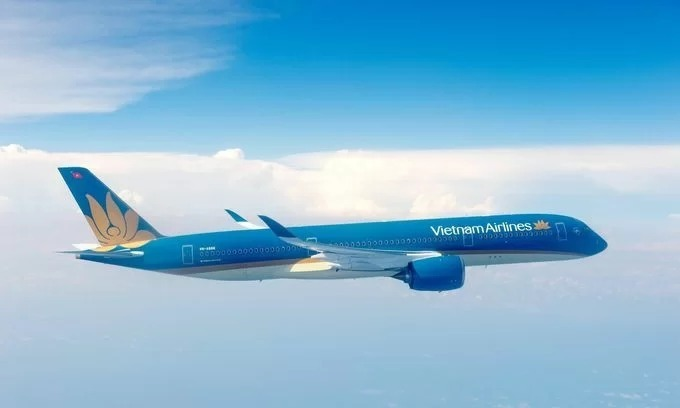 The State Capital Investment Corporation (SCIC) plans to invest 8 trillion VND (US$ 345.49 million) in Vietnam Airlines. Photo courtesy of Vietnam Airlines
The government owned 86.16 percent in Vietnam Airlines on December 31, 2019, VNExpress reported.
Thanh said the airline is making plans for a rights issue, and SCIC's task is to determine a reasonable issue price close to the market price, and is working with Vietnam Airlines on this.
"In order to do that, Vietnam Airlines must be valued, and this requires at least a five-year business plan if we use the discounted cash flow method."
"Amid the spread of COVID-19 around the world, it is very difficult to create a business plan for Vietnam Airlines. If there is no business plan, we cannot judge the enterprise's value. Only when Vietnam Airlines opens international flights, can its business improve," Thanh added.
So to price Vietnam Airlines, SCIC will select a well-known accounting firm with a good reputation to assess the carrier's value. That accounting firm can use one of a number of business valuation methods, Thanh said.
On the Ho Chi Minh Stock Exchange, HVN's share price declined 0.65 percent to finish January 18 at 30,650 VND. The shares increased nearly 7.4 percent since the beginning of 2021, according to Vietnamplus.
In November, the National Assembly approved a bailout that could see the carrier get VND12 trillion and allows it to sell more shares to existing shareholders to boost cash reserves.
Vietnam Airlines expects losses of VND12 trillion (US$522 million) in 2020, lower than expected
The national flag carrier Vietnam Airlines estimated its parent company's losses in 2020 at over VND12 trillion (US$522 million), VND2.42 trillion (US$105 million) lower than the previous forecast in August, said Hanoitimes.
As of late December, Vietnam Airlines' consolidated revenue stood at over VND42.5 trillion ($1.84 billion), including VND33 trillion ($1.42 billion) from its parent company, exceeding their respective targets by VND1.93 trillion ($83.8 million) or 4.8% and VND448 billion ($19.45 million).
"Higher-than-expected revenue helps narrow the airline's losses," Mr. Hoa stated, adding the losses could further be narrowed by the addition of VND2.85 trillion (US$123.76 million) after completing procedures for depreciation adjustment and funds allocation for aircraft maintenance under the government's support program.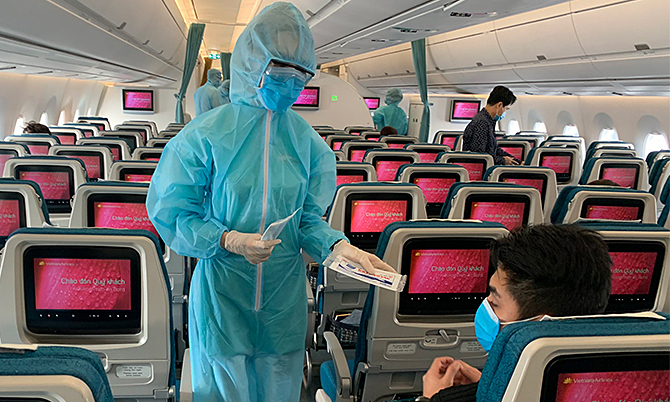 A Vietnam Airlines flight attendant wearing the protective suit on a special flight in March 2020.
Photo courtesy of Vietnam Airlines.
In 2020, Vietnam Airlines operated 96,500 flights, down 48% year-on-year amid the Covid-19 crisis. This resulted in declines of 51% year-on-year in the number of passengers to 14.23 million and a fall of 47% in the amount of cargo for transportation at 195,000 tons.
For the next five years, Vietnam Airlines targets to resume its operation, while continuing to push for the restructuring process.
"The airline is set to streamline its organizational structure and enhance efficiency in performance, especially in the sale and leaseback (SLB) of aircraft," stated Mr. Hoa.
Vietnam Airlines plans to divest a part of its investment capital at businesses with high efficiency in the aviation industry to support the airline's financial conditions.
Handbook
Yoga has recently become one of the best exercise methods that bring many health benefits to people, but it also requires a lot of technique and training to avoid injuries. There are several ways to practice it home, and will still help you achieve your goals.