Green corn season on Dong Van rocky plateau
Under the summer rain, Dong Van plateau is covered in verdant cornfields, bringing a sense of refreshment to the northern mountain province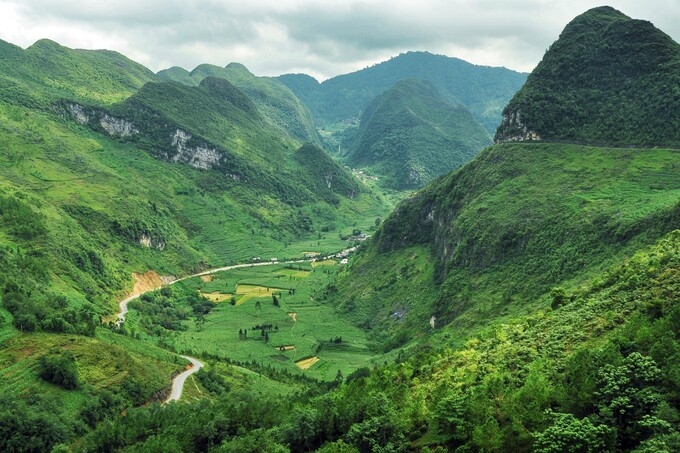 (Photo: VNE)
With rugged rocks cover most of the area, Ha Giang province lacks arable land and has drought all year round. As such, maize is the main food crop here, which plays an important role in the life of the local highland people.
While serving as a stable ingredient in local diet, it's also used as food for livestock.
(Photo: VNE)
If Dong Van is well-known for its pink peach blossoms, white plum flowers, and purple buckwheat flowers, the green maize fields give the plateau an attractive makeover. Visitors will be amazed by the true beauty of Mother Nature if they visit during the summer months.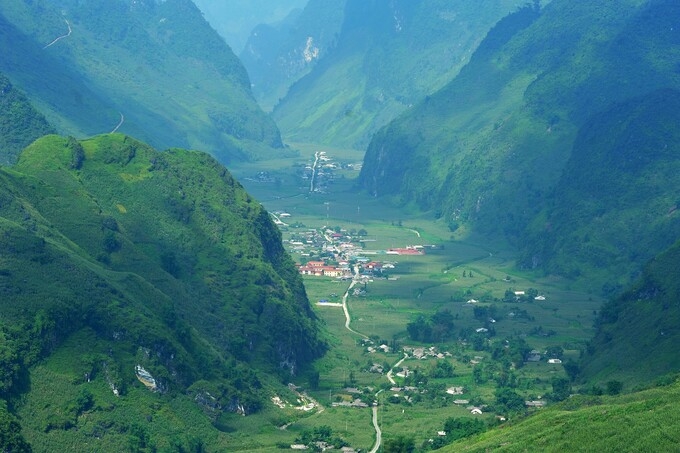 (Photo: VNE)
In June, the Duong Thuong valley going through Lung Ho junction exudes vitality and abundance, a different picture from the rest of the year.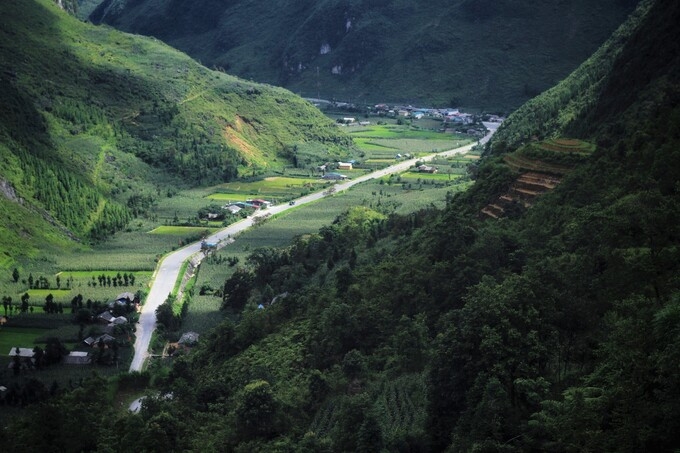 (Photo: VNE)
A bird's-eye view of a road leading to Pho Cao commune.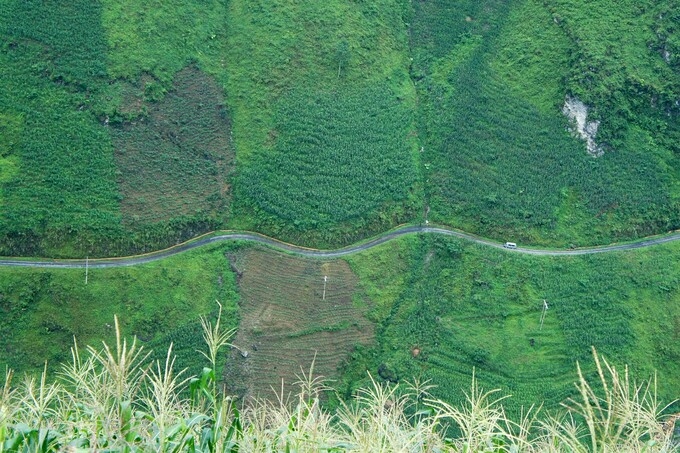 (Photo: VNE)
Standing from the top of Ma Phi Leng pass, visitors can embrace a gorgeous scene. A long, winding road lies in the middle of patches of green trees.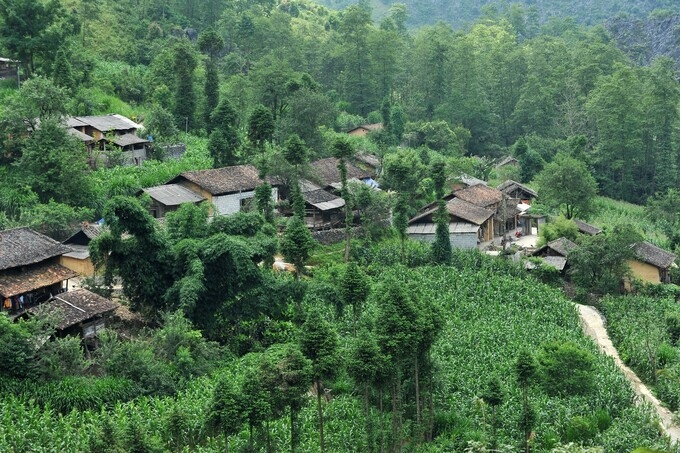 (Photo: VNE)
The more you venture into the plateau's village, the better you'll feel the vitality of the plants that still grow despite the rouged terrain.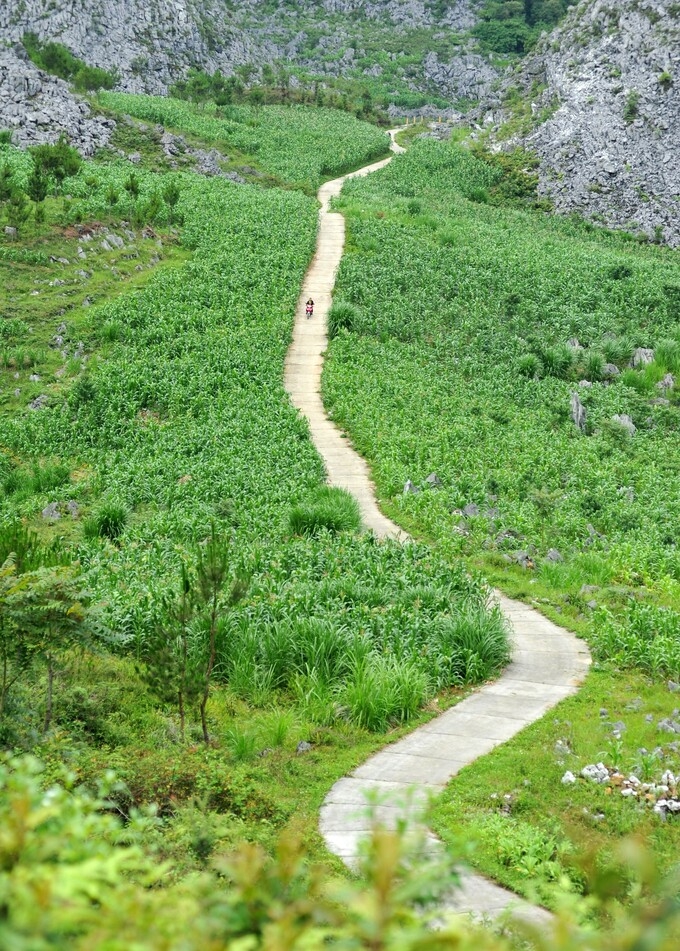 (Photo: VNE)
A winding road in the green of cornfields in Lao Xa.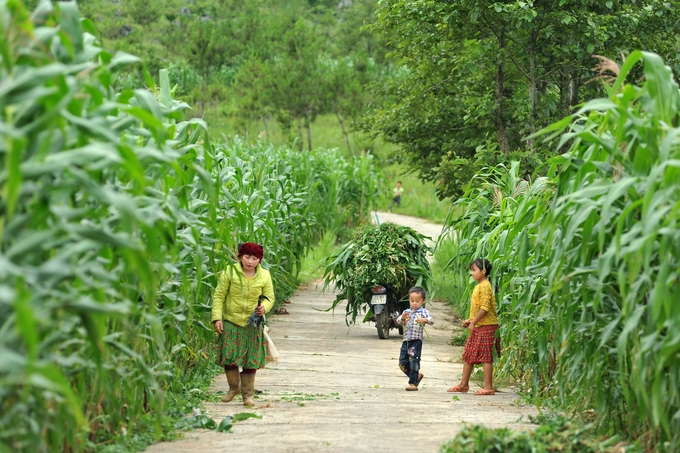 (Photo: VNE)
Farmers often harvest the corn in June and July. However, harvesting time depends on several factors, including rainfall and geographical location.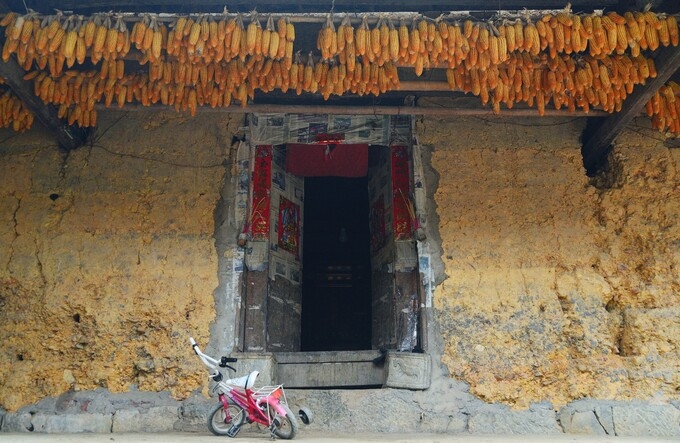 (Photo: VNE)
In any family of ethnic people, like Mong, Dao, Lo Lo, Giay, visitors will come across strings of corn lined up on the gable or in the kitchen.
Locals often dry the corn under the sun three to four times before sorting them out for different purposes, such as eating, making wine, making cakes or feeding animals.
Dong Van plateau, a must-visit stop for travel enthusiasts
Dong Van Karst Plateau Geopark was recognized as one of 77 geological parks in the world by the UNESCO's Global Geoparks Network in 2010, and became Vietnam's first geological park. Located about 1,400 – 1,600 meters above sea level, Dong Van Rock Plateau is formed by narrow valleys alternating with rocky mountain ranges in the north of Vietnam. Up to 80% of Dong Van Rock Plateau is covered by limestone which contains the fossils of thousands of prehistoric species from 400-600 million years ago.
The park spreads over the four districts of Meo Vac, Dong Van, Yen Minh and Quan Ba, with a total area of 2,356 square kilometers. It is home to more than 250,000 people from 17 different ethnic minorities with diverse cultures and traditions. The ethnic minorities live by cultivating rice along the basins of the Nho Que River and corn on the rocky mountain slopes.
Some interesting facts about Dong Van Plateau
In 2015 UNESCO registered Dong Van Karst Plateau Geopark as a World Heritage Site
The massive mountainous area is home to 17 ethnic groups, making it a unique and cultural sphere
Limestone takes up about 60% of the plateau's surface.
The highest mountain in the area is about 1,971 meters in height, and the deepest canyon is nearly 800 meters depth.
Dong Van geopark is on an extension mountain range, east of the Himalayas
Its geoheritage dates back from the Cambri (550 million years ago) to the present day.
Dong Van plateau travel tips
Getting to Dong Van
The distance from Hanoi to Dong Van is about 320 km. This is quite a distance and riding by motorbike could be very tiring. Ideally you can take a bus to Ha Giang, then rent a motorbike in Ha Giang to go to Dong Van.
From My Dinh bus station or Giap Bat in Hanoi, there are always many bus trips running from Hanoi to Ha Giang. To help reduce fatigue, you should take a bus with a bed starting at around 8 - 9 p.m. You can sleep until you arrive in Ha Giang the next morning.
Where to stay in Dong Van?
Although it is a highland district, Dong Van is a famous tourist destination, with many guesthouses and hotels. Heere is a list of some good quality cheap guesthouses in Dong Van.
Dong Van Old Quarter Coffee House
Address: Dong Van town, Ha Giang.
Telephone: 096 963 34 34.
Thien Huong Guest House
Address: at house 23, 3/2 street, Dong Van town, Dong Van, Ha Giang.
Telephone: 0219 3856208
Lung Cu Guest House
Address: Lung Cu Commune, Dong Van, Ha Giang.
Telephone: 0219 3856216
Khai Hoan Guest House
Address: Town of Dong Van, Dong Van, Ha Giang.
Telephone: 0219 3856147
Dong Van plateau: Beyond rocky mountains

Visiting Dong Van Ancient Quarter on the days of market sessions on weekends, visitors will have interesting experiences. Apart from trading goods, highland people in ...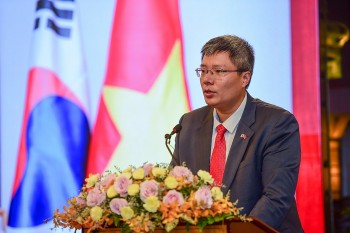 Viet's Home
Tran Hai Linh, member of the Central Committee of the Vietnamese Fatherland Front, chairman of the Vietnam-Korea Business & Investment Association (VKBIA) shared with the Vietnam Times about strengthening the capacity to promote Vietnamese culture to the world.