Ha Giang Sinkhole Turned Majestic Tourist Beauty
Beneath the hole, diverse vegetation along with a strange land of ferns, makes visitors feel like they are traveling through space and time.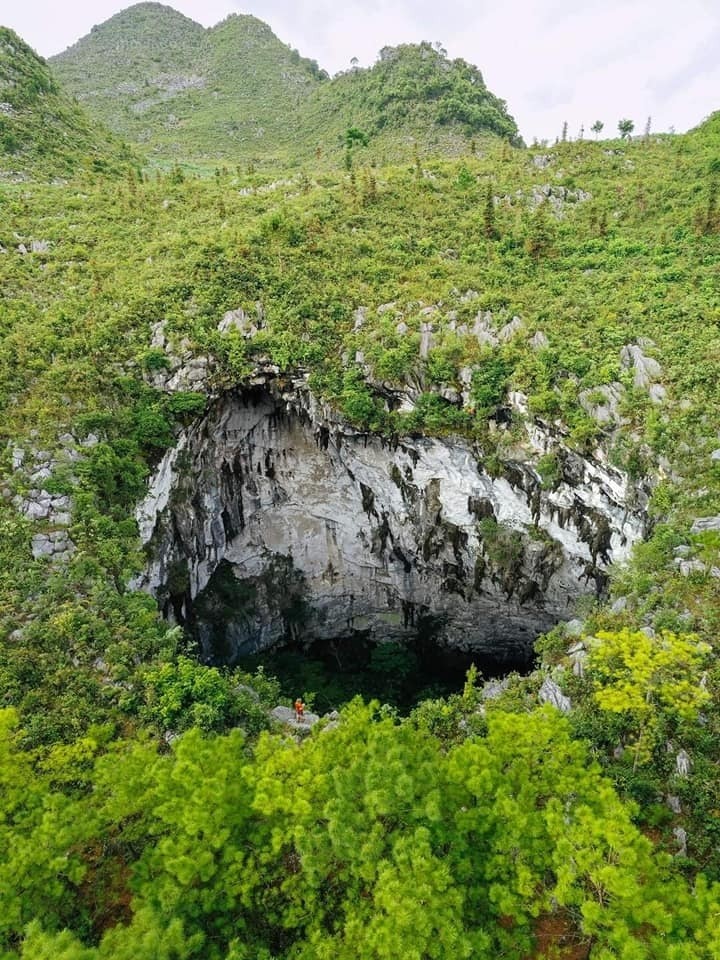 Photo: Focus Asia Travel
About 3 km from Meo Vac, hidden on a pine hill of Tia Chi Dua village, Giang Chu Phin commune, is the new Meo Vac sinkhole that must be seen to be believed.
This "sinkhole of death" in the middle of Ha Giang is the new tourist hot spot because of its strange beauty.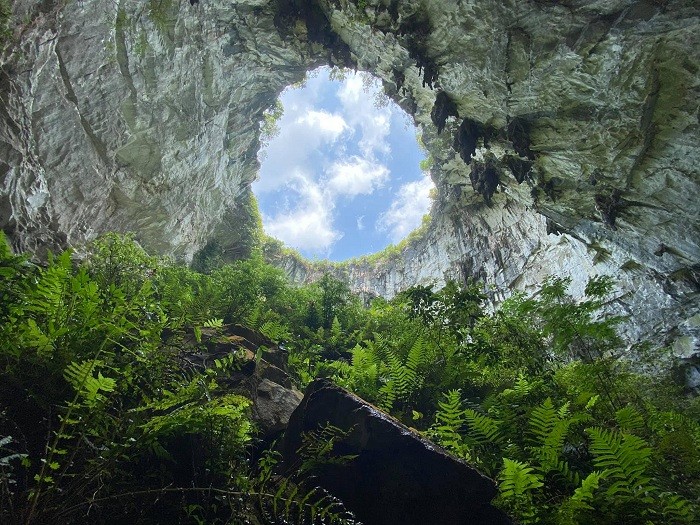 Beneath the hole, diverse vegetation along with a large "forest" of ferns, makes visitors feel like they are traveling through space, discovering prehistoric times. Photo: Travel to Vietnam
Standing from below, looking up, the sky emerging from the crater is as beautiful as the Hollywood movie footage that everyone used to admire. It is the majesty and impressive image of the sinkhole that has made the tourist community call this "Death Hole" or the "Ha Giang Sky Well".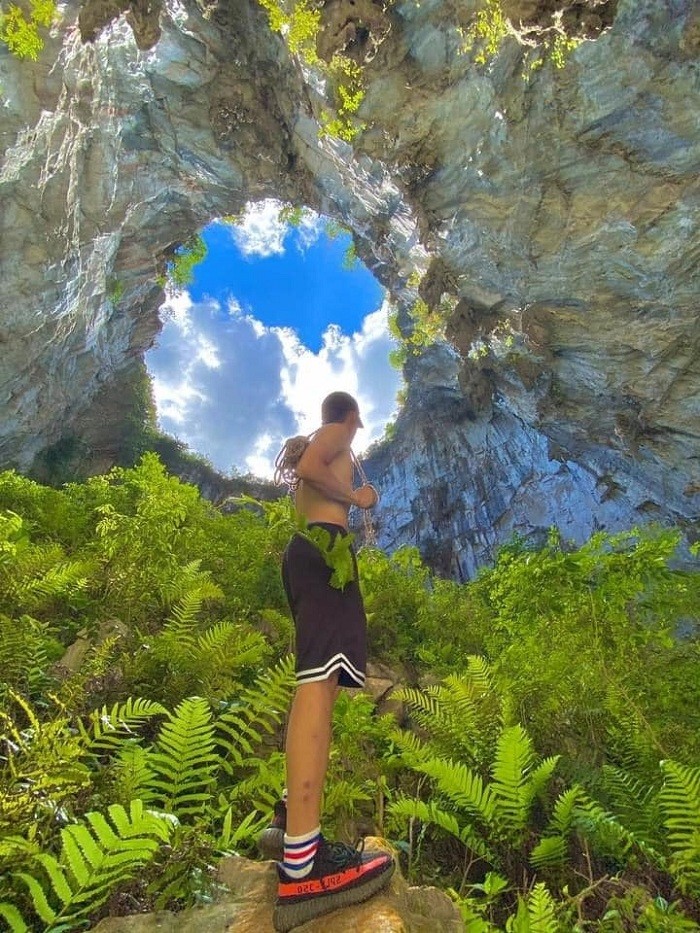 The conqueror - Tourists' favorite pose to do when inside the sinkhole. Photo: Travel to Vietnam
"When I was in the hole and looked up, I felt so small compared to nature. This below me of the story of the frog myself. If I come back to experience it next time, I will challenge myself for 24 hours. under the hole to be able to feel more fully," tourist Giac Van Hai said.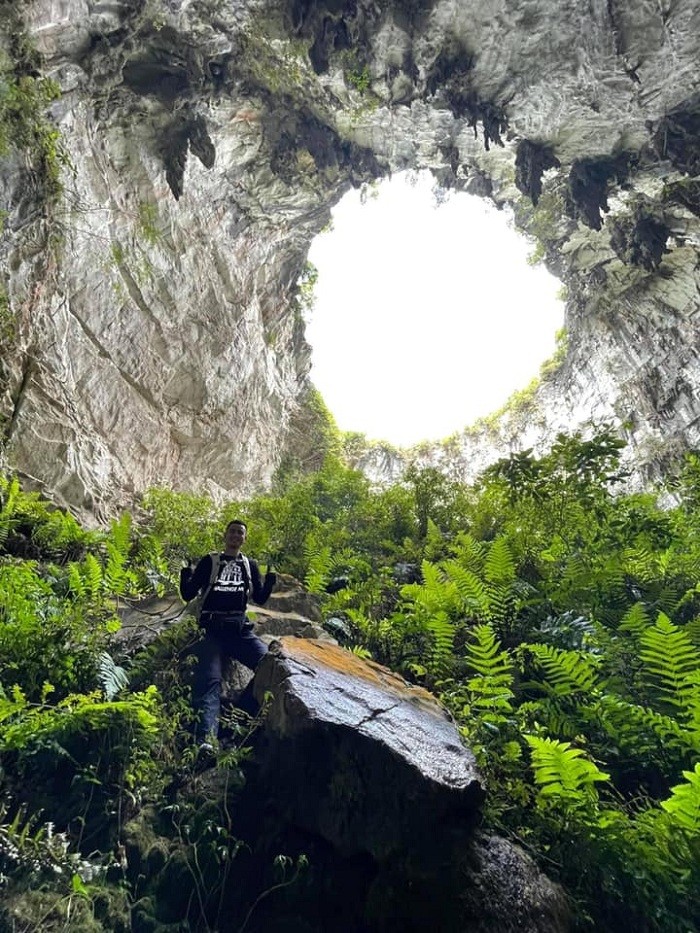 Photo: Travel to Vietnam
He added that during the discovery process, many other large and small sinkholes were discovered in Ha Giang. However, this is a hole with a good challenge to explore even for beginners.
When its images were first posted online, many people thought that this was a sinkhole in Quang Binh and was surprised when Ha Giang had such a unique place.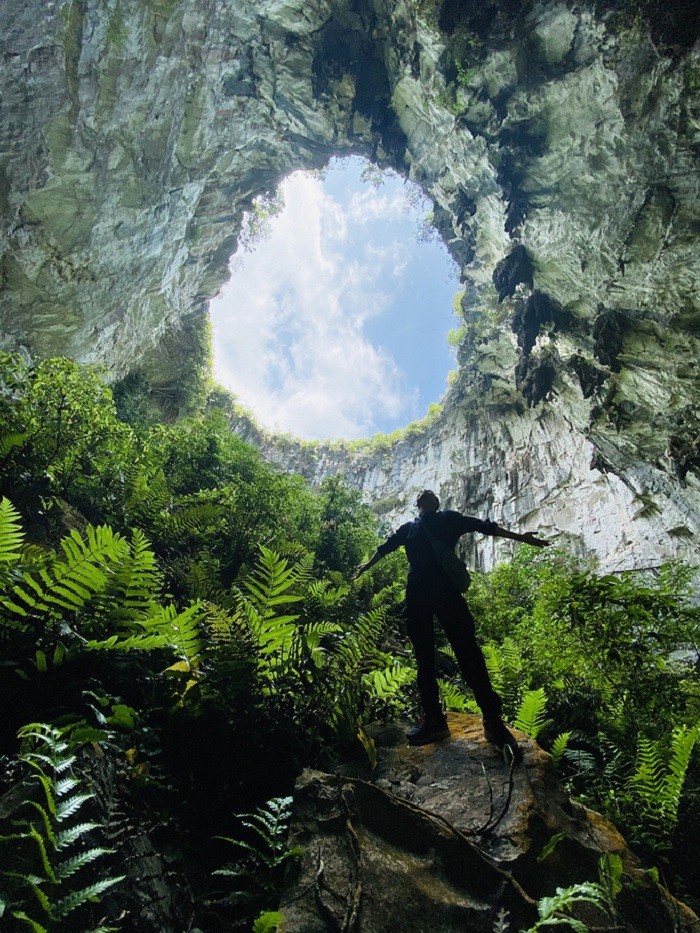 Photo: Travel to Vietnam
Thus, besides the rocky plateau and the dangerous but poetic passes, Ha Giang has another attractive destination for adventurers.
After crossing the dangerous and craggy roads, visitors will enjoy the feeling of conquering the majestic nature, and also have beautiful check-in photos like Hollywood movies.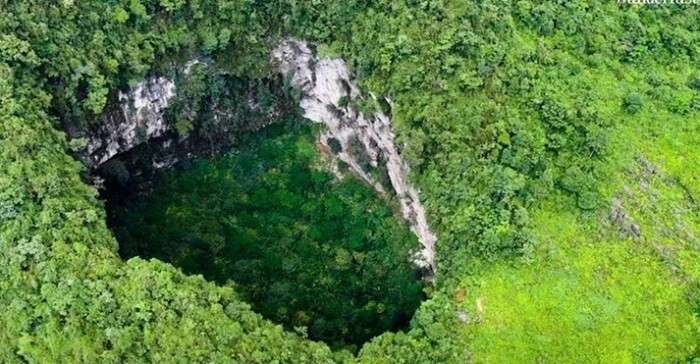 The depth of the hole is about 38.5 m. Photo: Travel to Vietnam
Because this place is still unexploited for tourism, visitors who want to challenge themselves will follow the trail that locals often use. To the sinkhole, they will experience the feeling of swinging to fighting move down. According to travel blogger Hoang Nam, the depth of the hole is about 38.5 m.
The steep path that visitors have to go on can take 30 minutes to climb down, then climb again for about 20 minutes. Note for visitors to conquer the sinkhole need to bring enough protective gear, accompanied by experienced people to ensure their own safety. What they get after a lot of hard work is extremely worth it.
However, you should be aware that the road here is very dangerous, not for the faint of heart and afraid of heights. Tourists who are physically fit, and love to explore, should follow a group to reach these dangerous areas.
To explore the sinkhole with comfort, you should choose sunny, well-lit days. If possible, do not forget to ask for help from indigenous people who have been in the hole.
Although the Meo Vac sinkhole is becoming a famous destination in Ha Giang, there is still a majestic mystery about it.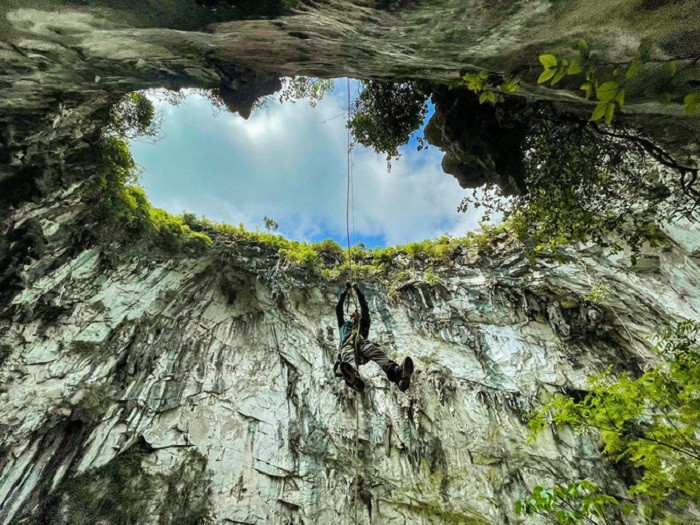 Inside the pit are an extremely diverse ecosystem with green trees, jagged rocks, and cool space. Photo: Travel to Vietnam
Ha Giang has never ceased to amaze tourists. It is a paradise of discoveries of the wonders of nature. Meo Vac sinkhole promises to be a new and challenging place to conquer for adventure enthusiasts.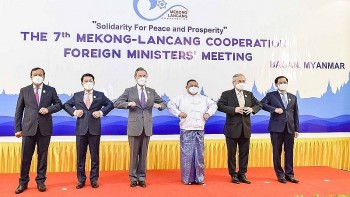 National
Foreign Minister Bui Thanh Son led a Vietnamese delegation to the seventh Mekong-Lancang Cooperation (MLC) Foreign Ministers' Meeting that was held in Bagan, Myanmar on July 4.