Hai Duong Covid-19 hotspot to end social distancing starting April 1
The entire Hai Duong province, Vietnam's biggest Covid-19 hotspot in the latest outbreak will end social distancing under the Prime Minister's Directive No.19 to implement epidemic prevention measures in the new normal state starting 0:00 on April 1.
Hai Duong Covid-19 hotspot will end social distancing starting April 1. Photo: Zing News
The decision was made by the Standing Hai Duong Provincial Party Committee at a meeting on March 29 morning, Zing News reported.
The Covid-19 situation in Hai Duong has completely been put under control. Many localities in the province have gone through more than 20 days without any fresh cases. All places were removed lockdown. There are remaining 41 people under centralized quarantine.
All Covid-19 testing samples have shown negative.
95% of enterprises and production establishments in the province have resumed their operation while carrying out Covid-19 safety protocols.
Hai Duong will end social distancing from 0:00 April 1 to restore production and business, promote socio-economic development, and ensure the realization of "dual goals".
However, non-essential services which pose the risks of spreading diseases such as bars, discos, karaoke parlors, massage, gym, movie theaters, and game shops will continue closing until April 15.
Restaurants and cafes were allowed to reopen, but they must sternly abide by the regulations on Covid-19 prevention and control. The sidewalk beer restaurants continue having to shut down.
The cities of Hai Duong and Chi Linh and Kim Thanh District need to actively adopt some stricter anti-pandemic measures.
Students at all levels in Hai Duong will also come back to schools from April 1.
In the latest Covid-19 outbreak, Hai Duong has reported 726 Covid-19 community transmission cases. 621 of whom have recovered and discharged from the hospitals.
The national count increased to 2,591, of which 1,603 cases were domestic infections. Meanwhile, 2,308 COVID-19 patients have been given the all-clear by now, and the death toll remains at 35.
Among those still under treatment, 30 have tested negative for SARS-CoV-2 once, 38 twice and 57 thrice. A total of 44,833 people are being quarantined nationwide, with 483 at hospitals, 18,412 at concentrated facilities, and 25,938 at their accommodations.
As of 16:00 on March 28, 2021, a total of 45,140 were vaccinated against COVID-19, all of them are medical staff directly treating COVID-19 patients, or responsible for COVID-19-relating tasks such as sampling, testing, tracing patients, members of the Steering Committee for pandemic prevention.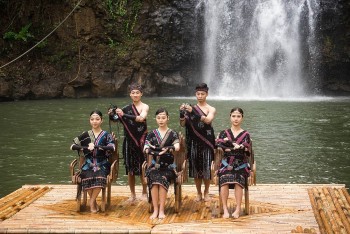 Travel
Many passengers applaud the creativity of the flight instruction video that Vietnam Airlines has recently introduced on their flights. This video not only creatively conveys the message of flight safety but also helps to spread globally the unique, indigenous cultural values ​​of the country and people of Vietnam.