Stories of Vietnamese community in pandemic-hit Ukraine's Kiev
As the Covid-19 resurged, Kiev City (Ukraine) was forced to be under lockdown between March 20 and April 9 to prevent the epidemic. In addition to the difficulties caused by the pandemic, the joy of the Vietnamese community in Kiev City is receiving the information of recovered cases every day.
During the past year, the number of Vietnamese people in Kiev contracting Covid-19 has increased. People here are facing the third outbreak from February 20 up to now, according to the World &Vietnam Report.
Challenging days
As being hard-hit by Covid-19 pandemic, Kiev city on March 22 alone reported 349 cases and 20 deaths.
According to the Support Committee for Disease Control and Prevention of Vietnam Association in Kiev, as of March 22 afternoon, there has been 166 Vietnamese in the city tested positive with the virus (including 12 cases under treatment and 154 recovered).
Among them, there was one Vietnamese person re-infected with Covid-10. After 15 days of hospitalization and 10 days of health monitoring at home, this patient completely recovered.
According to the health authorities, Ukraine has so far documented nearly 1400 cases re-infected with Covid-19, even ones contracting the virus for the third time.
The Vietnamese Association in Kiev also said that since the third wave of Covid-19 swept through the city one month ago, the fresh community transmissions have been continuously reported and all of them needed to be hospitalized. Among them, 3 patients received intensive care. The Association leader contacted the Board of Directors and doctors at hospitals to ask for assistance.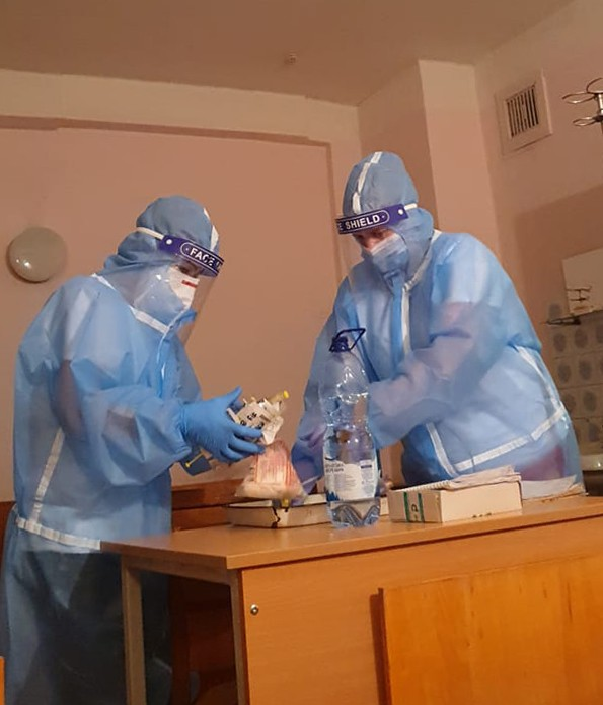 Medical staff at a hospital in Kiev. Photo: Baoquocte.
The Association requested Vietnamese ex-pats to refrain from gathering in public spaces.
Vietnamese people in Kiev City, especially the elderly and those with underlying diseases have always got support from the Association.
The Vietnamese Association in Kiev has also welcomed the high sense of responsibility for the community of the patient's families.
Apart from medical equipment, psychological elements are also very important. It is the enthusiastic care of doctors, Associations, friends, etc that help the patients quickly recover.
Sentiment in a far-away country
Living far away from and contracting Covid-19 in the host country is a challenge for overseas Vietnamese. Nevertheless, they have received great care and free-of-charge treatment.
After half a month under treatment, Mr. Ho Sy Truc (from Nghe An province) and many other patients were discharged from the hospital. Going through difficult time, Truc felt the sentiment in a far-away country.
"I would like to extend my thanks to doctors at the Obolon Hospital No. 8 for taking care of me, my wife, and many other Vietnamese people", Truc said.
"I also would like to send my thanks to the Vietnamese Association in Kiev for supporting us", Truc added.
Truc was also touched by the attention of the Vietnamese Embassy in Ukraine, including Ambassador Nguyen Hong Thach. Although very busy with his work, the Ambassador always encourages Truc and his wife to quickly recover.
As starting to assume mission in Ukraine at the end of 2020, Ambassador Nguyen Hong Thach came to the Troeshina market in Kiev city to visit and learn about the disease situation and the lives of people here.
"The sentiment in a far-away country helps us to combat the disease", Truc said.
Giving priority to solve difficulties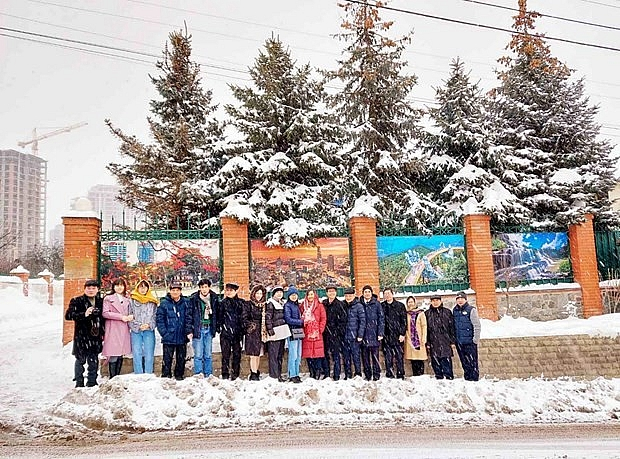 Ambassador Nguyen Hong Thach and the Embassy's employees pose for a group photo. Photo courtesy of Vietnamese Embassy in Ukraine.
Vietnamese Ambassador to Ukraine Nguyen Hong Thach recently had a meeting with representatives of the Vietnamese community in Ukraine to discuss doing business and adapting to new conditions.
Ambassador said that the number of Vietnamese people in Ukraine reached 6,000-7,000 people who had worked and studied and then chose to settle down in the country.
However, currently, Vietnamese ex-pats have encountered many hardships caused by the Covid-19 pandemic.
In addition to meetings, the Vietnamese Embassy in Ukraine also plans to organize many other activities aiming to preserve the Vietnamese cultural values.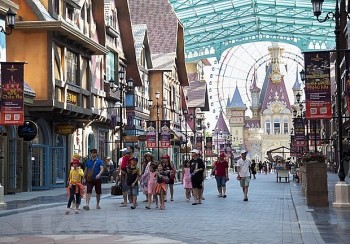 National
Vietnam News Today (October 29): Vietnam records 4,876 new local Covid cases; Vietnam ready to welcome sport teams to SEA Games 31 in mid-May 2022; HCMC vaccinates 40,000 children against Covid; No seven-day quarantine planned for foreign tourists with negative Covid tests.