Hai Duong field hospital No.3 comes into operation as Covid-19 cases surge
Hai Duong field hospital No.3, located in Chi Linh City starts to receive Covid-19 patients from February 19 as the number of the Covid-19 cases in the locality surges.
Hai Duong field hospital No.3 is located in Sao Do University in Chi Linh City with a total ground area of ​​5,230 square meters.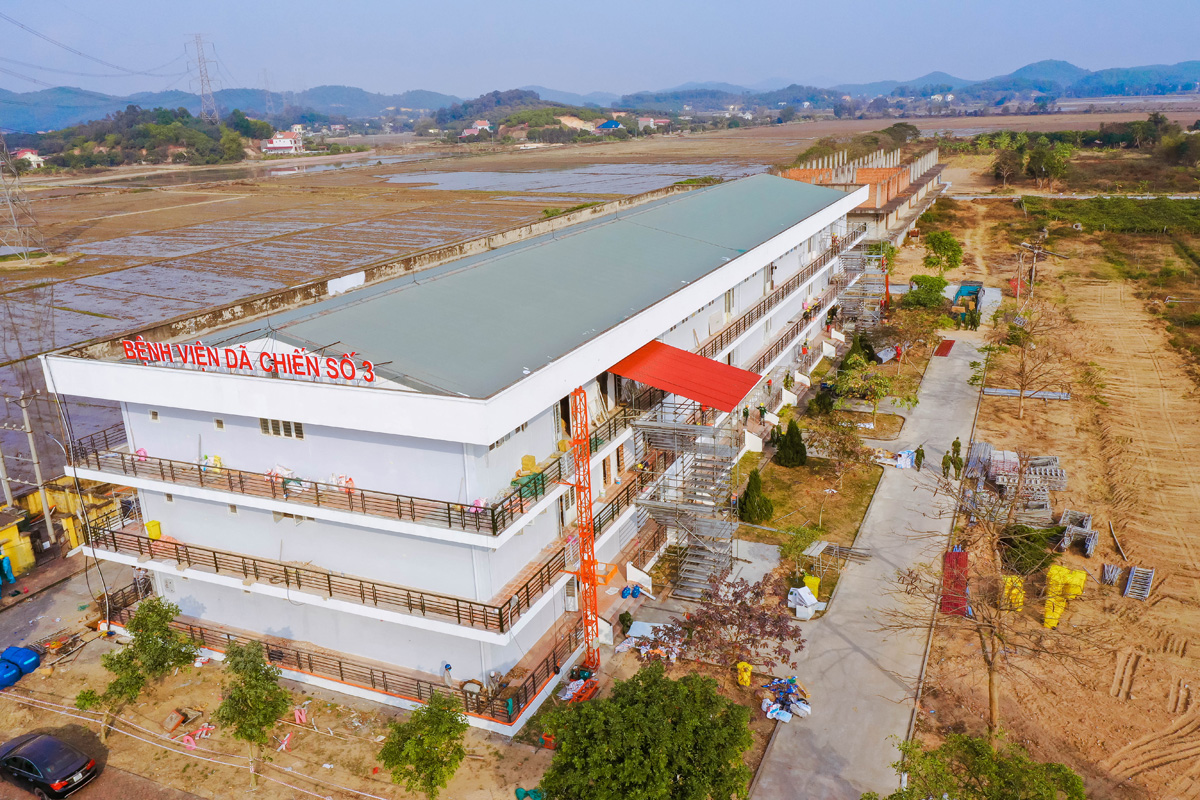 The hospital is a three-story building, located far away from the residential area. Photo: Nhan Dan.
The hospital is a three-story building, located far away from the residential area. The first floor is turned into the patient-receiving area, where testing and treating equipment are also stored. The remaining floors are patient rooms and some function rooms. All the equipment inside was moved from Tien Son field hospital in Da Nang City.
More than 200 workers from Hanoi and Da Nang along with the local military personnel worked day and night to finish the field hospital within only seven days.
The whole area was retiled, repainted as well as installed partitions, electricity, water, cameras, wastewater treatment areas, etc.
Hai Duong Department of Health has mobilized 100 medical staff, mainly from the Provincial General Hospital, to be ready to serve the patients. At the same time, a number of essential equipment from aid sources and other medical units in the province sent to the hospital were also set up.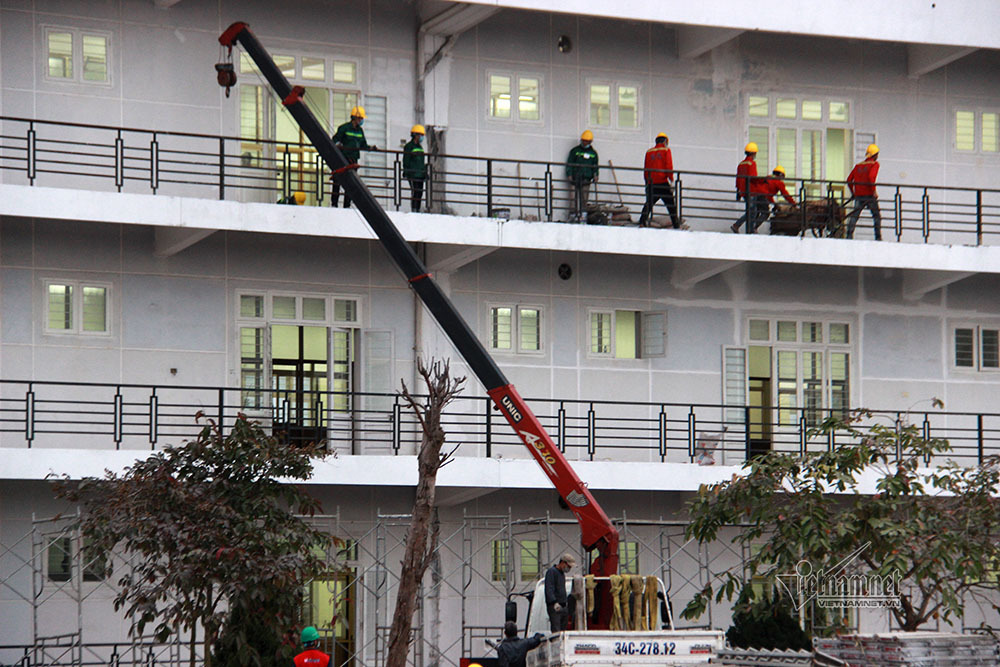 Workers are establishing the field hospital No.3. Photo: Vietnamnet.
Hai Duong province also requested Chi Linh City to disinfect and prepare facilities for a five-story building to turn it into accommodation for medical workers during the time they perform their duties at the field hospital.
When coming into operation, field hospital No.3 will reduce the load for the field hospital No.1 and No.2. The field hospital No.1 is located at Chi Linh Medical Center, operating from January 29th, can treat up to 300 patients at a time. Field hospital No. 2 is located at Hai Duong Medical Technical University. It has 200 beds, with a maximum capacity of 400.
Since the Covid-19 resurged in the province on January 28, Hai Duong has established 949 checkpoints, 203 concentrated quarantine facilities with 9016 people. The province has also locked down 74 residential areas, 9 villages, 2 communes and 2 districts and cities. More than 14,000 F1 cases and nearly 55,000 F2 cases have been traced.
Earlier, Hai Duong Steering Committee for Covid-19 Prevention and Control requested the Ministry of Health to assist it in establishing testing rooms as well as providing medical equipment, according to Tien Phong.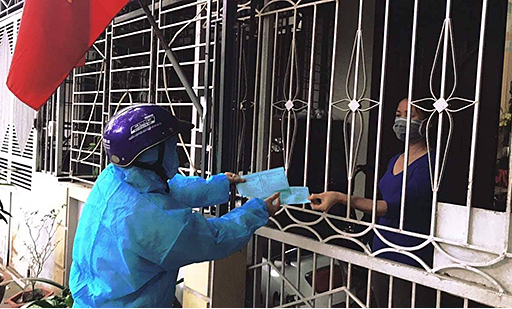 A person gives another one shopping coupons through a gate in Hai Duong Province due to existing social distancing measures against Covid-19. Photo by the Ministry of Health.
Accordingly, Hai Duong province asked Bach Mai Hospital to support setting up the testing rooms at the Field Hospital No.2 at Hai Duong Medical Technical University; the National Hospital of Tropical Diseases set up testing rooms at the Field Hospital No.1 in Chi Linh City's Medical Center; National Institute of Hygiene And Epidemiology establish testing rooms in Cam Giang district.
Hai Duong also requested the National Hospital of Tropical Diseases to dispatch experts in treating Covid-19 patients to field hospital No.3.
Starting February 16, all of Hai Duong undergoes social distancing, around half a month since a new wave of Covid-19 outbreaks swept through the province.
Nguyen Viet Hai, chief of office of Hai Duong Party Committee, said the province would undergo social distancing for 15 days starting February 16 as per a government directive on Covid-19 prevention.
The social distancing directive, the same applied nationwide in April last year to stem the spread of Covid-19, calls for people not to go outside except for getting food, medicine, or other emergencies; requires a minimum social distance of two meters and bans gatherings of more than two outside of hospitals, offices, schools, and public spaces.
Hai Duong Province is currently the biggest coronavirus hotspot in Vietnam, with 575 cases from the latest outbreak.
The latest outbreak has reached 13 cities and provinces since late January, with 755 cases recorded. The nationwide Covid-19 tally is 2,347.