Hai Duong Covid-19 field hospital's capacity doubled to 600 beds
The northern province of Hai Duong, the country's current Covid-19 epicenter, has doubled the capacity of its second field hospital to 600 sick-beds.
The hospital now mainly provides treatment for people who have been infected with the SARS-CoV-2 virus after having close contact with Covid-19 patients, according to Dtinews.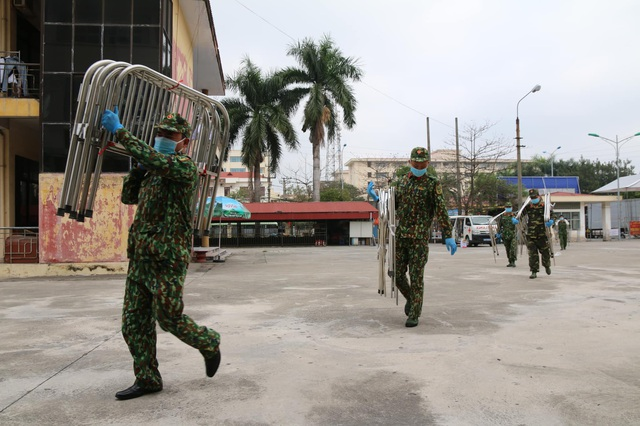 The military forces help expand the field hospital. Photo: Ministry of Health.
On February 15, Bach Mai Hospital sent nearly 100 staff to support the hospital expansion. The work was also jointly helped by the Hai Duong military forces and staff from Hai Duong Medical Technical University where the hospital is located.
Twenty-four medical students who were provided with sterilization skills were also sent to the hospital.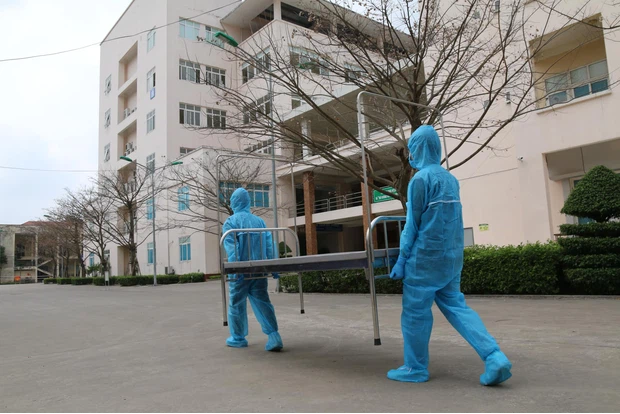 Photo: the Ministry of Health.
Professor Nguyen Quang Tuan, director of Bach Mai Hospital, called for speeding up work at the hospital.
Party Secretary of Hai Duong Pham Xuan Thang requested localities to tighten control over quarantine sites to avoid cross Covid-19 infections. He also asked the Ministry of Defense to arrange quarantine areas for the province.
To date, Hai Duong has established three field hospitals for Covid-19 treatment.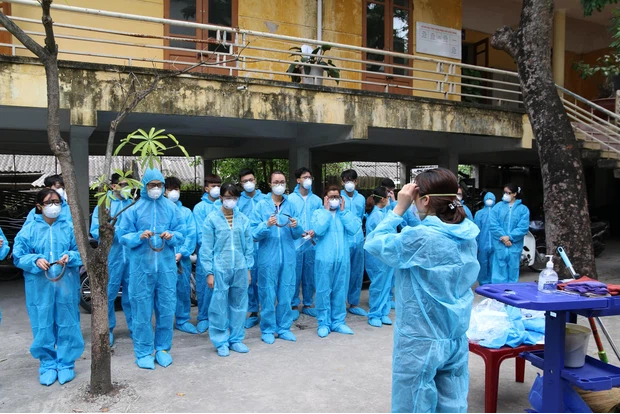 Students from the Hai Duong Medical Technical University help to expand the field hospital.
Photo: Ministry of Health.
In an effort to cope with complicated developments relating to the outbreaks in Hai Duong, especially those occurring in industrial zones, the provincial Steering Committee for COVID-19 Prevention and Control has asked the National Steering Committee and the Ministry of Health to help the locality with testing. This is along with providing enough medical equipment in order to serve in the fight against the pandemic, VOV reported.
Furthermore, as a means of ensuring there are enough resources available for COVID-19 treatment for the growing number of patients, Hai Duong also requested that the Ministry of Health supports the establishment of more COVID-19 testing sites. This should be done alongside boosting the screening capacity for COVID-19 to increase the ability of health agencies to contain the pandemic.
Starting February 16, all of Hai Duong undergoes social distancing, around half a month since a new wave of Covid-19 outbreaks swept through the northern province.
Nguyen Viet Hai, chief of office of Hai Duong Party Committee, said the province would undergo social distancing for 15 days starting February 16 as per a government directive on Covid-19 prevention, Vnexpress said.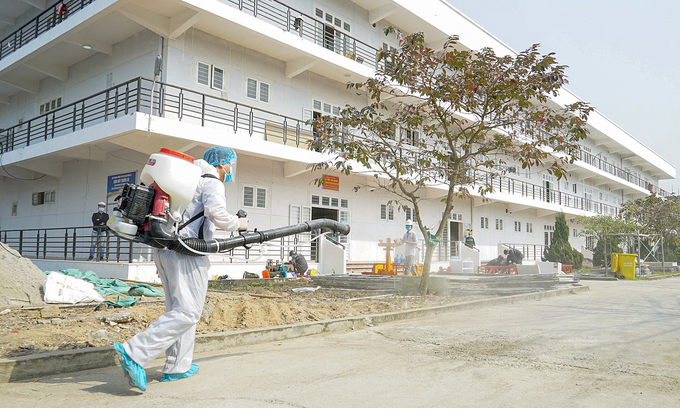 A medical worker disinfects an area of a field hospital for Covid-19 patients in Hai Duong Province.
Photo: VnExpress
The social distancing directive, the same applied nationwide in April last year to stem the spread of Covid-19, calls for people not to go outside except for getting food, medicine or other emergencies; requires a minimum social distance of two meters and bans gatherings of more than two outside of hospitals, offices, schools, and public spaces.
Traffic through the province, home to more than two million people, would also be limited during the period, with only vehicles with essential purposes allowed to enter Hai Duong, which is more than an hour drive from Hanoi.
As of February 15, thousands of families in Hai Duong, the epicenter of a new Covid-19 wave in Vietnam since late last month, remain quarantined. The province's Chi Linh Town and Cam Giang District are still under lockdown to extinguish local coronavirus outbreaks.
Hai Duong has so far recorded 539 locally transmitted cases.
The country has reported as many as 719 locally transmitted Covid-19 cases since community transmissions reemerged in the nation on January 28 after 55 consecutive clean days.
Vietnam's total Covid-19 infection tally is now 2,311 with 699 active cases. Around 128,000 are in quarantine nationwide, either in hospitals, quarantine zones, or at home.