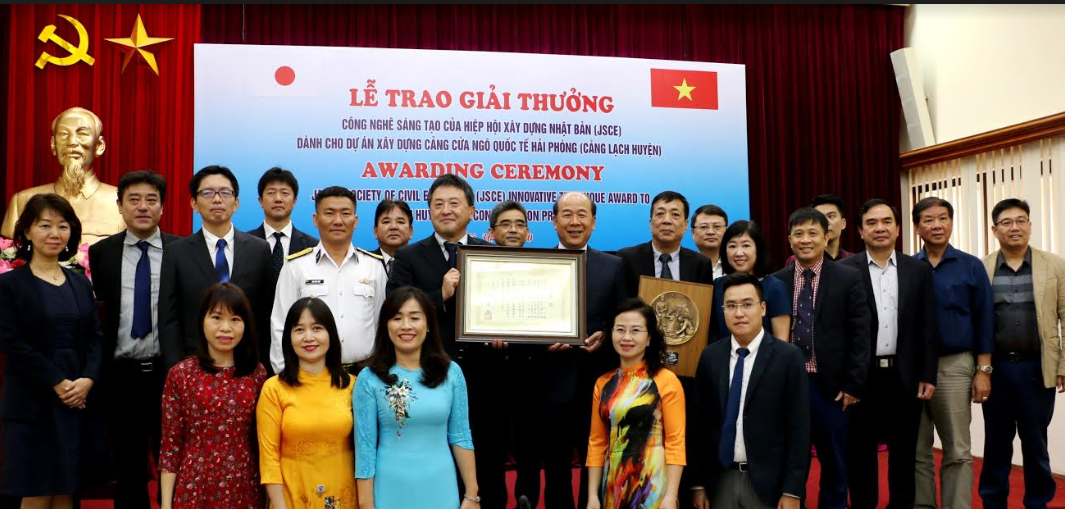 The ceremony to present the Innovative Technique Award of Japan Society of Civil Engineers (JSCE) to Lach Huyen Port Infrastructure Construction Project. Photo provided by JICA Vietnam
JSCE's Innovative Technique Award recognizes the innovation in technologies applied to the Project from engineering design to construction of the first-ever longest construction in Vietnam of 3,230-meter long breakwater and 7,600-meter long sand protection dyke as well as reclamation, soft soil improvement, and channel dredging. The introduction of the advanced technologies enabled the high qualities with short construction period and safety.
This is the first pilot Public-Private Partnership (PPP) project between the Government of Vietnam and the Government of Japan where public portion was financed by Japanese ODA and private portion was invested by a joint venture of Japanese and Vietnamese companies.
The opening of the deep-sea port and related basic infrastructure in Lach Huyen area in 2018 has boosted up the contribution of the project to economic development of the Northern region and the greater competitiveness of Vietnam in the international market.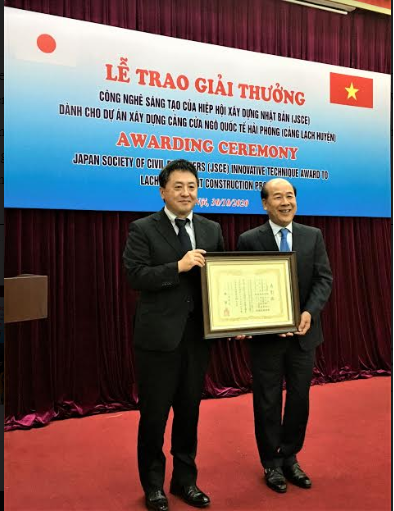 Mr. SHIMIZU Akira, Chief Representative of JICA Vietnam Office handing the Certificate of the Award to Mr. Nguyen Van Cong, Vice Minister of Transport. Photo provided by JICA Vietnam
JSCE Award program, founded in 1920, recognizes outstanding achievements, remarkable accomplishments, and significant contribution to civil engineering progress. This is the first time the JSCE Innovative Technique Award is presented to a project in Vietnam. The awarding ceremony was held in Japan in June 2020.
Tarah Nguyen