Hanoi Caving Club: Exploring Vietnam's Epic Caves
Besides peaceful beaches and teeming jungles, Vietnam is home to large caves, perfect for adventurous folk.
The members of the Hanoi Caving Club (HCC) are enthusiastic about Vietnam's many beautiful caves. Besides some that have been exploited for tourism purposes, many caves have not been discovered and surveyed yet. This is the reason for the establishment of HCC to become a meeting place for those who share the same passion.
The game requires great passion and skills
Lately, HCC held a training session in Cua Huong eco-tourism park in An Tien commune of the suburb My Duc district in Hanoi. Attending this session were two HCC's vice presidents, Vu Van Giap and Le Van Khoa (Ben Khoa), and other members. On that day, two American cave experts from the National Speleological Society (NSS), Steven W. Frye and Dean Wiserman, who is also former Chairman of NSS.
This field trip of HCC was also joined by many people who share the same passion for climbing and caving, especially officers and staff from the Vietnam Institute of Geosciences and Minerals.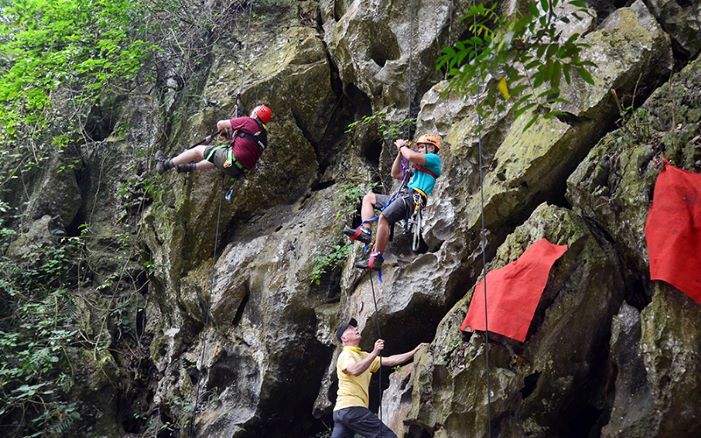 Steven W. Frye instructed members of HCC. (Photo: Manh Hao/NDO)
The team gathered at a cave in the low limestone mountain and set up the camps and equipment for training. After unloading their backpacks from the car, some people quickly changed their clothes, put on safety equipment, helmets, and specialized gloves, and climbed up to install three swings at a height of more than 10m.
Ben Khoa shared that this task is only for skilled members because they can assess the terrain and choose a firm location to install the swing to ensure safety for the whole group during the practice session.
Spending only a few minutes introducing themselves and getting acquainted, Frye and Wiserman quickly shared with HCC members the technique of swinging and handling a single rope. Frye kept reminding everyone to put their safety first during the whole session.
Ben Khoa confided that for beginners in just one training session, it's not easy to swing up and down while remembering the safety equipment which is associated with English words. Besides memorizing those, one must also know how to handle correctly with each device, because just one mistake can endanger his safety and others in the team.
In addition, to be a good cave explorer and rescuer, one must have survival experience and excel in many sports, in which fitness is a very important factor. It is revealed that the walking distance to a cave mouth can sometimes be up to 6-7km or even longer. This requires the explorer to be familiar with trekking and have the ability to climb mountains and swim because many caves have geysers, streams, and even a lake inside.
Therefore, it's not surprising that some HCC members used to play different sports, such as Pham Duc Duong, Hoang Thuy Duong who trekked the highest mountains in Vietnam, Dang Huy Hung who has been paragliding for a while, or Duong Minh Quang, nicknamed "Iceman", who used to swim from the foot of Long Bien Bridge in Hanoi to Ba Lat estuary in Thai Binh province with a distance of 200km in three days in November 2020.
Caves aren't just for exploration
It is known that caves in Vietnam are usually located in limestone mountains with karst topography (a typical phenomenon of mountains eroded by water). Vietnam has a fairly large area of limestone mountains, up to 50,000-60,000 km2, accounting for nearly 15% of the land area, concentrated mainly in four sub-regions of Viet Bac (Ha Giang, Cao Bang, Lang Son), North East (Quang Ninh), North West (Lai Chau, Lao Cai, Son La, Hoa Binh, Ninh Binh) and North Central (Quang Binh).
Research reveals that by 2000, cave investigation and research works in Vietnam only discovered about 200 caves. By now, this number has reached nearly 1,000 caves.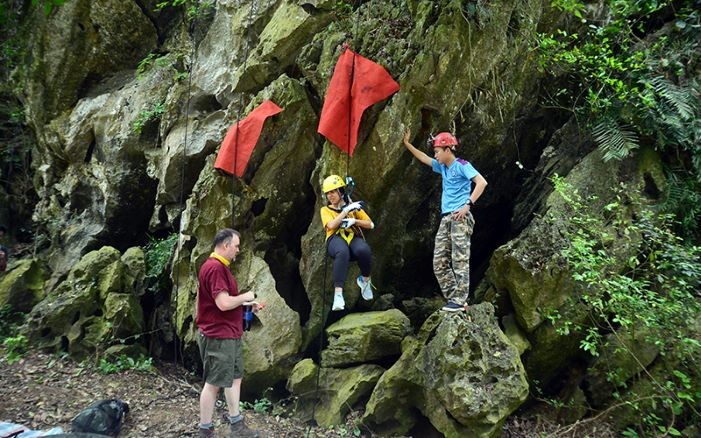 Dean Wiserman and members of HCC. (Photo: Manh Hao/NDO)
According to Ben Khoa, there are water caves and dry caves, horizontal caves, and deep caves. For deep cave investigation, explorers must master rope swing and rescue skills. Hidden deep in the cave is a splendid, magnificent, and magical world. Besides the beauty created by nature, the caves also contain archaeological vestiges, and unique historical-cultural relics of the nation, and are valuable for tourism development.
HCC hopes to go to as many caves as possible, helping people understand more about caves and caving. So far, they have discovered 10 caves together. HCC is also developing into a professional club by supporting scientific research of history, geology, tourism, and rescue as well as spreading and raising awareness of nature protection and cave conservation.
In December 2021, HCC members Van Manh, Le Quoc Khanh, Nguyen Truong Thinh, Le Thanh Huyen, Minh Quang, and colleagues like Jungle Boss conducted a survey trip to Tien Nu cave in Truong Son commune, Quang Ninh district (Quang Binh province) and drew a diagram of this 2,622 m long and 59 m high cave. Before them, only the Royal British cave expedition surveyed Tien Nu cave in 2006.
Member Truong Thinh shared that going to the end of the cave only takes about 1 hour, but one team of 3 people needs up to 5 hours for detailed measurements. HCC became the first people to draw a cave diagram in Vietnam and so far, they have redrawn a diagram of three caves, including also Na cave in Quan Ba ​​district (Ha Giang province) and Vo Thanh cave in Huu Lung district (Lang Son province).
Truong Thinh added that redrawing the cave map is a way to share the beauty of the cave, also for the rescue team to be able to approach when someone is in trouble, and above all to help people be more aware of cave conservation and environmental preservation.
Frye, who started exploring Vietnam's caves in 2018 and is now NSS' representative in Vietnam, revealed that next fall, NSS plans to bring in cave rescue experts from the US National Cave Rescue Commission to support HCC, Vietnam Institute of Geosciences and Minerals and anyone, any organization interested in cave rescue. At the same time, NSS will coordinate with Vietnamese cave explorers to search and discover new caves, while Dr. Wiserman will organize and lead expeditions to continue to explore new caves in Quang Binh. In addition, Dr. Wiserman and Phong Nha-Ke Bang National Park are discussing bringing American students to study in this National Park.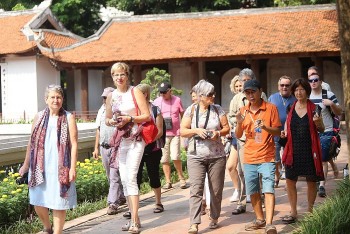 National
Vietnam News Today (May 24): Covid-19: Vietnam records 1,179 new cases, 3,862 recoveries on May 23; Foreign arrivals soar two months after border reopening; Vietnam, Cambodia boost defense ties; Heavy rain floods parts of northern Vietnam.