Hanoi closes sidewalk eateries, cafes amid Covid-19 threat
Starting 5 p.m., May 3, the city of Hanoi will suspend operation of streetside food and drink businesses, citing coronavirus fears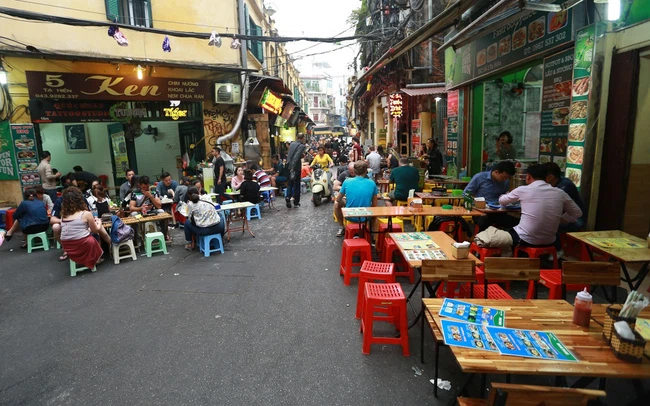 Hanoi closes sidewalk eateries, cafes starting 5 p.m May 3. Photo: Cafef
Hanoi will close down cafes, tea stalls and streetside eateries from the evening of May 3, in a precaution to control the latest coronavirus outbreak.
The decision was made by Chairman of Hanoi People's Committee Chu Ngoc Anh at noon on April 30. Religious and historical sites have also been required to shut down.
For indoor restaurants and cafes, disinfecting must be ensured and customers must either sit at least a meter apart or have shields between them. Takeaways are encouraged, he said.
Establishments failing to abide by the regulations on Covid-19 prevention and control will be forced to stop operations, he added.
Inspecting a blockaded area on the evening of May 2, the vice chairman of Hanoi People's Committee said the city was facing a high risk of infections.
Hanoi's leader has requested localities to review and grasp the list of people returning to the city after a four-day national holiday (April 30-May 3).
Previously, the capital requested the closure of bars, karaoke parlors, and dance clubs starting from April 30.
On April 27, the city also ordered the suspension of all festive activities and the operation of walking street, as well as limitation unnecessary events that draw large gatherings.
Vietnam has reported no new cases of Covid-19 to report in the past 12 hours before 6 a.m., May 3, keeping the national count at 2,962, according to the Health Ministry.
A total of 39,870 people who had close contact with Covid-19 patients or arrived from pandemic-hit areas are being quarantined nationwide.
As many as 2,549 patients have been given the all-clear, and the death toll remains at 35.
Among the patients under treatment, 19 have tested negative for the coronavirus once, 19 twice and 34 three times.
An additional 6,143 people received shots of Covid-19 vaccine on May 2, raising the total number of vaccinated people to 532, 247, most of whom work at the frontline in the pandemic fight.
After locally infected cases were detected in late April, localities around the country are tightening epidemic prevention measures.