Schools switch to online learning amidst Covid-19 surge
Educational institutions of all levels are turning to distance learning to avoid possible exposure as new coronavirus cases have been scattering across Vietnam.
(Photo: Dan Tri)
Over 300,000 students in Vinh Phuc province are expected to attend virtual classes from May 4-16 to ensure health safety and curb coronavirus spread in the community. The proposal was made by the Provincial Department of Education and Training on Sunday afternoon following the confirmation of 5 new cases in the locality. Provincial People's Committee will give final approval on May 3.
Earlier on May 1, Ha Nam People's Committee also issued an official dispatch asking learning establishments from nursery to high school to give online lessons in one week until further notice.
Ha Nam authorities tasked the Provincial Department of Education and Training to promote anti-pandemic measures in the community, regularly update on health situation of teachers, school personnel and students during school closure and ensure teaching quality.
In the meantime, teaching in many universities in Hanoi and Ho Chi Minh City has also been halted. Vietnam National University was the first university to switch from offline to online classes over coronavirus fear. Dozens of universities have followed suit, including Hanoi University of Science and Technology, Academy of Journalism and Communication, University of Transport and Communication, etc.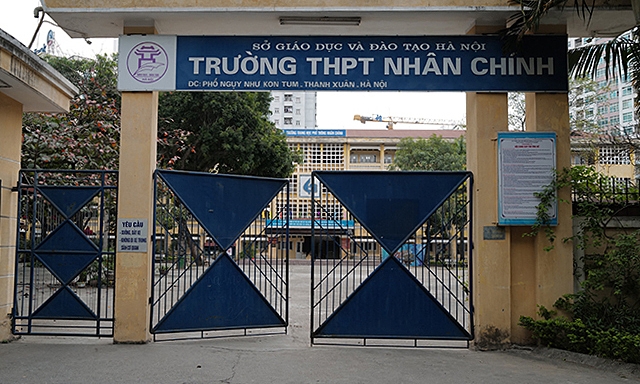 A high school in Hanoi is vacant amid a prolonged break to prevent spread of Covid-19, March 2020. (Photo: VNE)
Ha Nam province is currently a new Covid-19 hotspot in Vietnam after a new community case (known as Patient 2899) was detected. Health Minister Nguyen Thanh Long last week warned of a very fast infection rate in the northern province, asking to lock down one village and place social distancing order in one entire commune. All karaoke parlors, bars and discotheques have been closed. Those disregarding anti-pandemic regulations, especially mask rules, will face hefty fines.
To date, Ha Nam has reported 10 new Covid-19 patients, 333 F1 persons currently under quarantine. One local field hospital was built to admit and treat Covid-19 patients.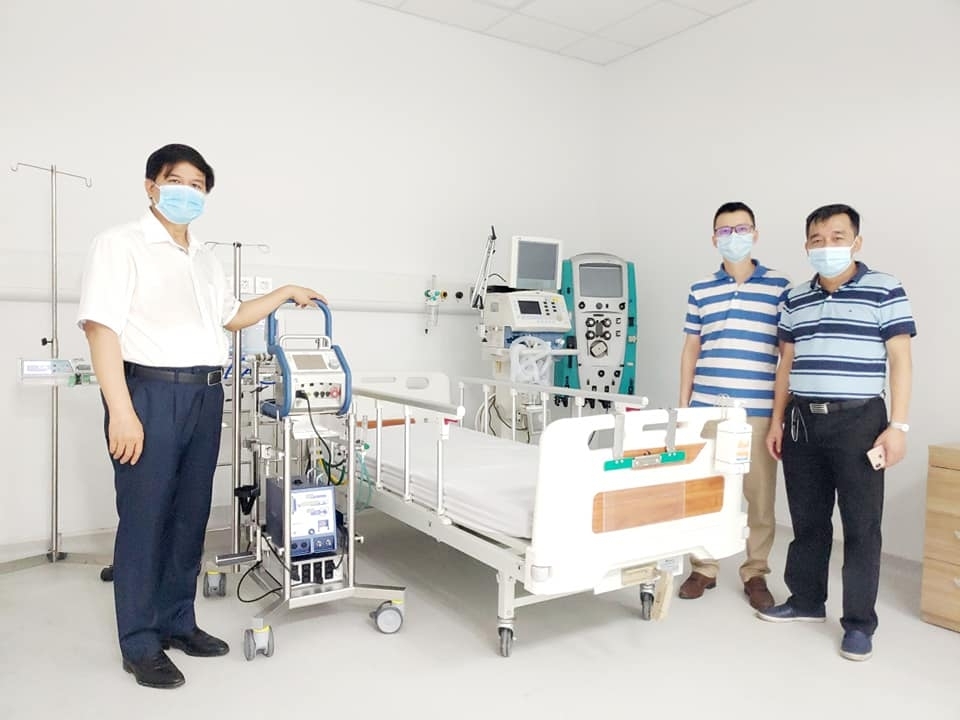 The makeshift hospital in Ha Nam is equipped with ECMO system and ventilators (Photo: CAND)
With such a school closure plan, Vietnamese students are to "enjoy" a prolonged holiday break after a 4-day-off period on Reunification Day and International Labor Day.
Education disruption is no longer uncommon in Vietnam since the start of the Covid-19 pandemic. Last year, students across the country returned to school in mid-June after four-month-long online tuition, an event considered unprecedented in history. The National University entrance exam was also put off until September, nearly two months late than normal.
Patient 2899 tested positive for the coronavirus after returning home from two weeks of quarantine following his return from Japan.
The Ha Nam Center for Disease Control announced the 28-year-old man's test result on Thursday.
The man returned from Japan on April 7 and was quarantined at the Alisia Beach hotel in central Da Nang City. He tested negative for the coronavirus three times during his stay.
On April 22 he returned home in Ha Nam and self-isolated. But on April 24 he began to display symptoms like coughing, fever and throat pain, and was taken to a local medical facility for
Following the positive test result, he has been quarantined at the Ha Nam General Hospital, while his close contacts have been put in centralitive.
No cases found May 2 morning, while the Ministry of Health confirmed 14 new Covid-19 patients on the evening of May 1, including three community cases and 11 imported ones.
Patients 2940 to 2942 are related to "Patient 2899" in the northern province of Ha Nam. The three new patients are being treated at the National Hospital of Tropical Diseases 2 in Hanoi. Patients 2929 to 2939 are Vietnamese who returned from either Japan, UAE, Canada or Romania. They were quarantined upon arrival and are being treated at different hospitals.