PM: Vietnam need to stay vigilant against Covid-19
Prime Minister Pham Minh Chinh has asked ministries, agencies, localities, units and individuals to remain vigilant against COVID-19 and raise the sense of responsibility for public health.
He made the request during a Cabinet meeting on COVID-19 prevention and control on April 26 morning, which was held amid the complex developments of the pandemic in the world.
According to a document on the meeting outcomes, issued by the Government Office, the PM pointed out the high risk of pandemic resurgence in Vietnam as its neighbouring countries are facing spikes in cases, Nhan Dan Newspaper reported.
Given this, it is hard to complete the dual tasks of socio-economic development and pandemic combat, he said.
The leader urged ministries, agencies and localities to get updated on the COVID-19 situation at home and in foreign countries, and seriously implement prevention and control measures.
He reiterated the need to follow the Ministry of Health's 5K message: khau trang (facemask), khu khuan (disinfection), khoang cach (distance), khong tu tap (no gathering) and khai bao y te (health declaration).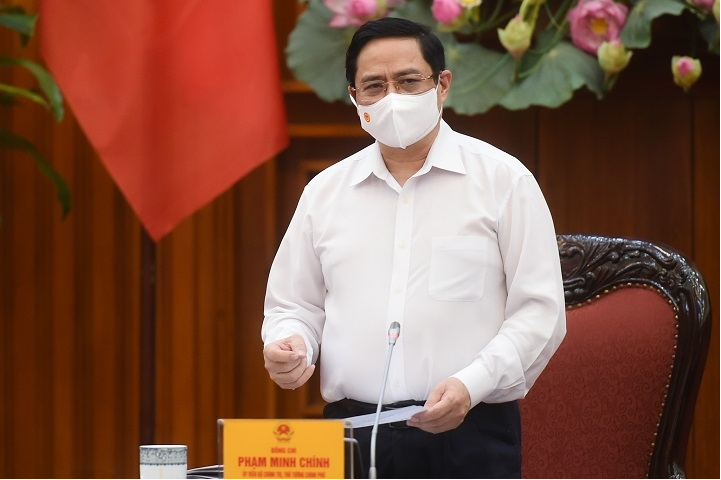 Prime Minister Pham Minh Chinh speaks at the meeting. (Photo: VGP)
Any violations should be strictly punished in line with regulations of the Party and law of the State, the PM noted.
The Ministry of National Defence, the Ministry of Public Security, provincial-level People's Committees and relevant ministries and agencies need to step up inspections over the observance of quarantine regulations, he continued.
He ordered limiting mass gatherings and wearing masks in public places, especially in festivals.
Northwestern border provinces should coordinate with the Ministries of National Defence and Public Security, and closely cooperate with neighbouring countries in controlling immigration via roads and sea routes.
Meanwhile, the Ministry of Health should enhance international cooperation to expand the access to COVID-19 vaccines and quick testing techniques, while facilitating vaccine production at home, the PM said.
Border control tightened as Vietnam eyes Cambodia, Laos outbreaks
Provinces bordering Cambodia and Laos have prepared themselves for the worst-case scenario should Vietnam's two neighbors fail to contain their Covid-19 outbreaks.
For more than a week, following the spike of locally-transmitted Covid-19 cases in Cambodia, Ha Tien Town in southern Kien Giang Province has ordered mobile police, militia and self-defense forces to work closely with border guards to prevent people from crossing the border illegally and possibly bringing the virus to Vietnam, which has gone a month without local transmissions, according to Vnexpress.
Phu Quoc Island off mainland Kien Giang has been identified as a hotspot for illegal entries.
In the past week, seven posts and 50 soldiers have been sent to the island, raising its capacity to 27 posts and 100 soldiers.
Kien Giang Province border guards patrol the sea area off Ha Tien Town, April 2021. Photo by VnExpress/Nguyen Phuong.
In An Giang, 200 posts and stations have been set up to watch over a border of 100 kilometers with Cambodia.
Major Nguyen Truong Phong, Head of Vinh Nguon border guard station, said with many rivers and canals adjacent to localities in Cambodia, An Giang provides the perfect conditions for people to break into Vietnam.
Cambodia has been in the grip of a Covid-19 spread since late February. Its caseload has crossed 10,000, with 580 new infections reported Monday alone, after recording only around 400 cases in the whole of last year.
With a border of 50 kilometers along Cambodia, Dong Thap has set up 16 mobile patrol teams aside from the existing 17 posts to watch over the frontier.
Forces in northern and central Vietnam are also halting illegal entries from the Vietnam-Lao border, which runs 2,161 kilometers across 10 provinces.
Captain Hoang Kim Bac at a border station in Quang Tri Province's Huong Hoa District said this season, water levels in rivers are low, making them ideal routes for illegal border crossings.
On April 23 and 24, nine people were caught breaking into Vietnam via the commune.
Another border station in the district has been supplied with 48 members for militia and self-defense forces to help reinforce the patrol task.
Ha Tinh Province this week set up 11 guard posts with 10 staff each, with five more members held in reserve should the situation intensify.
Vietnam recorded five cases of COVID-19 during the past 12 hours to 6 pm April 27, raising the national total to 2,857, according to the Health Ministry.
Among the new patients, four are Vietnamese citizens returning from abroad and have been quarantined immediately after arrival. The fifth patient was a staff member at a hotel which is used as a quarantine facility in the northern province of Yen Bai, where several Indian experts are quarantined after arriving in Vietnam. This staff member has also been under medical monitoring since the first day he made contact with the Indian experts.
Meanwhile, 2,516 COVID-19 patients have been given the all clear, and the death toll remains at 35.
Among patients still under treatment, 13 have tested negative for the novel coronavirus once, 15 twice and 20 thrice.
A total 38,266 people are being quarantined across the country.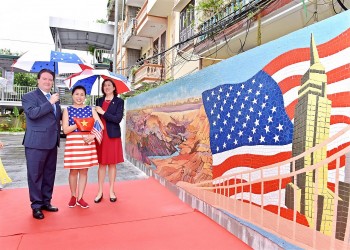 Multimedia
A ceramic mosaic mural named "Vietnam - US friendship" depicting the natural and cultural heritages of the two countries, was just revealed in Hanoi