Hanoi is the most recommended places for traditional food lovers
Hanoi and Ho Chi Minh City are the most recommended destinations for traditional food, street food, and places to shop for food, according to the research by the Future of Travel.
The joy of discovering and enjoying delicious dishes while exploring new places can make one's traveling experience very special, Hanoi Times reported.
As travel starts to resume in a gradual and phased manner, the global accommodation platform Booking.com has recently conducted a survey about eating habits of travelers.
The survey shows that 53% of travelers are keen to taste and indulge in local cuisine while traveling, with 45% wanting to eat out more often with the money they have saved from not traveling abroad due to the closure of borders.
According to the results of the survey, Hanoi and Ho Chi Minh cities top the list of traditional food, followed by Hoi An, Hue, and Nha Trang.
In the 'Street food' category, the two biggest cities of Vietnam – Hanoi and Ho Chi Minh City are also in the first and second positions.
Additionally, Da Nang city is the preferred choice for travelers who love food as the city ranked first in all other three survey categories of 'Seafood', 'Local food' and 'Culturally Diverse Food'.
Traditional food in Hanoi
While Hanoi is most popular for giving travelers the experience of appreciating French-colonial architecture, as well as discovering the history of the Old Quarter, it is also equally rich in showcasing diverse and traditional cuisines in Vietnam and the world with colorful flavors.
Hanoi cuisine is characterized by the elegant style of Trang An (denoting Thang Long - Hanoi) ancient people. Along with the development of all aspects, Hanoi cuisine also imported the culinary essence from many regions throughout the country, tweaking it with its own style.
The best dishes in Hanoi are inexpensive, yet tasty treats that can be found within the Old Quarter's narrow alleyways and bustling street markets.
This is where you can find the familiar and world-renowned pho noodles served with bagel twists or the original bun cha that was once enjoyed by President Obama during his visit to Vietnam in 20216.
Hanoi Pho
Pho (Noodle soup) is a traditional Vietnamese dish that is considered one of the typical for Vietnamese cuisine. From north to south, Pho is preferred by both local people and foreign tourists that it is very easy and convenient to find a Pho restaurant and sample a bowl of hot and spicy noodles. However, to taste and feel the most quintessential and original flavor of Pho, all will lead to Hanoi Pho, the noticeable feature of Hanoi cuisine culture and the pride of Hanoians, according to Insidevietnamtravel.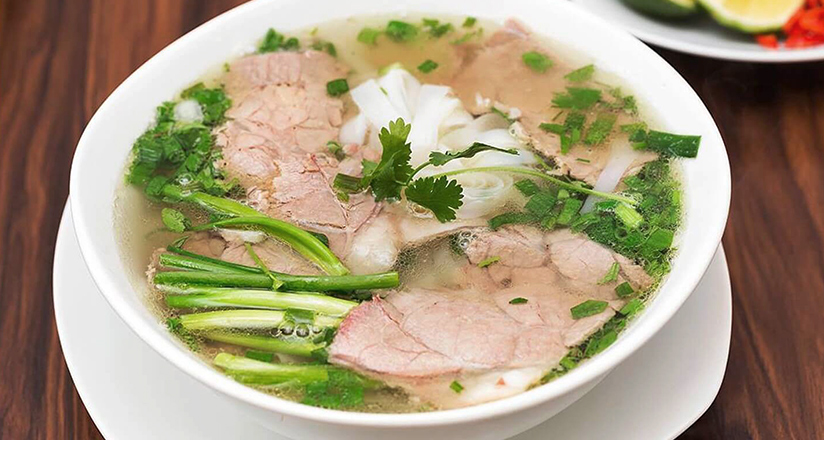 Photo: Insidevietnamtravel
Hanoi Pho is a convenient dish for all main meals: breakfast, lunch, and dinner. A bowl of Pho can contain 18-20 kinds of foods from natural plants and meats. The most special thing is that those ingredients are used almost in the original state and coordinate with each other to create a unique flavor that is strange, delicious, and easy to digest.
Best restaurants to enjoy Hanoi Noodles - Where to go?
Nowadays, it is very easy and convenient to find a Pho restaurant in Hanoi; however, the heirloom restaurants through many generations that keep well the quintessence of Hanoi Pho are not everyone to know. Among hundreds of restaurants all over the corners of Hanoi, the following are familiar destinations for local inhabitants and many international diners who love this national food of Vietnam.
Pho Gia Truyen - Bat Dan, Hanoi, Vietnam
Located at 49 Bat Dan Streets, Pho Bat Dan is a popular restaurant that is highly recommended by not only Hanoians but also people from other regions and international tourists. Due to the typical flavour of traditional Pho, the restaurant is always busy with a long queue of customers, while the space inside is limited, customers sometimes experience the self-service: paying, taking bowls, and finding seats.
Address: 49 Bat Dan, Hoan Kiem, Hanoi
Pho 10 Ly Quoc Su, Hanoi, Vietnam
This is a long-established Pho brand. Pho here is very delicious and has many flavors to choose from depending on customers' preferences. The broth of Pho is rich and fragrant due to its processing and selection of spices. Pho Ly Quoc Su has many shops, but the original at 10 Ly Quoc Su Street is still considered the best.
Address: 10 Ly Quoc Su, Hoan Kiem, Hanoi
Other bases: 42 Hang Voi, Hoan Kiem, Hanoi / N2A Hoang Minh Giam, Cau Giay, Hanoi
Pho Thin Bo Ho, Hanoi, Vietnam
There are two different and famous Pho Thin brands in Hanoi: Pho Thin Bo Ho and Pho Thin Lo Duc. These two have no relationship and serve bowls of Pho in different styles.
Pho Thin Bo Ho was opened in 1955 by Mr. Bui Chi Thin (1928 - 2001). The restaurant is located in a small alley of Ding Tien Hoang Street, opposite to the well-known Hoan Kiem Lake. Referring to Pho Thin Bo Ho, diners will remember the elegant sweet and delicious bowls of Pho with ginger-flavored beef slices or rare beef pieces that stimulate the tastebuds.
Address: 61 Dinh Tien Hoang, Hoan Kiem, Hanoi
Other bases: 2 Hang Tre, Hoan Kiem, Hanoi / 1 Lo Duc, Hoan Kiem, Hanoi
Pho Suong, Hanoi, Vietnam
Pho Suong is one of the first and most famous Pho brands in Hanoi. This is also one of the noodle shops contributing to making the brand "Pho Hanoi" for a while and still retains the traditional taste. Pho here is famous for its fresh beef, the broth is sweet and clear with tiny fat spots but not much.
Address: 24B Trung Yen, Dinh Liet, Hoan Kiem, Hanoi
Other bases: 36B Mai Hac De, Bui Thi Xuan, Hai Ba Trung, Hanoi / Ally 26, Nguyen Hong Street, Lang Ha, Dong Da, Hanoi
Bun Cha
Bun cha is a local dish that originated in Hanoi. Throughout Vietnam you can find a lot of dishes that share a similar recipe to bun cha (like bun thit nuong in Saigon), however, the dish is unbeatable.
The dish is very simple to make and can be found any time of the year. It doesn't matter if you eat bun cha in a restaurant or outside a small cart on the street, you will be served with a plate of vermicelli (bun), a bowl of broth with grilled pork, and a basket of fresh greens.
Bun, the vermicelli noodles, are served on a separate plate. Hanoians are very picky when it comes to cooking and you will see this habit clearly if you notice how each dish typically has a different noodle. To make a decent bowl of bun cha, the vermicelli has to be thin, soft, and chewy.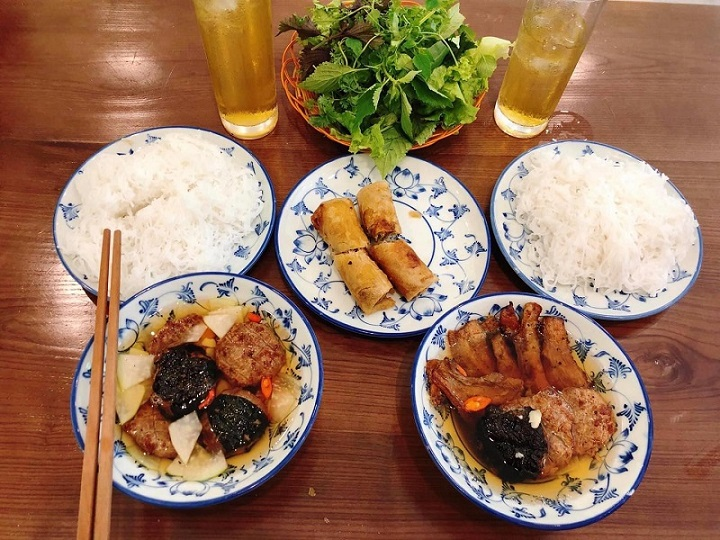 Photo: Bun cha Kinh Ky
Cha is the meat of this dish, served in a bowl. The meat is made from pork and cooked in two styles: cha vien (ground pork) and cha mieng (grilled thin sliced pork). It is served with broth.
The highlight of bun cha is definitely the broth (or dipping sauce). To make the sweet and sour soul of this dish, the cook mixes fish sauce, vinegar, and sugar together. The ingredients might sound simple but the taste varies from one shop to the next because every Hanoi has its own ratio they follow. Diners can tell whether their bun cha is good or bad by the flavor of the sauce.
Without vegetables and herbs, Vietnamese dishes are not complete. In the big basket of greens on the table, you will find fresh lettuce, Thai basil, cilantro, fish mint, banana flower, and coriander.
Street food in Ho Chi Minh City
HCM City never sleeps, appeals to traveler tastebuds with its countless food stalls and markets that are open 24/7. A city trip to the city is incomplete without indulging in all-time favorites such as bot chien fried in a large flat pan with whipped eggs, the legendary Vietnamese pizza or quesadilla grilled on the coal stove, duck embryo in tamarind sauce and beef offal steamed in coconut milk served with local banh mi.
One of the city's funkiest characteristics is the clear distinction of tastes in dishes, once a dish has sweet tastes, it must be really sweet and when a dish is spicy, it must be so spicy that diners shed tears when trying.
With all the finger-licking and creative dishes the city has to offer, it is no surprise that travelers have pinned Ho Chi Minh City as one of the top endorsed destinations for street food on Booking.com.
Hu Tieu
Have you ever heard of one of Vietnam's signature dishes, a pork noodle soup called hu tieu? The origins of hu tieu can be traced back to the Chinese and the Cambodians who created and later made this dish popular in Saigon. It has now become a signature dish of the south and you can run into a hu tieu vendor in practically every nook and cranny, you may even find more stalls serving this dish than pho vendors.
While there are a dozen variations of hu tieu, the broth is pretty much the same in every version. This is thanks to a mixture of bones, dried squid, rock sugar along with pork and vegetables which are left to simmer for hours.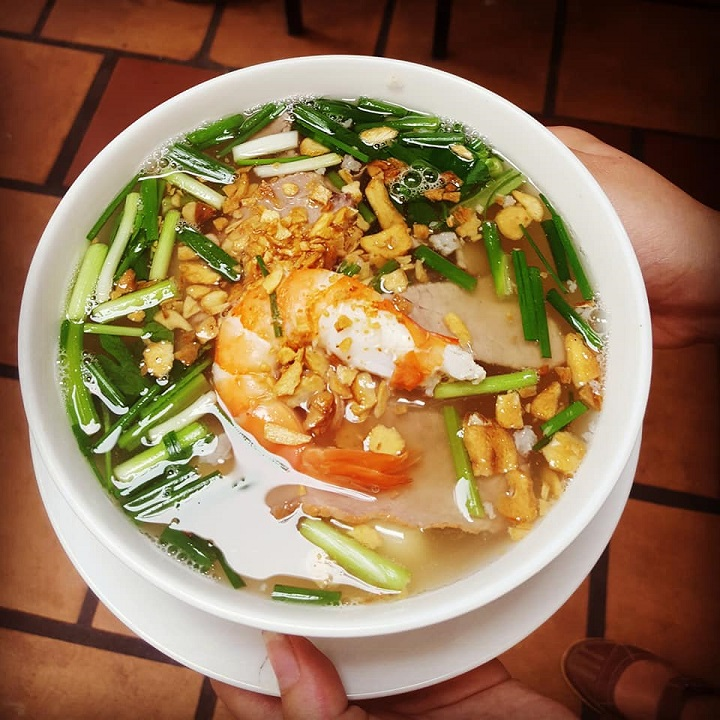 Photo: Hu tieu Minh Chau
The Best Place to Enjoy This Culinary Elite in Saigon
Hu Tieu Suon Non – Rice Noodles with Pork Ribs
Although hu tieu suon non (derived from the city of the sea, Vung Tau) is not as common as other types of hu tieu, it still won the hearts of many diners because of its delicious taste.
Hu tieu suon non is a variation of hu tieu nam vang so instead of shrimp, liver, and pork, the stars of the dish are small ribs that are full of flavor. The vendors choose ribs that are low in fat and chop them into bite-size pieces and then cook until tender. That's when the broth becomes imbued with the bone's sweetness.
Served with hu tieu suon non is a plate of fresh, green salad, lettuce, and celery with a tasty cup of dipping sauce to enhance the flavor of the dish.
Where to Eat?
Hu Tieu Mi Suon Tung Hung
Address: 147 Tran Hung Dao, District 1
Opening hours: 6 AM – 11:30 PM
Hu Tieu Sa Te – Rice Noodles with Dried Chilly Soup
As a specialty of the Chinese, inherited from the Chinese community, hu tieu sa te is rarely seen on the streets of Saigon. The eateries serving hu tieu sa te are mainly concentrated in the area of District 5 and District 11. The noodles of hu tieu sa te resemble the pho noodles from the north of Vietnam.
This is a very unique dish, you can easily spot about 20 ingredients in a bowl of noodles such as peanuts, sesame, garlic, chili, and cinnamon. The mix of flavors brings a faint aroma and a very typical greasy taste. In addition to spices, ingredients used in hu tieu sa te are meatballs, medium-rare beef, tendon, or venison, and pork for you to easily choose from.
Where to Eat?
Hu Tieu Sa Te Ong Le
Address: 78/7 An Duong Vuong, District 5
Opening hours: 10 AM – 9 PM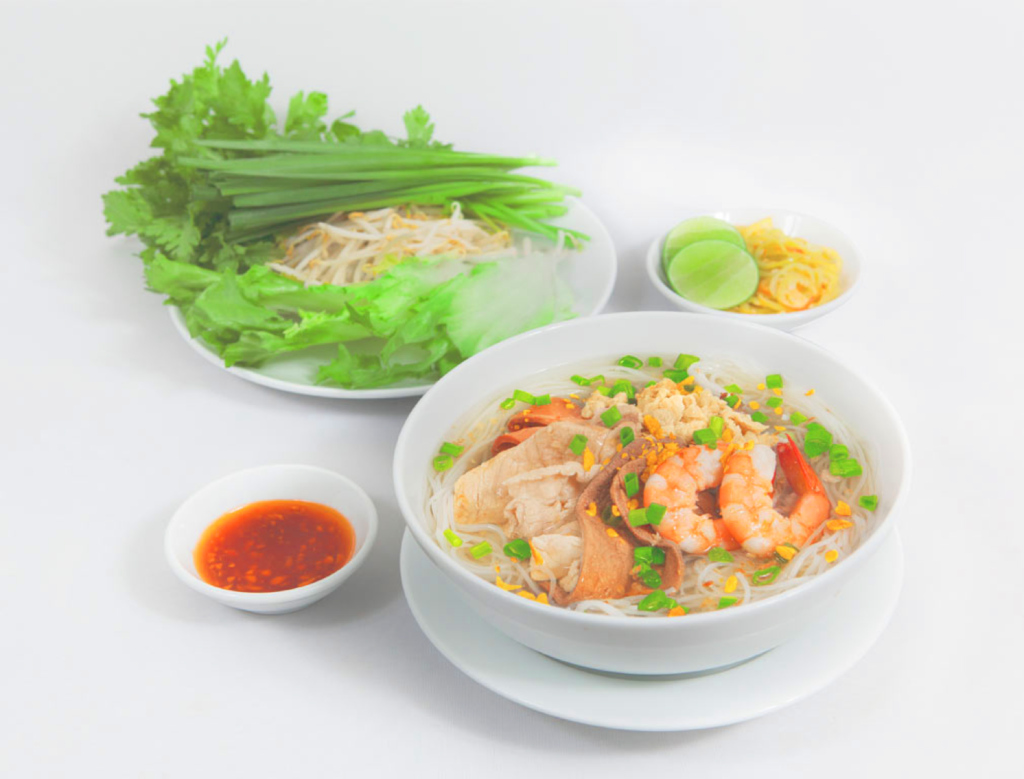 Photo: Saigontraveling
Hu Tieu Sa Te Nai
Address: 192 Van Kiep, Binh Thanh District
Opening hours: 8 AM – 9 PM
Hu Tieu Sa Te Ngo Quyen
Address: 208 Ngo Quyen, District 10
Opening hours: 4 PM – 10 AM
Hu Tieu Nam Vang – Nam Vang Rice Noodles
Among all types of hu tieu, hu tieu Nam Vang is probably one of the most famous. This is a multiethnic dish which was invented by the Cambodians, processed by the Chinese and enjoyed by the Vietnamese. The composition is quite simple: noodles, shrimp, lean meat, pig hearts, mince, quail eggs, and broth.
Today, hu tieu nam vang is made with different ingredients, in addition to pork and shrimp, one can enjoy hu tieu nam vang with crab and squid. One element – minced meat – stays the same though, because this is the soul of the whole dish.
Where to Eat?
Hu Tieu Nam Vang Lien Hua
Address: 90D Tran Quoc Thao, District 3 or 312 An Duong Vuong, District 5
Opening hours: 10 AM – 9 PM
Banh mi Sai Gon
Where to eat Banh mi in Sai Gon?
Huynh Hoa banh mi
The shop at 26 Le Thi Rieng Street in downtown District 1 stands out with long lines of tourists and locals taking up part of the street. It's open between 3 p.m. and nearly midnight, serving the full dinner take-away.
The banh mi here is possibly the most expensive in town at VND37,000 ($1.63), but it still wins loyal bellies for its layers of meat, cold cuts, and a generous sprinkle of pork floss. Some also say they've fallen in love with the special mayonnaise mix.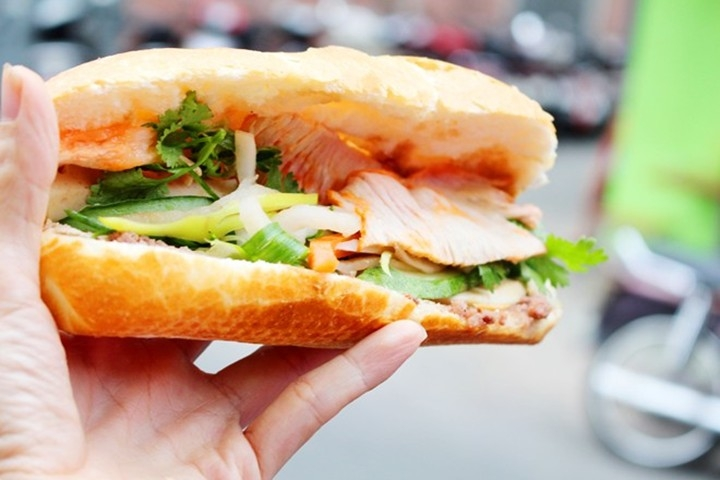 Photo: Banh mi Bay Ho
Nguyen Trai banh mi with grilled pork
On the alley at 37 Nguyen Trai Street, also downtown, you will find another crowd surrounding a lady serving banh mi with her signature twist from a pushcart, said Vnexpress.
The round pieces of pork, fragrant and slightly burnt, are taken directly from hot coal in a small oven. Regular customers say they love how the grilled pork has remained tasty after so many years, and some are willing to wait for half an hour.
Bay Ho banh mi
Another pushcart on the sidewalk at 23 Huynh Khuong Ninh Street in District 1 has been standing strong for nearly 80 years. It used to open in the afternoon but now also includes the morning service.
Most of the fillings are made following special family recipes, such as the pâté which is steamed and grilled. The ingredients are prepared just before serving time so customers can leave with a piping hot baguette.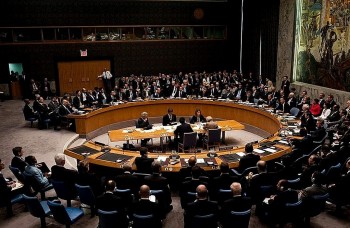 Friendship
The "International Day of Women in Diplomacy" is recently adopted by the United Nations (UN), which is to be celebrated every year on June 24. UN General Assembly Abdulla Shahid said that the resolution opened the door to discuss the challenges of women in diplomacy face, to celebrate women in diplomacy and to inspire the next generation.