Hundred of hungry monkeys brawling for foods on mountain pass in Danang
Being fed by tourists and locals, a crowd of hundred monkeys on Son Tra mountain, Danang City flooded on mountain pass forcing the local competent forces conducting preventive measures.
Monkeys flocked down Son Tra mountain and brawled for foods, waters from passerby causing unsafety in traffic circulation and other bad effects.
Every day, they pull down the street to wait for people and tourists to give them candies and fruits. Monkey sitting, running and jumping in the middle of the road causing possible accidents for people and vehicles. (Photo: Van Tuan)
Facing this situation, the Management Board of Son Tra peninsula and tourists had to circulate in other way, giving space for volunteers to "guard" monkeys. (Photo: Management Board)
As a habit, when they were always waiting on the cliff of the road to Son Tra peninsula, when they saw people and cars stopped, they rushed down to beg for food.
Every afternoon, Mr. Le Kha Thien (1983, residing in Son Tra district) participates in the "monkey guard squadron" directly at Doi Mieu, Hoang Sa Street (the beginning of the road leading to Son Tra peninsula) to remind people people do not feed monkeys when visiting Son Tra.
Mr. Phan Minh Hai, Deputy Director of Son Tra Peninsula and Da Nang Tourist Beaches, said that since the volunteer have been started on duty, the situation of people and tourists feeding monkeys on the peninsula Son Tra is somewhat reduced compared to that of before, but many people still do not obey. (Photo: Management Board)
The forces of the Management Board of Son Tra peninsula and Da Nang tourist beaches urged the local and tourists join hands to stop feeding monkeys immediately, avoiding the impact of human on these monkeys, retain its inherent behavior. (Photo: Management Board)
The message "Stop feeding monkeys. Respect the wild life of monkeys and the harmful effects of monkey feeding" was propagated to by the Management Board of Son Tra Peninsula and Da Nang Tourist Beaches. people, tourists.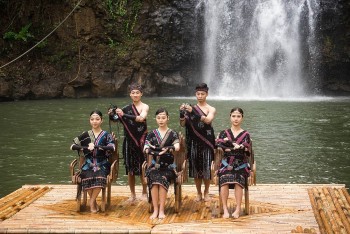 Travel
Many passengers applaud the creativity of the flight instruction video that Vietnam Airlines has recently introduced on their flights. This video not only creatively conveys the message of flight safety but also helps to spread globally the unique, indigenous cultural values ​​of the country and people of Vietnam.