Vietnam COVID-19 Updates (Feb 2): 32 new cases, HCMC tests all airport staff
Health authorities are testing all staff at Tan Son Nhat International Airport, the country's largest air hub, for Covid-19 amid the latest outbreak.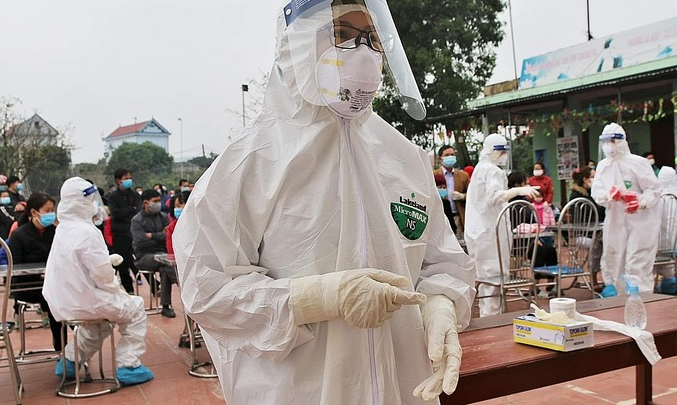 Photo: VN Express
32 new cases reported in the last 24 hours
Vietnam recorded 31 new COVID-19 infections, including one imported case on February 1 afternoon, according to the National Steering Committee on COVID-19 Prevention and Control.
Of the new community cases, 17 are from Hai Duong, five from Quang Ninh, four from Hanoi, two from Gia Lai, one from Bac Giang, and one from Binh Duong. Most patients are linked to the fresh COVID-19 outbreak in Chi Linh city in northern Hai Duong province. Meanwhile, the one imported case was quarantined upon arrival in Ho Chi Minh City.
Hai Duong Province recorded one locally transmitted case of Covid-19 Tuesday morning, raising the national tally of the ongoing outbreak to 271. The new patient is a 44-year-old man living in Cam Giang District in Hai Duong Town of the eponymous province in northern Vietnam.
Hotspot Hai Duong where one of the first cases were detected has registered as many as 206, Quang Ninh 30, Gia Lai six, Bac Ninh three, Hoa Binh two, Binh Duong two, while Hai Phong and Bac Giang got one each.
The national tally so far hit 1,851 cases, including 964 domestically infected. Meanwhile, 1,460 cases have been given the all-clear. The death toll remains at 35. Among those still under treatment, eight have tested negative for the novel coronavirus once, five twice, and two thrice. A total of 26,861 people who had close contact with COVID-19 patients or arrived from pandemic-affected areas are under quarantine across the country.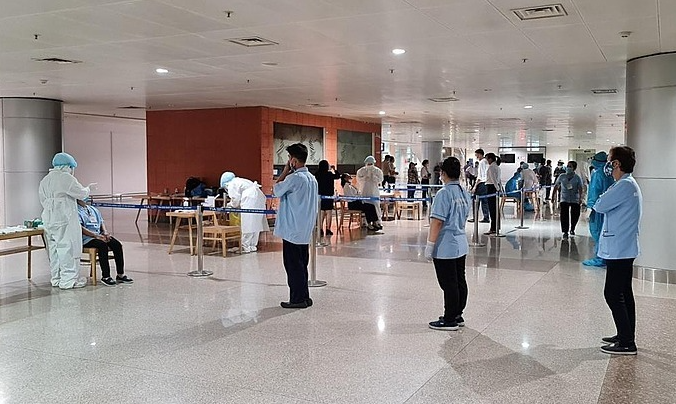 Photo: VN Express
HCMC tests all airport staff for Covid-19
Health authorities are testing all staff at Tan Son Nhat International Airport, the country's largest air hub, for Covid-19 amid the latest outbreak. Medical staff from the city's Center of Disease Control took samples from 410 airport employees last Saturday, with testing expected to last until Feb. 7.
The move came after HCMC recorded a community transmission case, a 28-year-old man landing at Tan Son Nhat Airport on a flight from Hanoi. He had been to a wedding in Hai Duong, Vietnam's Covid-19 epicenter, together with a cousin, who was later confirmed a Covid-19 patient.
Health Minister Nguyen Thanh Long told a government meeting last week he also proposed to test all employees at Noi Bai International Airport in Hanoi, which neighbors Hai Duong Province. Dozens of employees at Van Don International Airport in northern Quang Ninh Province last week were found infected with the novel coronavirus, prompting the government to close the airport until Feb. 13.
Tan Son Nhat and Noi Bai, the country's biggest airports, have received hundreds of repatriation flights from abroad and special flights carrying foreign experts since the government imposed travel restrictions in March last year. Vietnam closed its borders but allows a limited number of flights to bring back its citizens from overseas or carry foreign experts but all have to be quarantined for 14 days.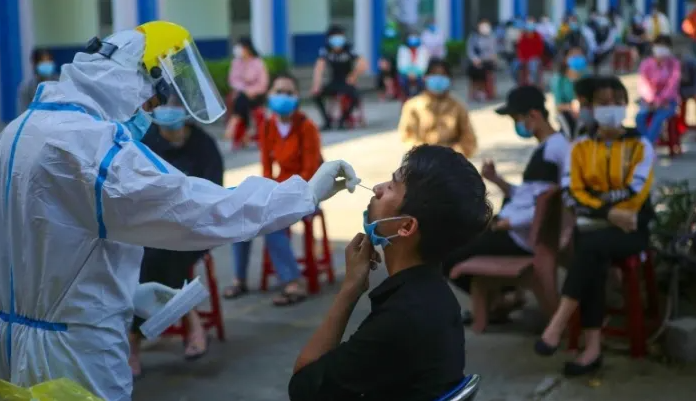 Photo: Devex
Thousands of volunteers working on COVID-19 contact tracing
Thousands of volunteers are working online to help quickly verify information on F1, F2, and F3 cases linked to COVID-19 infections, heard a meeting in Hanoi on February 1 reviewing the work of the COVID-19 quick information response team.
Deputy Minister of Science and Technology Bui The Duy, head of the team, reported that apart from the online group, 100 volunteers are also working directly on-site with the team. Due to a large number of people traveling from pandemic clusters in Hai Duong to other areas, contact tracing work is facing a lot of difficulties, he added. He noted that many F1 and F2 cases have used social media to announce their condition, while others have avoided reporting links with infection sources to authorities.
At the meeting, Deputy Prime Minister Vu Duc Dam, head of the National Steering Committee for COVID-19 Prevention and Control, requested people from pandemic-hit areas, particularly Chi Linh city, Kinh Mon town, and Nam Sach district in Hai Duong and Quang Ninh province's Dong Trieu town, adhere to COVID-19 prevention and control regulations.