Hanoi still a friendly-safe destinatination for foreign tourists
With serveral COVID-19 infections recently reported, the capital of Hanoi is yet to consider city lockdown, while many tourism enterprises are joining hands to keep Hanoi a welcoming and safe tourist site for foreign visitors.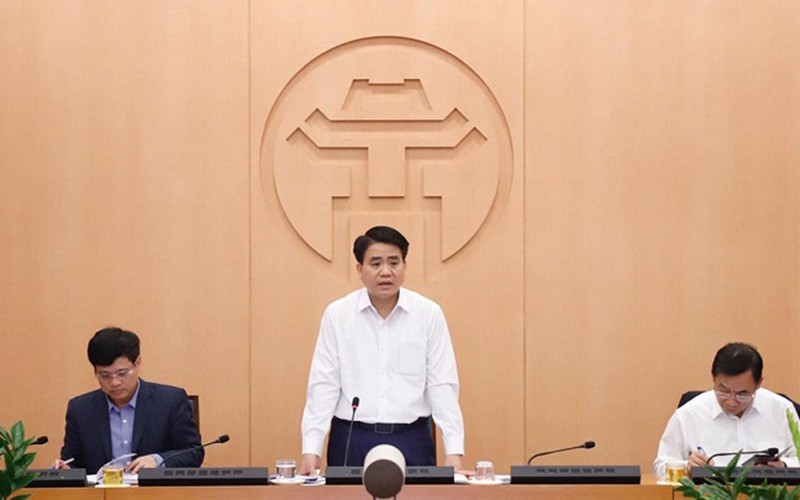 Nguyen Duc Chung, Chairman of Hanoi People's Committee (Photo: Hanoi Times)
The ongoing influx of overseas Vietnamese and foreigners from pandemic-hit regions has increased the number of coronavirus infections in Hanoi recently.
Nguyen Duc Chung, Chairman of Hanoi People's Committee on March 19 has rufuted rumors on social media saying that the entire city will be placed under lockdown. "He added that neither National Steering Committee for Covid-19 Prevention and Control nor Hanoi's corresponding committee have decided on such a lockdown", Chung told local media.
"Lastest updates of the pandemic situation are warranted to timely delivered to citizens and foreigners as well", he added.
The city will continue to aggressively take further measures to curb the spread of the virus and ensure the safety of its citizens, affirmed Chung, who head the city's Steering Committee for Covid-19 Prevention and Control.
While affirming that the COVID-19 pandemic is still under control in the place, Chung reassured citizens that the city's retail chains, supermarkets, stores still have sufficient stock to meet all demands, with no price hike, there's no need to panickly buy or hoard supllies. Local transport authorities are also ordered to favor best conditions for suppliers in distributing foods to the city.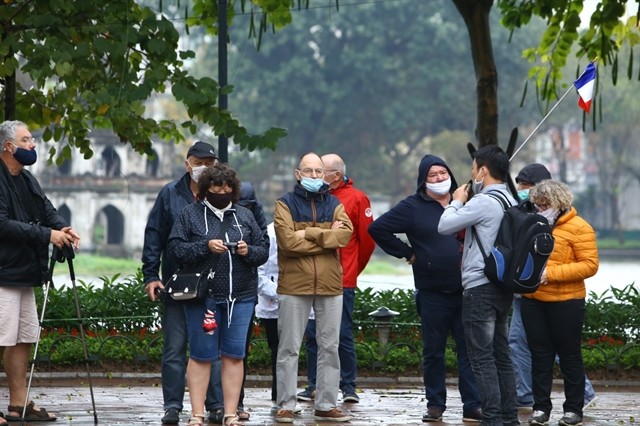 Vietnam tourism industry and accommodation establishments in Hanoi in particular are lending a helping hand to foreign tourists, serving them the most favorable conditions (Photo: Vietnam News)
In terms of the tourism industry, many accommodation establishments in Hanoi have, since the outbreak, shared difficulties with foreign tourists staying in the city.
Homestay 24 at Ly Quoc Su Street has reduced 70% of its room rate to Kyungmin Song, a 27-year-old South Korean tourist, who is being quarantined here. "Time of isolation is long but I feel comfortable here because their services are caring," he said.
Nguyen Tat Thanh, owner of the Sunline Hotel in Bao Khanh street, Hoan Kiem district, said three Italians and one South Korean have completed the mandatory 14-day isolation period at the hotel. He demanded that all staff treat quarantined and regular guests equally, ensuring that they feel comfortable and not being discriminated against.
Chris Holtmann, a 65-year-old British tourist, and his group are visiting Hanoi these days and still they manage to enjoy the stay although the city has entered a new phase of combating the pandemic.He said his group are impressed by the services and the way Vietnam has been doing to protect visitors.
Matilda Boutique Hotel & Spa in Ma May street, Hoan Kiem district, where the British tourists stay, has issued a regulation on prohibiting employees to have any act that makes guests from the coronavirus-hit countries feel they are discriminated against. The staff are also required to remind guests regularly to take preventive measures as well as advise them to avoid places at risk of infection.
Some big hotels, such as Pullman Hanoi, Sofitel Legend Metropole Hanoi, Movenpick and La Siesta which are hosting a huge number of foreign tourists still manage to maintain classy services, besides equipping themselves with adequate medical equipment.
Given the rising number of the infected cases in Hanoi, some transport and travel companies have taken preventive measures such as spraying disinfectant at offices, accommodation establishments and vehicles; distributing free face masks to visitors and making hand sanitizers available in public and reception areas.

The UNESCO Hanoi Travel Club also launched a fund-raising campaign to buy free face masks for tourists. In Hanoi, the club gave 60,000 face masks for free at tourist sites such as the Temple of Literature, Vietnam Museum of Ethnology, Ngoc Son Temple, 87 Ma May Heritage House, the Imperial Citadel of Thang Long – Hanoi, Hanoi Opera House, Dong Xuan Market.
"People working in the tourism industry are together building an image of a friendly-safe-hospitable city in every situation. We hope tourists will feel safe exploring Hanoi," Head of the club Truong Quoc Hung said.
The pandemic has taken a heavy toll on the city's tourism industry due the closure of tourist attractions, accommodation establishments and entertainment activities.
In the first 17 days of March, international tourists to Hanoi reached 83 thousand, 68.5% less compared to the same period of last year. Only 2.1 thousand tourists have visited Hanoi since the start of this month, according to Vietnam News Agency.
The industry will suffer a more severe blow as from March 18, Vietnam announced a 30 day visa suspension for all foreigners.
However, there are still thousands of foreign tourists staying to explore relic and culture sites in Hanoi. Many of them are also aware of wearing face masks during the visit as they are reminded and given free face masks and hand sanitizers by tour guides and hotel employees.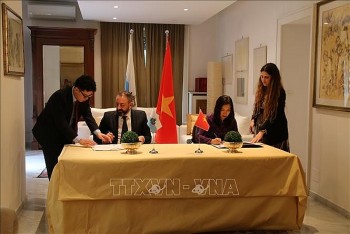 Friendship
The two countries will continue promoting cooperation to enhance growing ties between the two countries based on the good friendship since they established diplomatic relations in 2007.