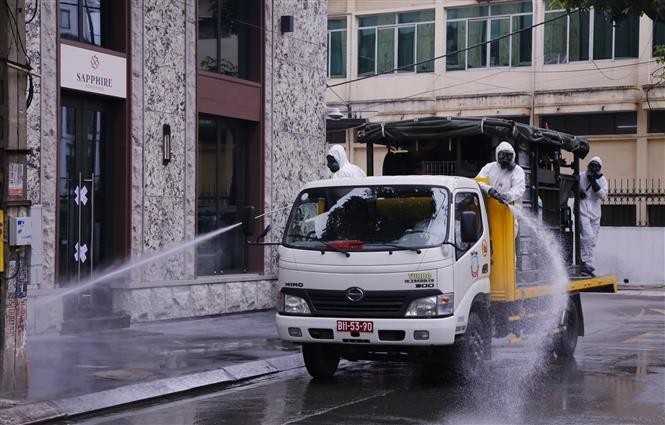 Sterilizing the street during COVID-19 epidemic. (Photo: Tienphong)
According to the Vietnamese Ministry of Foreign Affairs' Consular Department, the COVID-19 outbreak has influenced various aspects in society and economy, travel advice is being given.
1. For citizens in Viet Nam: Comply with competent authorities' recommendations of not traveling abroad, especially pandemic-hit areas.
2. For those who are abroad:
Not travel to pandemic-hit areas
Restrain from traveling to public places when not really necessary;
Strictly follow recommendations, instructions and fully abide by the regulations on the pandemic prevention and control of the host countries;
Stay calm, regularly update information through mainstream media, and not spread unchecked information
3. For overseas Vietnamese returning home: Fill in medical declaration form in an accurate and honest manner at port of entry.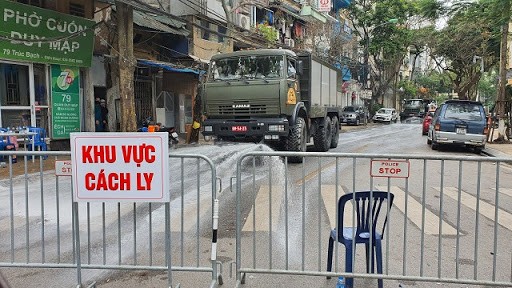 Quarantine area in Truc Bach, Hanoi. (Photo: Kinhtedothi)
4. For those who return home from/transiting through pandemic-hit areas:
Fill in medical declaration form with accurate and honest information at port of entry
Strictly abide by quarantine regulations
5. All acts of concealing information, or providing untrue information, or failing to adhere to quarantine regulations shall be strictly fined in accordance with law.
6. Vietnamese abroad should promptly inform the competent authorities of the host countries, Vietnamese representative agencies, and their relatives in emergency situations.
Citizens abroad can contact the citizen protection hotlines on official websites of Vietnamese representative agencies in the host countries or the Consular Department's Switchboard: +84.981.84.84.84.
7. Vietnamese can also contact:
Health sector's hotline: +84 1900 9095
COVID-19 prevention hotline: +84 1900 3228.
U.S. announces new travel restrictions
The United States will broaden its European travel ban, adding the United Kingdom and Ireland to its list, and was considering imposing restrictions on travel within the U.S. to areas hit hard by the coronavirus spread.
Under the restrictions on European travel, American citizens, green card holders and others are still allowed to return home to the U.S., but will be funnelled to 13 airports and be subjected to health screenings and quarantine orders.
The U.S. announced earlier this week a 30-day ban on flights covered only by the 26-nation Schengen area, the European Union's border-free travel zone, that does not include Britain or Ireland.
World leaders tested positive for nCOV

Globally high-ranking political figures have been added to the number of the novel coronavirus infectious cases on March 14-15, namely Indonesian Transport Minister Budi Karya Sumadi, ...
Okina Yuli