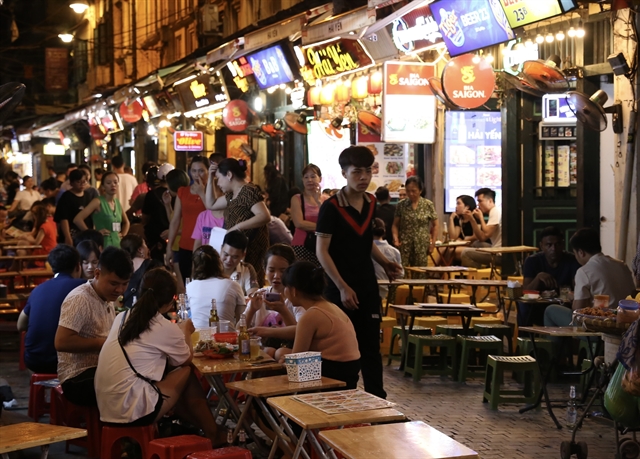 Crowds in the backpacker street Tạ Hiện in Hà Nội (Photo: VNA)
Despite no new local cases recorded in the capital for more than a month, Hanoi's health department said the risks of the virus are still high, especially as more international flights started to resume.
"There were definitely signs of negligence in pandemic prevention in public places, especially in some bars and karaoke when they are allowed to operate again," Quy said during a meeting of the Hanoi's COVID-19 Steering Committee on Wednesday.
The municipal health department director Nguyen Khac Hien added: "Therefore, if the disease control efforts were insufficient, especially when people let their guard down, there would be an elevated risk of outbreaks."
He went on to say reports of many people are not wearing face masks in public, and food and beverage businesses are not complying with prevention measures.
According to Đinh Hong Phong, vice chairman of Hoan Kiem District's People's Committee, donwtown Hanoi, after months of social distancing measures, the number of visitors to bars and karaoke lounges have hiked after the decision to allow them to reopen, especially in the area around the backpacker street Ta Hien during the weekends, so the district authority had sent special force to ensure disease prevention protocols are observed.
"Some bars and karaoke lounges which did not meet the pandemic prevention measures were asked to close down temporarily," said the vice chairman.
The Hanoi Health Department's vice director Tran Thi Nhi Ha told the meeting that all hospitals and health facilities in the city has fulfilled pandemic prevention requirements.
In a recent week, districts inspected 417 private medical and pharmaceutical establishments uncovering and sanctioned 126 violations, mainly not wearing masks and lacking of protection measures for staff and patient information, Ha told the meeting.
Ha recommended districts and wards enhance information dissemination as well as push up training of pandemic prevention for medical workers.
Meanwhile, vice director of the tourism department, Ngo Minh Hoang, said that as of Tuesday, 27 hotels had registered to receive foreign guests but after inspection, some hotels had not met the set criteria.
He said the municipal tourism department would co-ordinate with the health department to continue to guide implementation of pandemic prevention measures, while at the same time mobilise more establishments to participate in hosting and quarantining foreigners entering Vietnam.
Hanoi's vice chairman Ngo Van Quy told the meeting the city ensured at least 3,000 beds to serve as paid quarantine when commercial flight routes to Vietnam are resumed.
"The city would continue to ask people to wear masks in public places, including public transport", said Quy.
He also requested units to immediately inspect bars, karaoke lounges and discos for pandemic and fire prevention measures.
He also proposed restriction on holding festivals, meetings and celebrations.
For important events, it was necessary to consult the health department to ensure the full implementation of epidemic prevention protocols, he added.
VNS