ABC News lauds Vietnam's "fast, efficient, and cost-effective response" to the COVID-19 twice
The Australia-based prestigious newspaper has recently run an article praising the success of Vietnam's "fast, efficient, and cost-effective response" to the COVID-19 pandemic, not just once, but twice.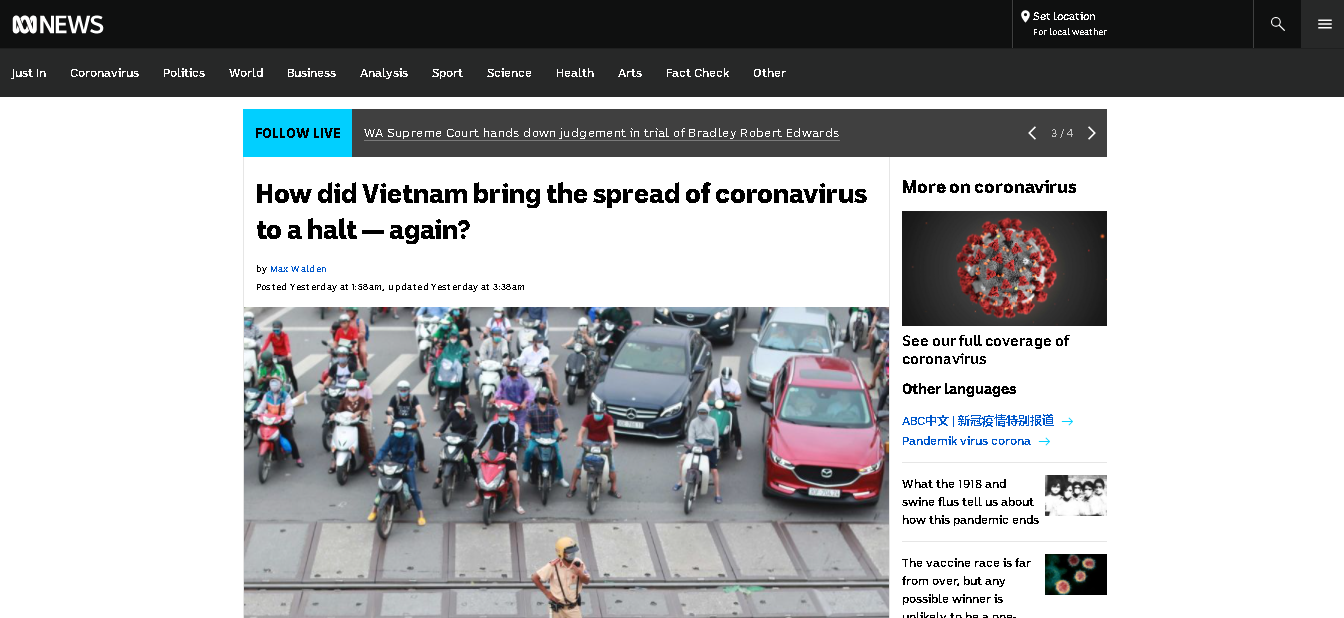 Vietnam's efforts in stamping out COVID-19 twice is praised in Australian news outlet (Photo: Captured)
The article titled "How did Vietnam bring the spread of coronavirus to a halt, again?", Max Walden, the author of the article, begins "Vietnam has gone more than two weeks without a single case of coronavirus via community transmission, effectively beating the virus for a second time".
Walden speaks highly of Vietnam's prompt and drastic response to the pandemic from the very first days, including flight and border restrictions, social distancing orders, mandatory face masks wearing, transparent communications strategy.
The citizens' unity and willingness to put on face masks are highlighted.
"Unlike in other parts of the world, there was little resistance to mask-wearing", it says.
"Vietnam is very used to infectious diseases … it's had many outbreaks of infectious diseases over the past 20 years," Guy Thwaites, director of the Ho Chi Minh City-based Oxford University Clinical Research Unit, told the ABC.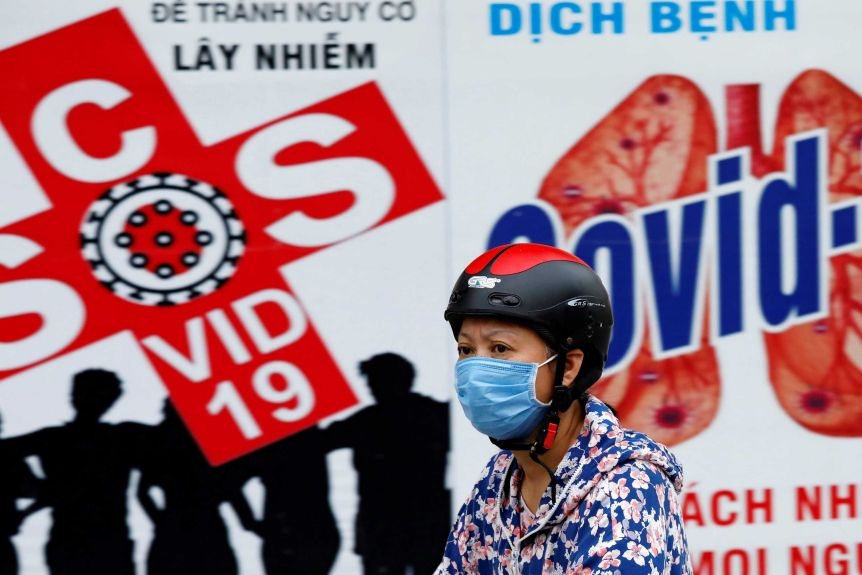 "Vietnam is no stranger to infectious diseases, meaning its citizens quickly knew what to do", the article says (Photo:Reuters)
Like many countries worldwide, a second wave of the COVID-19 pandemic hit the country and gained some traction. Despite this, the Australian media outlet judges Vietnamese efforts to have been successful in limiting the spread of the virus to many other localities.
The article notes that the nation's first COVID-19 death occurred on July 31 when a 70-year-old man passed away with the virus in Da Nang.
This came just six days after a new cluster of cases were detected at a local hospital, with the outbreak growing to more than 550 cases, around half of the country's total cases since the start of the pandemic.
"The lockdown was a lot stricter than last time and the response on our street was good, they found a case and quickly locked it down," Jos Aguiar, an Australian national working for a Vietnamese property company in Da Nang, told ABC.
According to Guy Thwaites, director of the Ho Chi Minh City-based Oxford University Clinical Research Unit, the nation has experience in dealing with infectious diseases as it has been hit by many outbreaks of viral infections over the past 20 years.
"This hasn't been a high-tech response, it's been a very rapid and very well organised response," he said.
"Whole households went into one sample," Thwaites said, adding that communities or neighbourhoods with known cases were targeted first.
"In that way they were able to test the equivalent of around 100,000 people through around 20,000 tests. This allowed them to save a lot of time and money," Thwaites added.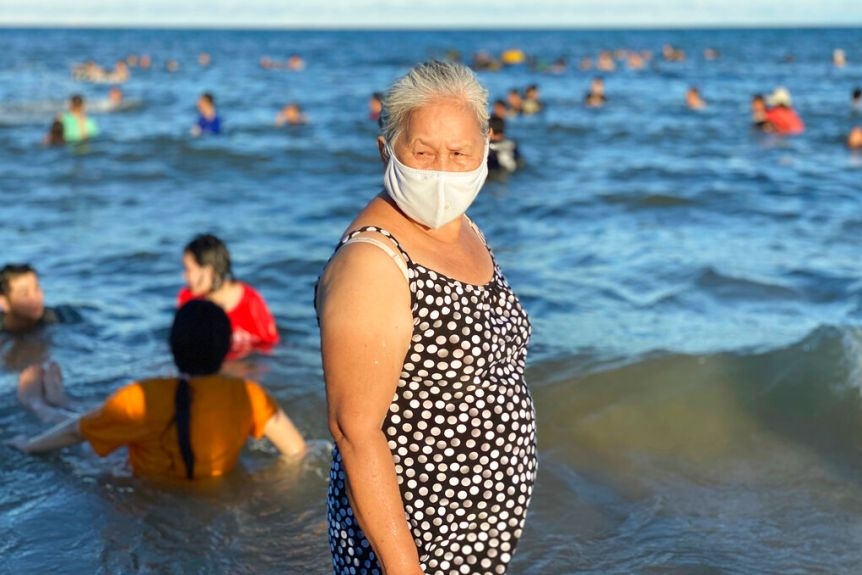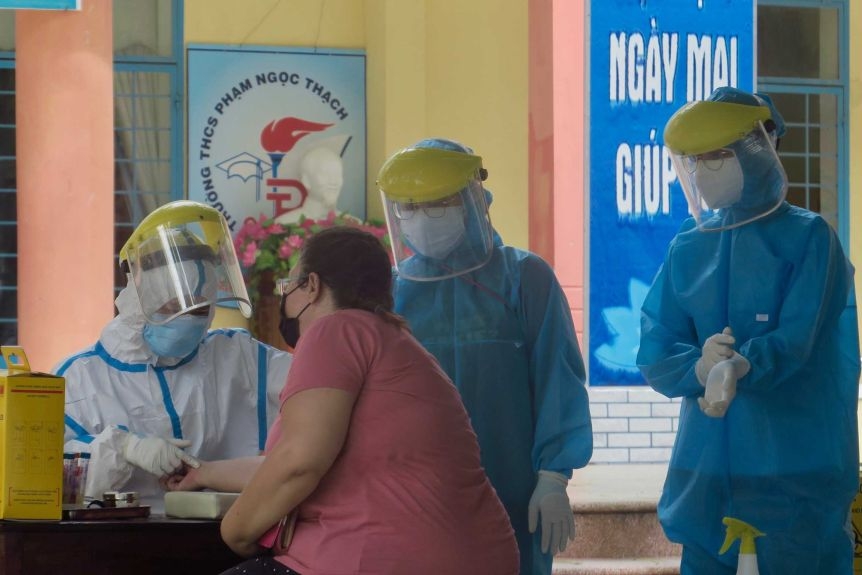 Besides, Da Nang locals' effort in donating "money, food, essential goods to the city's largest hospital" is also praised. The article reads that one patient even founded a charity with his friends upon discharge to produce disinfectant and sanitising booths for hospitals in and around Da Nang.
The article explains that whilst tourists are unable to enter the country at present, efforts to repatriate Vietnamese citizens and highly-skilled foreign workers or investors have been made the priority.
Despite this, it is believed that the economic fallout of COVID-19 will not be as punishing for the nation as it is compared to regional neighbours.
"Vietnam is still expected to be one of the few countries that will continue to grow in 2020, while the rest of the world is being projected to enter into recession," according to international consultancy firm PricewaterhouseCoopers.
Furthermore, the Asian Development Bank projects that the Vietnamese economy will grow by 1.8% this year, making it one of the only South-East Asian economies not to contract.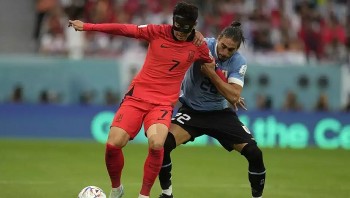 World
Both South Korea and Ghana are searching for their first wins at this year's World Cup. Ghana are facing the prospect of an early elimination from World Cup 2022 Group H when they travel to the Education City Stadium to face South Korea on Monday.