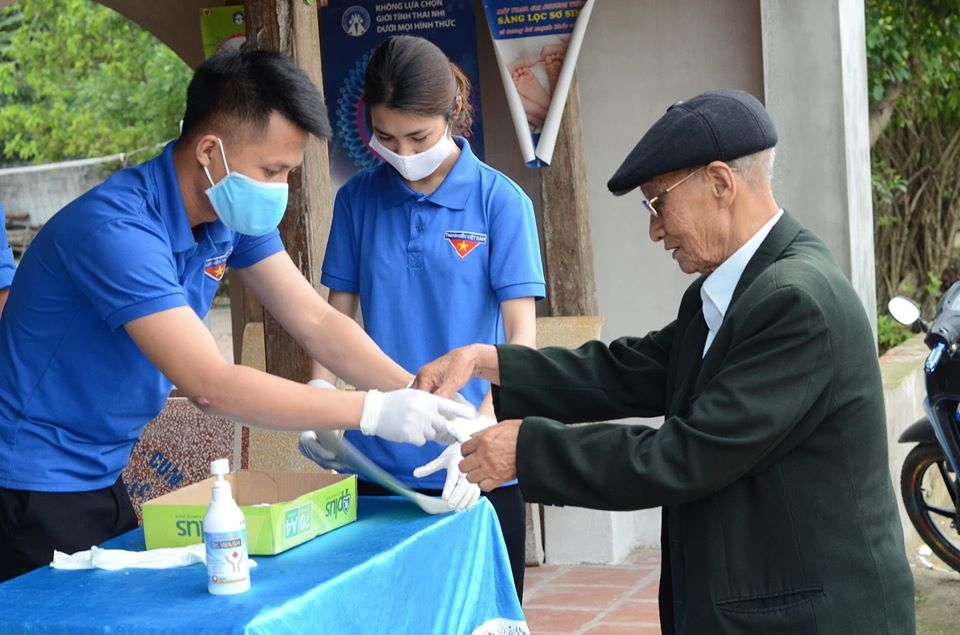 The Youth Union of Dong Quang commune (Ba Vi district) distributes free masks to people (Photo: Hanoi Moi)
According to the Steering Committee for prevention and control of Covid-19 in Gia Lam district, Hanoi, from April 17 until now, "Gia Lam rice ATM" has receiced donation from 89 organizations and 93 benefactors with a large amount of rice and noodles, chicken eggs, and spices.
The district has provided 67,249kg of rice, 419 boxes of shrimp noodles, 10,500 eggs, 200 barrels of milk, 1 ton of onions, 217 boxes of fish, 250 packets of soup powder, 212 cooking oil bottles, 1,017 breads...so people have sufficient food to eat during the pandemic.
In Thuong Tin district, in order to support the district authorities and people to overcome difficulties, Tay Ho district awarded Thuong Tin district 30 million VND (US$1306).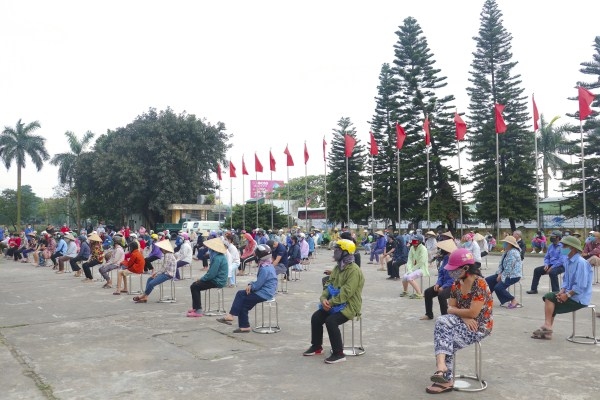 Many people come to receive rice at the "Gia Lam rice ATM". (Photo: Ha Noi Moi)
In Ba Vi district, in order to seriously implement the policy of wearing masks in public places, many organizations, individuals and businesses continue to launch the movement of giving masks to households.
Typically, Mr. Vu Van Tri, people in Dong Vien village (Dong Quang commune) and Mr. Phan Minh Phuc, Director of Viet Hung Construction Company have sponsored 1,000 KT5 masks for Dong Quang commune, worth about 10 million VND (US$435).
The number of masks provided by the People's Committee of Dong Quang commune to the Youth Union of the commune is distributed free of charge to people in three villages: Dong Vien, Cao Cuong and Quang Huc, according to Ha Noi Moi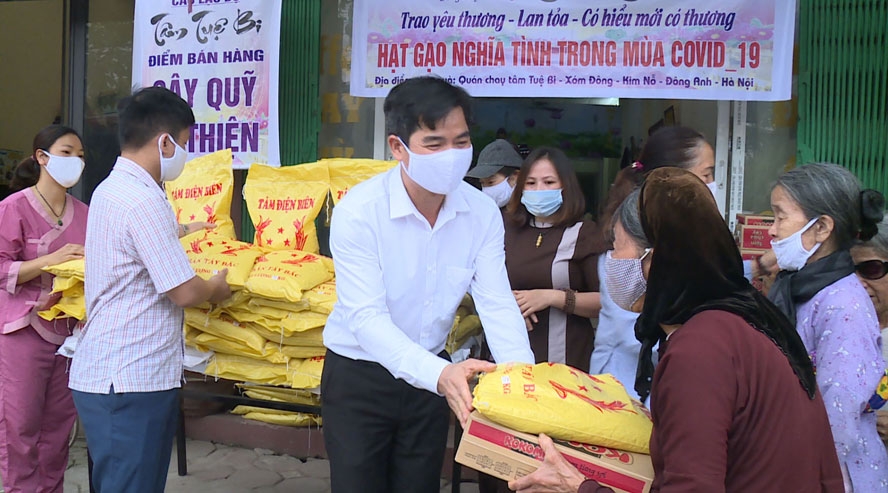 The Covid-19 Steering Committee for Epidemic Prevention and Control and the Vietnam Fatherland Front Committee of Kim No Commune (Dong Anh District) give gifts to disadvantaged families in the area. (Photo: Ha Noi Moi)
In Dong Anh district, with the spirit of "solidarity", on the occasion of the holidays, the Covid-19 Anti-Epidemic Steering Committee and the Vietnam Fatherland Front Committee of Kim No Commune offered 100 gifts to poor and disadvantaged households, each gift included 5kg of rice, and 1 carton of instant noodles.
So far, Kim No Commune has been supported by many collectives and individuals for nearly VND 700 million (US$30486), typically Hoang Oanh Group Joint Stock Company has supported VND 73 million (US$3179), Mr. Nguyen Duc Dang (Kim No Commune) has supported. 20 million VND (US$871).
To ensure the safety for the people and to welcome the students back to the school safely in the coming time, on April 30 and May 1, the Women's Union of Dong Anh District organized disinfectant spraying on a total area of ​​49ha in Doai hamlet (Nam Hong commune) and Mach Lung village (Dai Mach commune).
On this occasion, District Women's Union and Vietnam Association of Insect Control also presented 200 bottles of hand sanitizer solution to Steering Committee for prevention and control of Covid-19 of Nam Hong and Dai Mach communes.
Mr. Nguyen Hong Dan, Deputy Director of Hanoi Department of Labor, War Invalids and Social Affairs, said that the city has about 1.4 million people to receive assistance, of which the number of freelance workers accounts for the largest with 850,000 people, recipients of social protection are more than 182,000 people, poor and near poor households account of more than 155,000 people, and more than 137,000 workers have suspended labor contracts, according to Thanh Nien.
Candy Lee