Hanoi to test Covid-19 for 4000 workers, restaurant staff starting March 11
About 4,000 workers, restaurant staff, and residents in apartment buildings in Hanoi will have their samples taken for Covid-19 testing starting March 11.
The testing aims to early detect infections, especially cases of unknown origin to timely take epidemic prevention measures, said the Hanoi Department of Health.
At-risk areas in the city were identified as factories, industrial parks where foreigners work; areas where foreigners live; restaurants, eateries serving foreigners (especially South Koreans, Japanese); major bus stations with a large number of passengers, Vnexpress reported.
Medics arrange files of people whose samples have been taken for the new coronavirus test at Hanoi's Noi Bai International Airport. Photo: VnExpress.
4000 people living and working in the abovementioned places will be tested for the novel coronavirus.
Testing is scheduled to be divided into two phases. The first phase in residential areas in Nam Tu Liem district and An Khanh industrial zone in Hoai Duc district on March 11-12. The second in the remaining districts on March 15 -19.
1500 workers in four industrial zones and clusters will have their samples taken. Thang Long Industrial Park (Dong Anh district) is 900 samples; Phu Nghia industrial park (Chuong My district), An Khanh industrial cluster (Hoai Duc district), Quang Minh industrial park (Me Linh district) is 200 samples each.
1,600 residents living and working in 9 buildings in the city will also be tested for the novel coronavirus. Golden West lake (151 Thuy Khue, Tay Ho district) is 100 samples; Imperia Garden (Nguyen Huy Tuong, Thanh Xuan district) is 100 samples; Splendora urban area (An Khanh, Hoai Duc district), PVI building( Yen Hoa ward, Cau Giay district), Cornerstone (16 Phan Chu Trinh, Hoan Kiem District), Golden Palace, Keangnam (Me Tri ward, Nam Tu Liem district), My Dinh urban area (My Dinh 1 Ward, Nam Tu Liem district), Vinhome Sky Lake (Pham Hung, Nam Tu Liem district) are 200 samples each.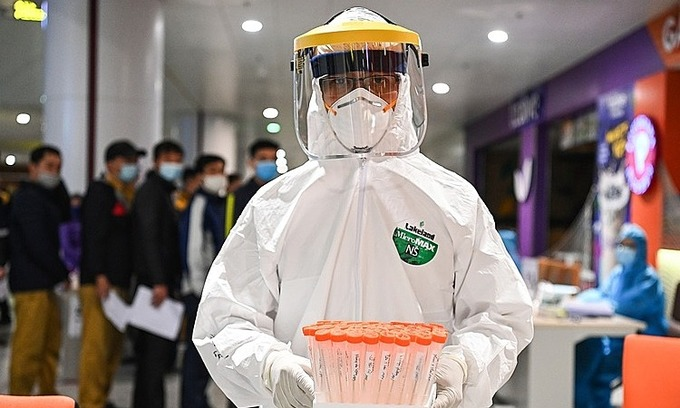 A medical worker holds a tray of samples for Covid-19 testing in Hanoi. Photo: VnExpress
Five bus stations including My Dinh (Nam Tu Liem district), Giap Bat and Nuoc Ngam bus station (Hoang Mai district), Gia Lam (Long Bien district), Yen Nghia (Ha Dong district) are 100 samples each.
Chain of restaurants in My Dinh - Song Da urban area, My Dinh 1 Ward, Nam Tu Liem district; restaurants and eateries serving foreigners in districts of Tay Ho, Hoan Kiem, and Cau Giay are 100 samples each.
The capital city has not recorded any community transmission cases since February 16.
In the latest Covid-19 outbreak detected in the country on January 28, Hanoi has reported 35 cases.
The city also completed testing for 50000 people returning from pandemic-hit localities. All showed negative.
Hanoi students from primary to high school levels were allowed to return to schools from March 2. Indoor eateries and coffee shops as well as relic and religious sites were permitted to reopen.
Medical workers collect swab samples for Covid-19 testing in Hai Duong Province. Photo courtesy of the Ministry of Health.
On the morning of March 9, the Hanoi Department of Health launched the Covid-19 vaccination for medical and other frontline workers. As many as 7,200 people are expected to be given vaccine. The municipal Department of Health said that the city was also working with the Ministry of Health to provide it 15 million doses of Covid-19 vaccine to cover 100% of its residents aged over 18.
Vietnam has registered 2,524 Covid-19 cases so far.
As many as 45,219 people who came in close contact with COVID-19 patients or arrived from pandemic-hit areas are under quarantine nationwide, including 506 in hospitals, 14,266 in other quarantine sites, and 30,446 at home.
Among the patients under treatment, 65 have tested negative for SARS-CoV-2 once, 57 twice, and 137 thrice.
The Treatment Sub-committee said that 1,920 patients have been declared to be clear of the coronavirus so far.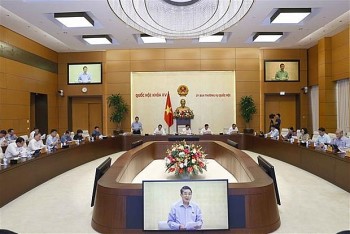 National
The National Assembly (NA) Standing Committee examined the draft revised Law on Protection of Consumer Rights on August 15 as part of its monthly session.