Ho Chi Minh City allowed some non-essential businesses like gyms, fitness centers, pubs, and beer clubs to reopen starting March 9 after the city has gone through 26 days without fresh Covid-19 cases.
But bars, dance clubs, and karaoke parlors will remain closed until further notice, Vnexpress reported.
Catholic churches are also allowed to hold daily mass and other religious rites.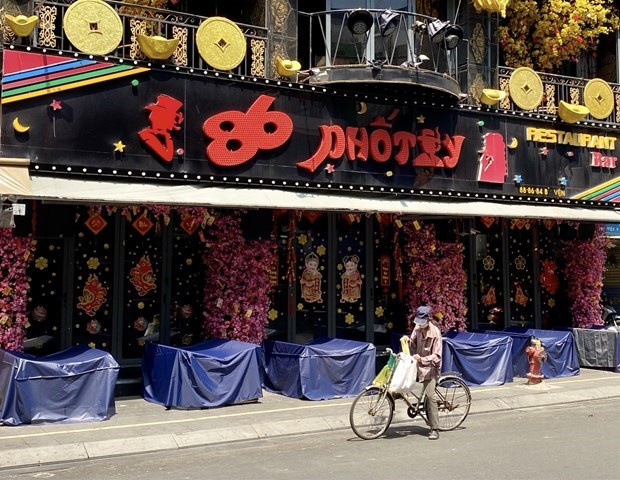 Discos, bars, karaoke parlors in HCM City will continue to be closed. Photo: VNA
Most non-essential services had resumed operations on March 1 after nearly a month of closure though they have to ensure a minimum social distance of one meter.
Eating places cannot admit more than 30 people at a time.
People's Committee Vice Chairman Duong Anh Duc warned however that the city faces a potential risk of transmission by illegal entrants. Last week police officers found 40 Chinese nationals who had illegally entered the country following raids on hotels in Districts 1 and Go Vap.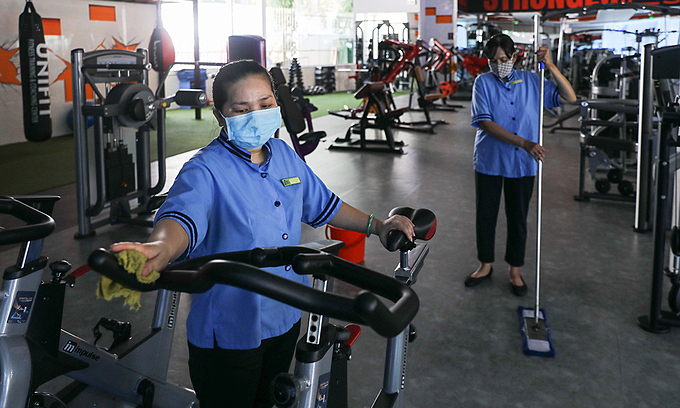 Staff clean up inside a gym in HCMC, February 9, 2021. Photo: VnExpress.
The hotels will be fined for failing to report to local authorities.
Under a dispatch issued by the Chairman of the city People's Committee on March 8, the city leader asked heads of departments, sectors, and agencies to localities to continue strictly implementing directions of the Prime Minister, the National Steering Committee on COVID-19 Prevention and Control as well as the Health Ministry and the city in pandemic prevention and control measures, including the "5K message", according to Vietnamplus.
Locals are advised to strengthen COVID-19 prevention and control measures, especially wearing facemasks in public places, washing hands, and keeping a safe distance.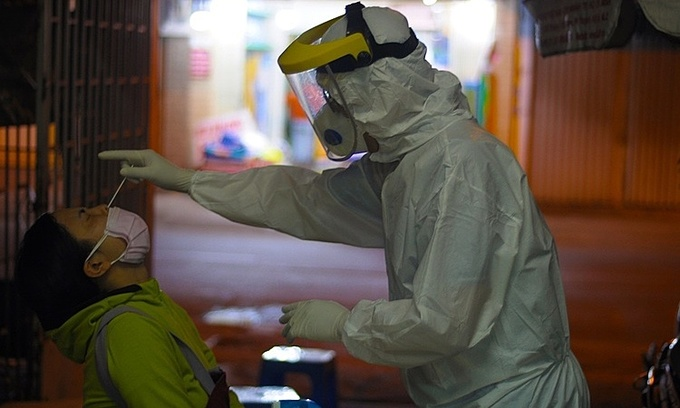 A medical staff takes a sample of a resident in HCMC for Covid-19 testing, February 2021. Photo: VnExpress
The city leader asked the Department of Information and Communications to strengthen communications on measures to prevent the spreading of COVID-19, especially the "5K message" - khau trang (facemask), khu khuan (disinfection), khoang cach (distance), khong tu tap (no gathering) and khai bao y te (health declaration).
In the nation's latest outbreak that began on January 28, Ho Chi Minh City has reported 36 cases of Covid-19.
It is conducting random tests and monitoring people coming from infected areas to contain the spread.
Vietnam has registered 2,524 Covid-19 cases so far, including 1,920 recoveries and 35 deaths. A total of 45.219 people are currently in isolation for having close contact with or passing through pandemic-hit areas. Among patients going under treatment, 65 have received their first negative test results, 57 had their second, and 157 had the third.
On Monday, a total of 377 medical and other frontline workers in HCMC, Hanoi, and Hai Duong received a dose of the AstraZeneca vaccine. None showed any adverse reactions as of that afternoon, according to the Health Ministry. The National Hospital for Tropical Diseases in Hanoi has so far vaccinated 66 people, the HCMC Hospital for Tropical Diseases, 104, and Hai Duong, 207.
Malie Nguyen