Hanoi's apartment building put under lockdown after Covid-19 case detected
The authority of Dong Da District (Hanoi) has blockaded the Sky City apartment building (88 Lang Ha street) and took more than 1,000 samples of residents for Covid-19 testing after a person living here tested positive for the virus.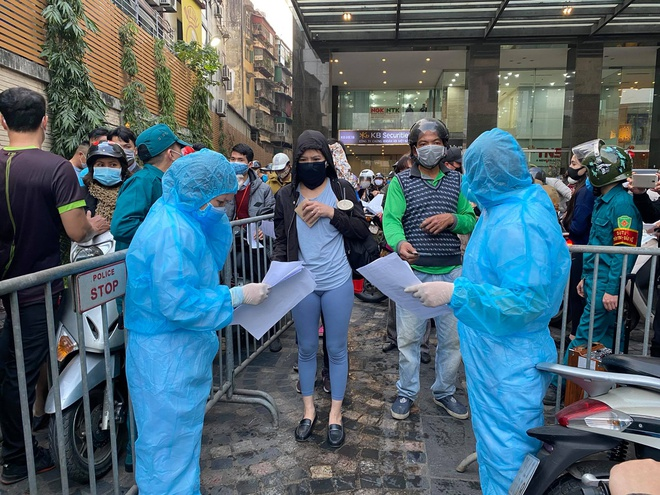 Sky City apartment building has been put under lockdown. Photo: Zing News.
After a Covid-19 patient detected in the Sky City apartment building, Chairman of the People's Committee of Dong Da district Dang Viet Quan said that the locality promptly zoned and implemented anti-epidemic measures.
"The district blocked, disinfected the entire apartment building as well as to conduct Covid-19 testing for all residents here", Quan was quoted by Zing News as saying.
According to the district leader, there are about 1,000 inhabitants living here. The District Health Department will coordinate with Hanoi Center for Disease Control and Prevention (CDC) to complete Covid-19 testing in the next one to two days. After the test results return, the district will consider whether to block the entire building or just one floor.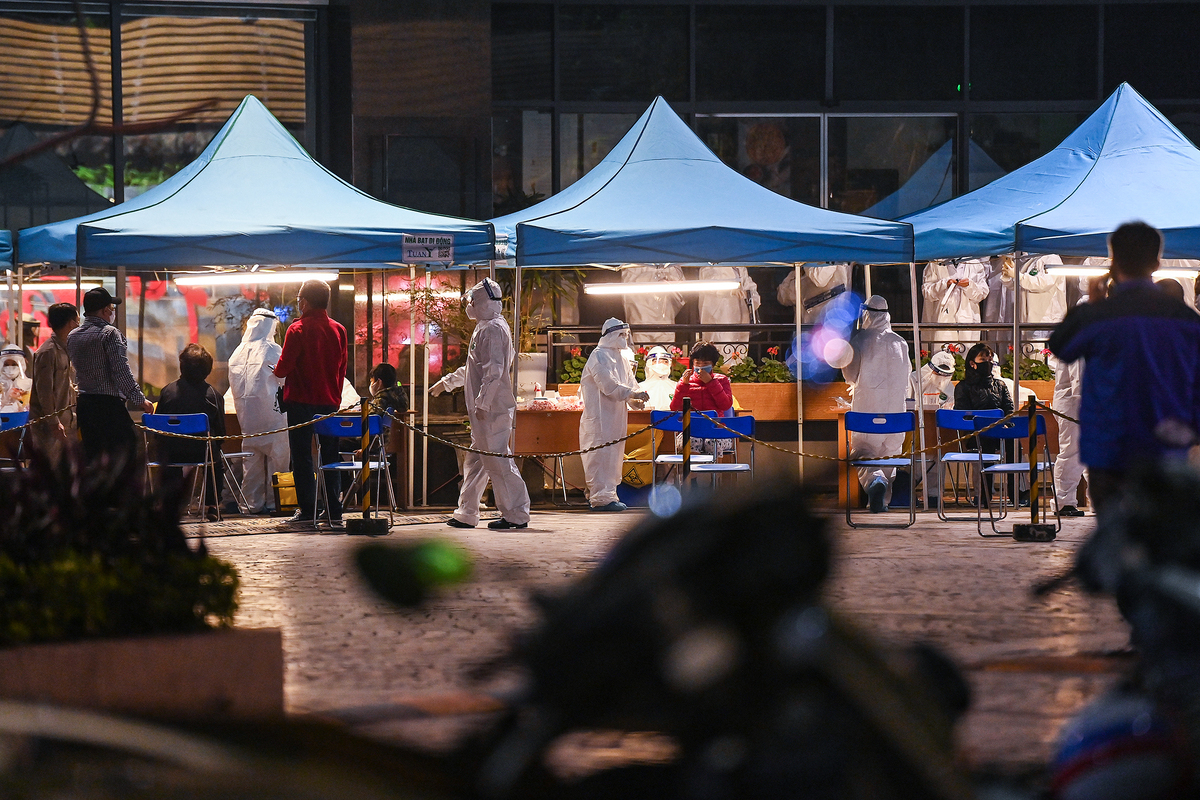 Medical staff conduct Covid-19 testing for residents of Sky City apartment building. Photo: VNExpress
On the afternoon of February 4, a new Covid-19 case was discovered in the Sky City apartment building (88 Lang Ha street, Dong Da district). The patient, female, is F1 case of patient 1883 previously confirmed tested positive for the virus.
The aforementioned patient is an employee of the Public Bank at D8, Tran Huy Lieu Street, Giang Vo, Ba Dinh District. She had come into contact with patient 1883 (a notary in Cau Giay's Duy Tan street) at Giang Vo Secondary School Gate at January 27 noon. Both of them did not wear face masks.
From January 27 to February 2, the patient went to work at the bank. On February 3, she had her sample taken for Covid-19 testing and the result showed positive.
Meanwhile, 122 cases were identified to have come close contact with patient 1883. To date, 105 samples have returned negative.
The capital city has reported 22 community transmission cases since the third wave resurged in the country on January 28. 21 cases were earlier confirmed in five districts of Nam Tu Liem, Cau Giay, Hai Ba Trung, Dong Anh, and Me Linh.
T6 Times City removed lockdown
At 9 p.m on February 4, T6 Times City apartment building in Minh Khai street, Hai Ba Trung's Vinh Tuy ward was removed lockdown. However, the 12th floor has still been isolated for 21 days.
The decision to remove lockdown came after all testing results of F1 cases in the apartment building showed negative.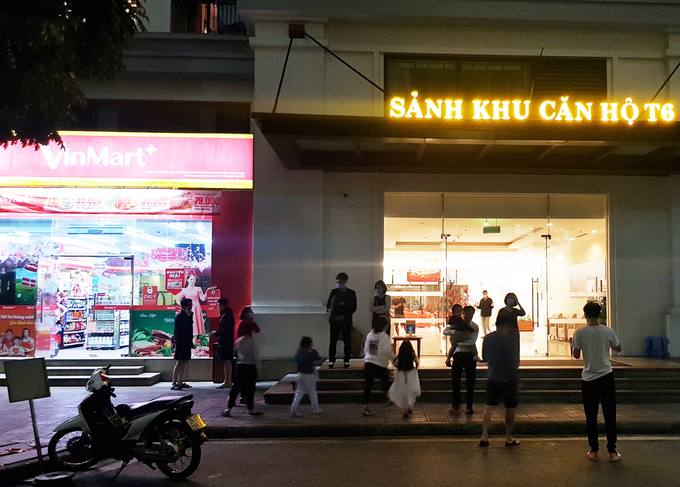 People cheer as T6 Times City is removed lockdown. Photo: VNExpress
The People's Committee of Vinh Tuy ward asked residents to continue monitoring their health and immediately report to the building management when discovering abnormal symptoms.
As reported by VTC News, on January 29, a person living in T6 Times City was confirmed tested positive for the novel coronavirus. The patient was F1 case of another patient in Quang Ninh province, the country's Covid-19 hotspot at present.
The Vinh Tuy Ward then right away blockaded the building and demanded people to stay at home.
Since January 28, Vietnam has recorded 375 Covid-19 community transmissions in the third wave sweeping through the nation. New infections have been detected in 10 cities and provinces so far: Hai Duong, Quang Ninh, Hanoi, Gia Lai, Binh Duong, Bac Ninh, Hoa Binh, HCMC, Hai Phong and Bac Giang.
The current national Covid-19 tally of 1,957 includes 35 deaths. Over 65,000 people are quarantined in hospitals, centralized facilities, homes, or other designated accommodations.