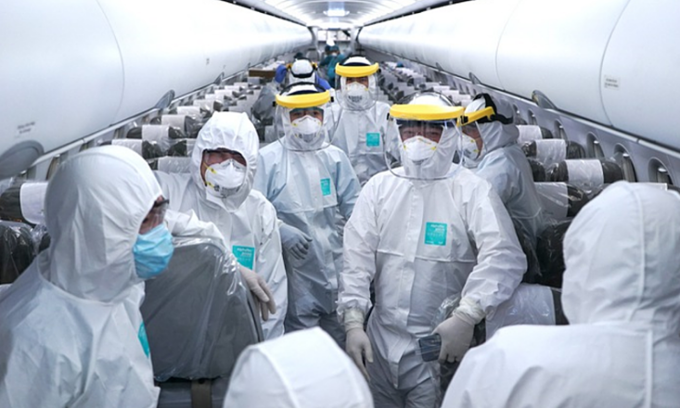 A team of doctors, nurses and other personnel repatriate Vietnamese from China's Wuhan City in February 2020. Photo: VGP
The infected citizens, who are part of more than 200 Vietnamese managerial employees of three Vietnamese firms in Equatorial Guinea in Central Africa, will be repatriated in late July or early August, reported Vnexpress citing Pham Ngoc Thach, director of the Hanoi's National Hospital for Tropical Diseases.
The hospital's medical team will take medicines, equipment and protective gear with them, he said.
All 120 infected passengers and the crew will be quarantined and treated at the National Hospital for Tropical Diseases upon arrival, and it will be the highest number of COVID-19 patients the hospital has had to treat at the same time, Thach said.
Among the 120 infected, three have recovered while the rest are still positive with the coronavirus, according to the Ministry of Health.
Several have symptoms like cough, throat pain, headache or fever. Forty-six have chronic diseases, including high blood pressure and peptic ulcers.
Since April 10, Vietnam has repatriated 13,323 citizens from around the world, including the hard-hit United States, South Korea, Africa and South Asia.
Dinh Viet Thang, head of the Civil Aviation Authority of Vietnam, said another 50 flights or so would bring over 13,000 Vietnamese citizens home by the end of next month.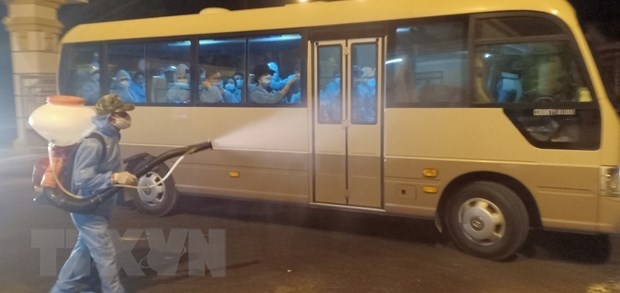 Returning citizens and foreign experts all were immediately quarantined after their arrival in Vietnam. Photo: VNA
On the same day, three people and a foreigner have been diagnosed with the SARS-CoV-2 virus, bringing the country's tally of coronavirus infections to 412. No deaths have been reported.
They were all placed in quarantine as soon as they landed in Vietnam, therefore they could not pose any threat to the community, health officials assured.
One of the newly detected patients, a 37-year-old woman of the Philippines is an education expert. She took flight QH9461 from the Republic of Korea to Phu Quoc Airport in Kien Giang province, southern Vietnam, on July 19.
The other three patients are Vietnamese citizens returning from Russia on flight VN5062 to Van Don International Airport in Quang Ninh province on July 17.
According to the MoH, Vietnam has gone through 98 days in a row without new locally transmitted coronavirus infections.
Of the total, 365 patients have fully recovered and have been discharged from hospital, representing 88.6%.
Globally, the rate of new infections shows no sign of slowing, with the disease accelerating the fastest in the US and South America, according to the Reuters tally, based on official reports.
Of the 20 countries with the biggest outbreak, the US ranks second for cases per capita, at 120 infections per 10,000 people, only exceeded by Chile.
With over 143,000 deaths, or 4.4 fatalities per 10,000 people, the US ranks sixth globally for the highest deaths per capita. It is exceeded by the United Kingdom, Spain, Italy, Chile and France.
Brazil registered a new daily record for confirmed coronavirus cases on July 22, pushing the total confirmed cases across Latin America past 4 million.
Brazil has the second-largest outbreak in the world, with more than 2.2 million people testing positive and nearly 83,000 deaths.
India, the only other country with more than 1 million cases, reported almost 40,000 new cases on July 22./.
Hannah Nguyen