Hanoi's national high-school examinees brush off torrential rain
Despite the unpleasant weather, many examinees said they were still confident in their test performance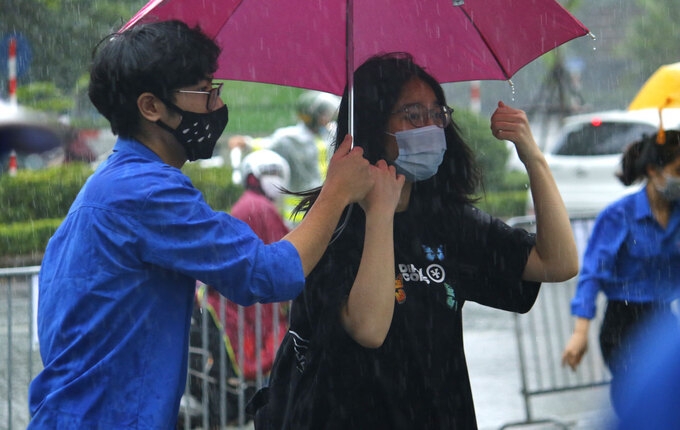 A student walks into the exam room (Photo: VNE)
Despite the torrential rain, over 93,000 students in Hanoi still made it to their exam rooms on the weekend, finishing the four mandatory subjects for the National High-school exam.
The heavy rain, which hit many parts of Hanoi on July 13, the second day of the high school entrance exam, caught a number of 9 graders and their parents off guard. Many got soaked on the way from their home to school even though they had put on raincoats.
A candidate hugs her mother before she enters the exam room (Photo: Tuoi Tre)
The exam board at Yen Hoa secondary school exam site handed out new uniforms or T-shirts to students so that they could change from wet clothing. "This is to make sure the examinees are comfortable and won't get a cold, which might affect their test results," one exam official said.
Officials and teachers at Nguyen Trai high school exam site deployed the same measure. They also called for students' parents to bring new clothing tagged with full name and exam room number to hand to their child.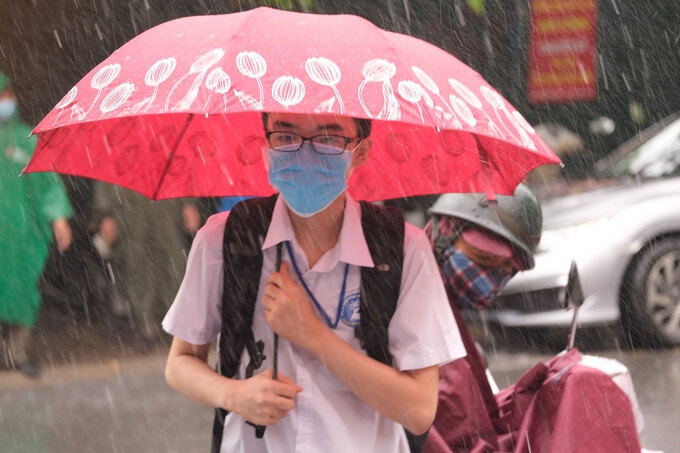 (Photo: VNE)
Knowing it might rain, many students left home early for fear of being late or getting stuck in traffic and downpours.
The rain also forced examiners to do Covid-19 screening procedures inside the school instead of its gate as planned. Anti-pandemic protocols were strictly applied at all establishments. All exam board members, students and parents were required to put on face masks, sanitize their hands, and remained socially distanced throughout the exams.
"This year's exam takes place like never before, with both the pandemic and rainy weather. I don't want to pressurize my son for the results. I just reminded him to be confident and calm, and do the best he can. His health is also important," Pham Thi Mai said, as she gave an extra face mask to her son.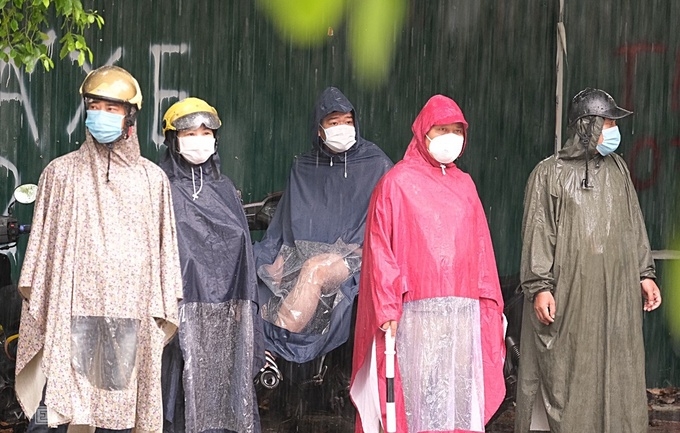 Some parents wore raincoats as they waited for their children outside the exam site (Photo: VNE)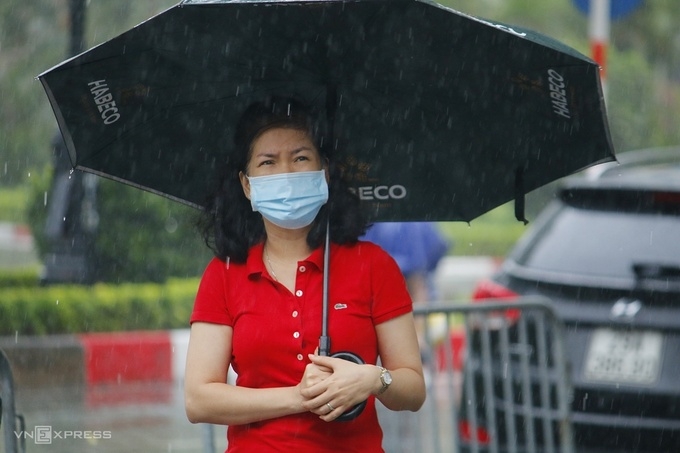 (Photo: VNE)
Despite the unpleasant weather, many students were still confident in nailing the test.
"Sitting for the test during the Covid season is a little worrying, plus it's raining heavily outside. But the love and encouragement from my family and careful preparation from the exam board give me more confidence in myself," Hai Nam, an examinee at Chu Van An high school exam site, said. "I have applied myself for the test, now I just need to do my best."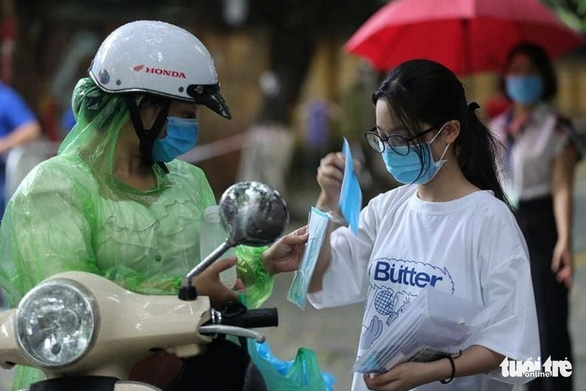 (Photo: Tuoi Tre)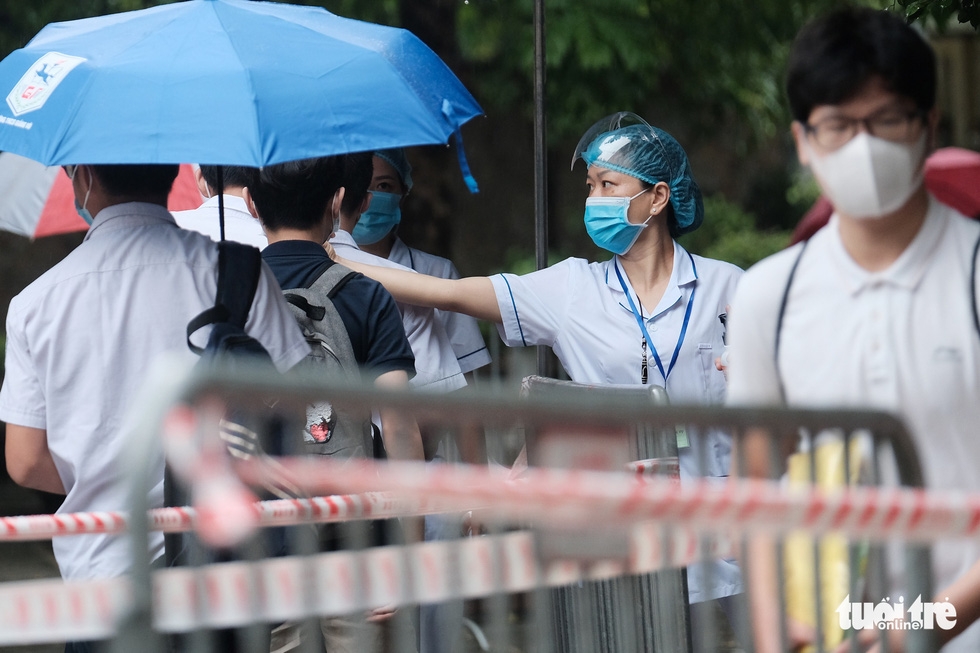 Medical staff holds the umbrella out for examinees at Covid-19 screening point (Photo: Tuoi Tre)
The national high school exam in Hanoi started on July 12 with the math and literature tests. Candidates sit for the two remaining mandatory subjects, foreign languages and history on July 13. The test time for each subject has been shortened to reduce long gathering amid the coronavirus.
Around 10,000 candidates applying for specialized schools will take another test on July 14, 16 or 17.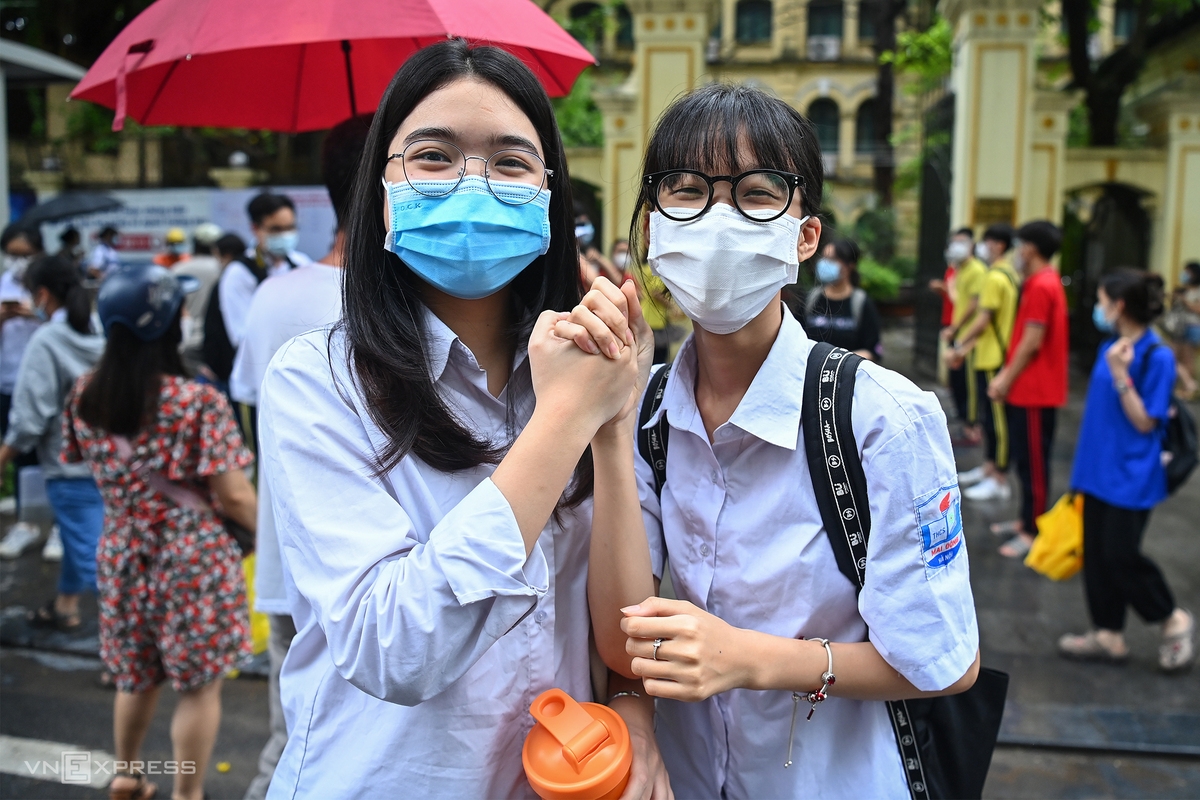 Two students are spotted after finishing the exam (Photo: VNE)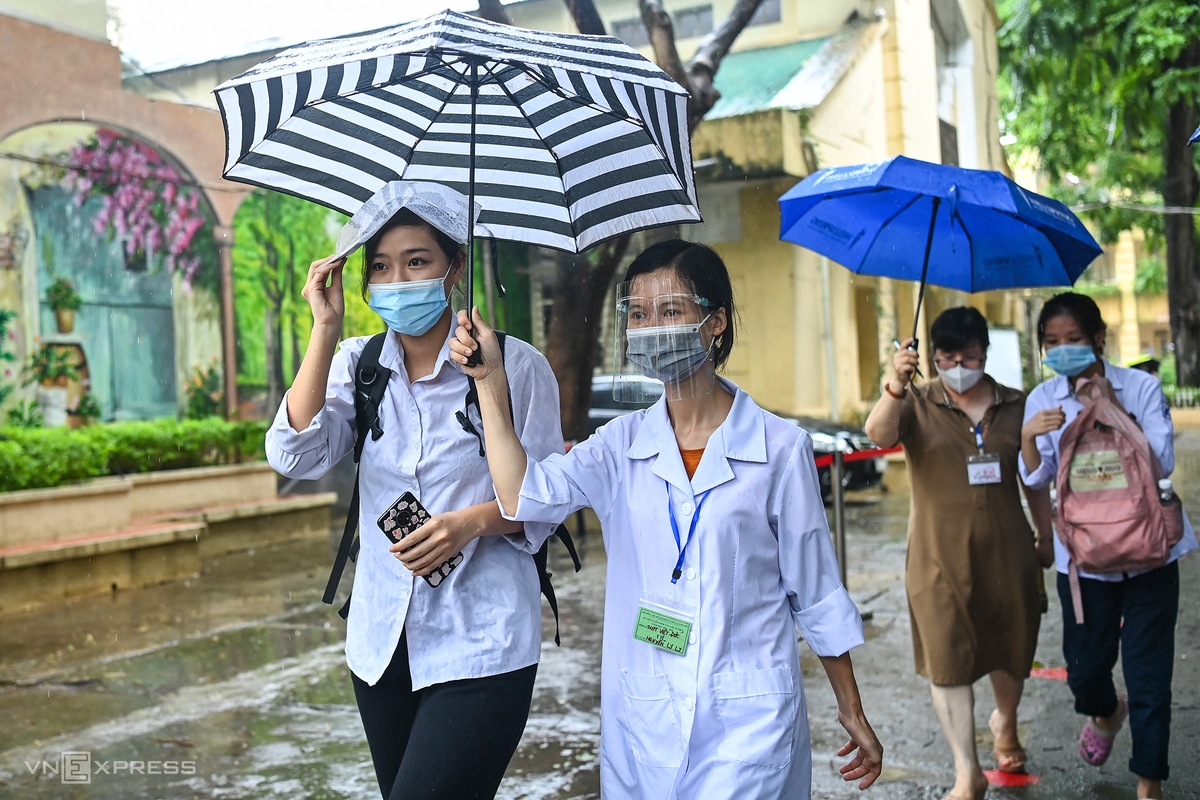 (Photo: VNE)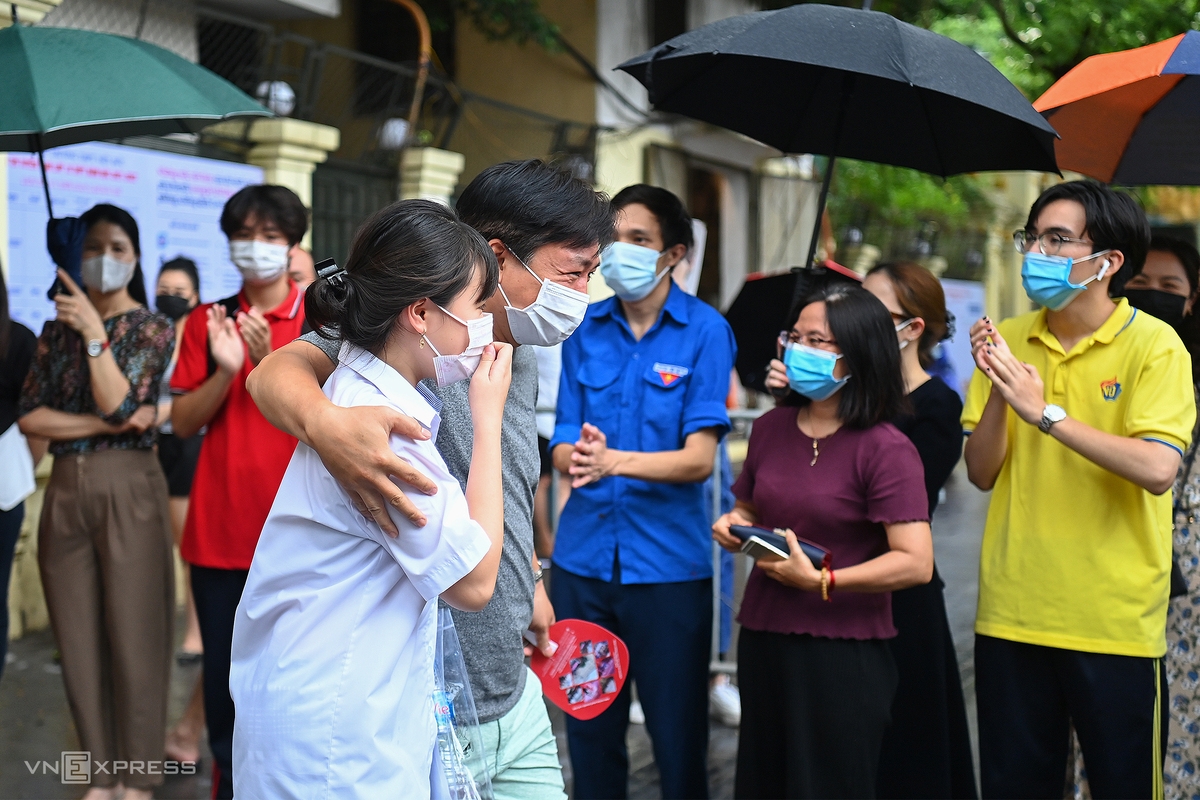 (Photo: VNE)
The municipal People's Committee earlier directed agencies to devise plans responding to downpours during test days and ensure absolute safety for candidates, teachers, officials and support teams.
Hanoi has 38 candidates affected by the coronavirus, including one patient (F0) and 30 others having either direct (F1) or indirect contact (F2) with Covid-19 patients. According to regulations, all F0 and F1 cases will be recruited to their registered public schools without having to take the test. All F2 cases and those living in blockaded areas will be recruited based on their performance results at secondary schools.