HCM City, Australia's Victoria state to establish twinning relations
A Memorandum of Understanding (MoU) on the establishment of twining relations between Vietnam' Metropolis Ho Chi Minh City and the Australian state of Victoria will be signed in the coming time, officials agreed.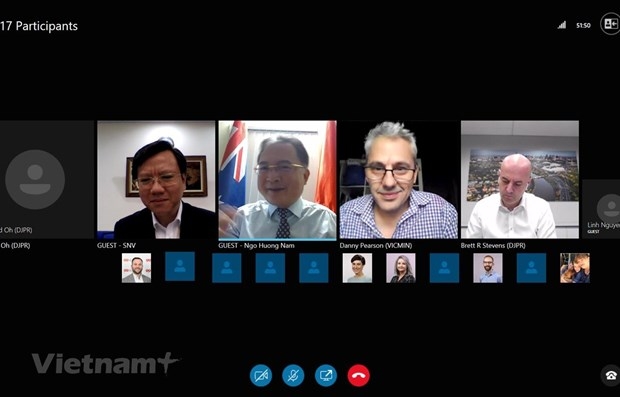 At the teleconference. Photo: VNA
According to VNA, HCM City and Victoria state recently held a teleconference to accelerate the signing of MoU on their twining relationship.
Danny Pearson, Parliamentary Secretary to the Premier of Victoria, said although the COVID-19 pandemic has caused certain difficulties in the operation of authorities, Victoria will make efforts to work together with HCM City in order to speed up the signing of the document.
HCM City has a young and dynamic economy, which would bring about valuable cooperation opportunities for Australian investors and open up a promising business connection network.
Pearson suggested the two sides look into concrete cooperation contents and expressed his hope that the twining relationship and cooperation will be realised at an early date, maybe late this year.
Le Quang Long, Director of the HCM City Department of External Affairs, highlighted local leaders' hope for the early signing of the MoU in order to step up the bilateral cooperation.
HCM City wants to join hands with Victoria in education-training, smart city building, agriculture, and innovation that are of the Australian state's strength, especially personnel training in hotels and tourism.
Regarding the establishment of Victoria's Trade and Investment Office in HCM City, Long said the city encourages foreign investors to expand operation in the locality, and promised that municipal leaders will consider and push ahead with administrative procedures in order to soon put the office in place.
Victoria's Commissioner to Southeast Asia Brett Stevens said HCM City is the gateway for Australian investors and traders to expand activities in Vietnam, particularly in wine and food export.
Vietnamese Ambassador to Australia Ngo Huong Nam suggested HCM City expand training cooperation with Victoria to optimise the state's strength in this sphere.
The Victorian Government announced in 2019 it will be setting up the 23rd Trade and Investment office in HCM City to deepen Victoria's relationship and drive new trade, investment and exchange opportunities for Victorian and Vietnamese businesses.
Vietnam is Australia's fastest growing export market in Southeast Asia, and Victoria's Southeast Asia Trade and Investment Strategy has identified Vietnam as a priority market and emphasizes opportunities to grow Victoria's higher education and vocational education services.
More than 13,000 Vietnamese students are enrolled in Victorian educational institutions, and Vietnam accounts for Victoria's third largest source of international students, which has played a significant role in strengthening our connections with the country.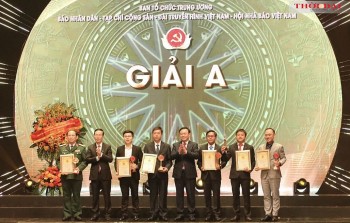 Viet's Home
The 7th National Press Prize on Party Building (named Golden Hammer and Sickle) - 2022 has been bountiful with thousands of entries on a variety of topics, rich in genres, closely following hot topics, outstanding events, key tasks of the political system and the country. Content relating to party building process was clarified and further exploited compared to previous years.