HCM City praises overseas Vietnamese contributions
Last year, overseas Vietnamese sent USD 5.3 billion worth of remittances to Ho Chi Minh City, of which 72 percent ran into production and trading.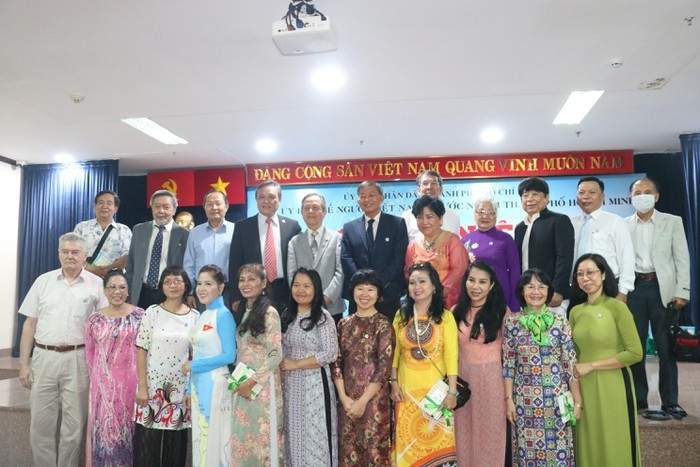 Delegates pose for a photo at their meeting on August 28, 2020, in Ho Chi Minh City. Photo: sggp.org.vn
Ho Chi Minh City held a get-together on August 28 for overseas Vietnamese returning home on the occasion of the 75th anniversary of the August Revolution (August 19) and National Day (September 2).
Chairman of the city's Committee for Overseas Vietnamese Affairs Phung Cong Dung told participants that the Party and the State always consider overseas Vietnamese an integral part of the nation and an important contributor to intensifying Vietnam's friendship and cooperation with other countries.
"Overseas Vietnamese's hearts always look toward their homeland," he said.
He expressed his hope that overseas Vietnamese will support each other and contribute more to national construction.
Dung also hailed the contributions made by overseas Vietnamese to HCM City's development, saying remittances to the city in 2019 reached USD 5.3 billion, the highest in the country.
The committee took the occasion to launch a writing contest called "A 15-year journey – Summer camp for young overseas Vietnamese together with Ho Chi Minh City's youth", which was postponed this year due to the COVID-19 pandemic.
Entries can be sent to the Organising Board until October 31.
Earlier, the delegation also offered incense and flowers to pay tribute late Presidents Ho Chi Minh at the Ho Chi Minh Museum's city branch and Ho Chi Minh Statue in the southern city.
They took the opportunity visited the museum and remembered the life and career of the late President, who devoted his life to national liberation and worked tirelessly for peace and progress across the world.
The delegation offers incense to pay tribute to President Ho Chi Minh. Photo: sggp.org.vn
The 75th anniversary of National Day of Vietnam is concurrent with its ASEAN Chairmanship Year and non-permanent membership in the UN Security Council, proved its increasingly strong presence on the international arena.
Despite the COVID-19 pandemic, Vietnam's economic growth neared 2 percent in the first half of 2020 while trade surplus reached around USD 11 billion .
According to the Economist's financial health rankings in May, Vietnam ranked 12th out of 66 emerging economies in terms of strong financial system.
Over the past time, flocks of Vietnamese people have returned to the country as the epicenter of the coronavirus pandemic moves from around the globe and travel options become limited./.