HCMC flight attendant who breaches Covid-19 protocols to stand trial tomorrow
The male flight attendant, known as "Patient 1342" in Vietnam, is expected to stand trial on March 30 for "violating Covid-19 protocols, spreading the dangerous infectious diseases in humans".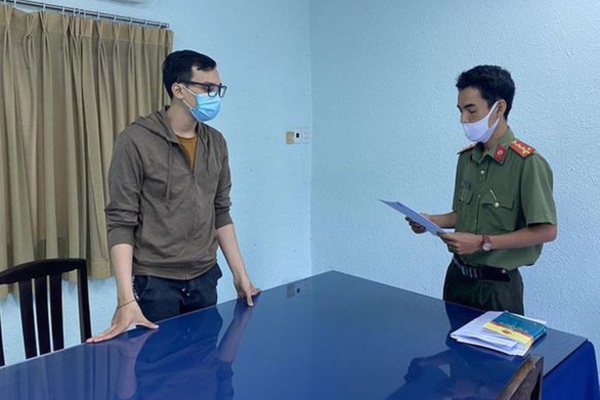 Duong Tan Hau (L) listens as a police officer reads a decision to place him under house arrest for investigation for spreading Covid-19 in the community in HCMC, January 12, 2020 (Photo: Vietnamnet)
The trial will be taken place at the People's Court of Ho Chi Minh City.
According to VNE, Hau breached regulations when staying at the airline's quarantine facility and after returning home for designated self-isolation. His irresponsibility triggered a community outbreak of the novel coronavirus, according to police.
As per Vietnam's protocols on Covid-19 prevention, pilots and attendants need to use dedicated restrooms and their own vehicles once off the plane. No contact is allowed with passengers during flights.
After two tests showed he was negative for the novel coronavirus, Hau was released from the airline's facility but told to isolate himself at home for another 14 days.
At home, Hau came in contact with his mother and two friends, including a visiting English language teacher.
On Nov. 29, 15 days after he returned from Japan, he tested positive for the virus, with the teacher the following suit the next day. The latter later infected a nephew and a student.
Medical staff help each other wear protective clothes at Cu Chi District's field hospital for Covid-19 patients, HCMC, February 10, 2020 (Photo: VNE)
Upon contracting the novel virus, the flight attendant was treated at Cu Chi hospital, Ho Chi Minh city. During his stay in the hospital, Hau expressed remorse for setting off the Covid-19 outbreak.
"I was frightened after contracting the novel coronavirus, but I think I could overcome it because I am young and healthy," the 28-year-old told VnExpress on Friday.
He claimed to have cried when he came to know he was the source of community transmission.
"I felt regretful from the first moment and very repentant as my behavior has affected the whole society."
On hearing he faces criminal charges for violating quarantine regulations and infecting at least three others, he was "very scared and shocked."
He worked on flights to repatriate Vietnamese stuck in France, Australia and the U.K., and said he got many encouraging messages from passengers on those flights while in hospital.
"These words of encouragement helped me feel less heartbroken after being hurt by the viciousness on social media."
He has come under severe criticism on social media, with many blasting him for his lack of awareness. Hau was placed under criminal investigation for his actions on Jan. 11, and is held under house arrest.
Dire consequences
The outbreak broke Vietnam's 89-day and Ho Chi Minh City's 120-day streak without community transmissions at the time.
Authorities concluded Hau's actions had resulted in around VND4.475 billion in damage, including the cost for Covid-19 testing, contact tracing and isolation. The lives of over 2,000 people in HO CHI MINH CITY were also affected by quarantine measures.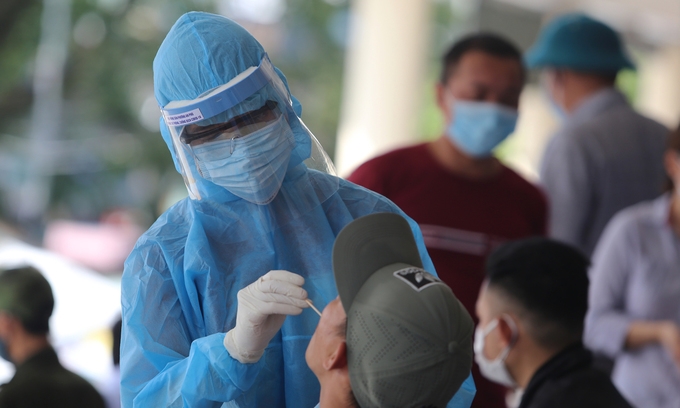 A medical worker takes Covid-19 test samples from a man in Quang Nam Province, August 11, 2020. (Photo: VNE)
Hau is the first case in Vietnam where flouting Covid-19 prevention regulations is treated as a crime, but he was not the last. Two others, a man in Mekong Delta's Vinh Long Province who illegally entered Vietnam and a woman in northern Hai Duong Province who did not declare her travel itinerary nor who she came in contact with, are also being probed on the same charge.
On the morning of March 30, no new cases found. Three imported cases of COVID-19 were detected in the past 12 hours to 6 pm on March 29, who were put into quarantine after entry, according to the Health Ministry.
Of the new patients, two are Vietnamese women entering through the Moc Bai international border gate and are now being treated at the General Hospital of Tay Ninh province, and the remainder is a 30-year-old Indian expert. She is now being quarantined and treated at the Cu Chi Hospital for COVID-19 treatment in Ho Chi Minh City.
Meanwhile, the entire Hai Duong province, Vietnam's biggest Covid-19 hotspot in the latest outbreak will end social distancing under the Prime Minister's Directive No.19 to implement epidemic prevention measures in the new normal state starting 0:00 on April 1.