HCMC Tourism Reliant Businesses Long for Return of Foreigners
Many businesses in Saigon's tourist hotspots that relied heavily on foreign tourists in pre-pandemic times are pinning hopes on the city reopening international tourism with a no-quarantine policy.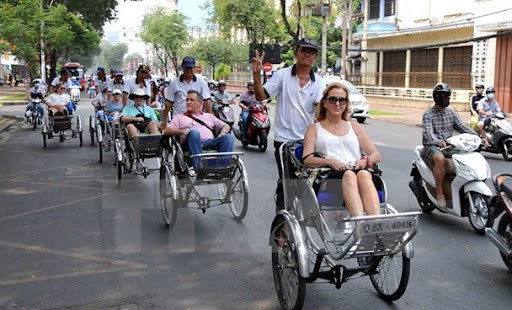 Foreign visitors in Vietnam. Photo: Thanh Nien
It's 9:30 a.m. and Le Thi Huong, manager of a bar on Bui Vien Street, once the city's busiest night-time hotspot for foreign tourists, arranges tables and chairs to prepare for a new day.
Her bar has switched to selling com tam (broken rice with grilled pork, pig skin, egg and fish sauce) in the morning and serving snail dishes at night as HCMC has not yet allowed bars, karaoke parlors and beer clubs to resume operations.
"Only a few customers visit my shop these days and we have to close it by 9 p.m. as a pandemic prevention measure," she told VNE.
"The rents are very high and income from selling food is not enough to make a profit but we still have to open for business to cover daily expenses and pay staff salaries."
The plan to welcome foreign tourists back to the city without mandatory quarantine from December has lit up Huong's hopes after two years of the pandemic-enforced border closure.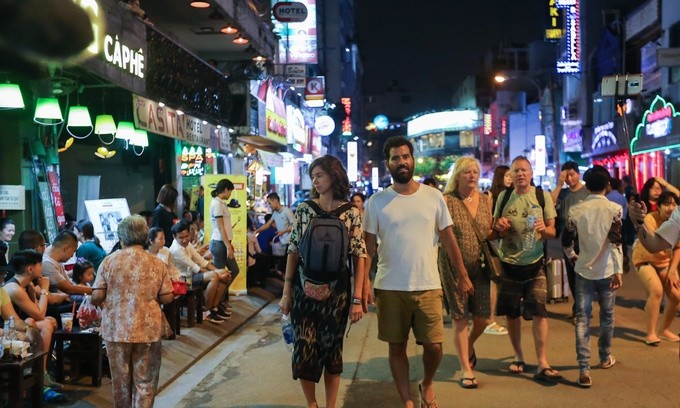 Foreign tourists on Bui Vien pedestrian street in District 1, Ho Chi Minh City, 2018. Photo: VNE
"The arrival of foreign tourists would give us a chance to revive business and escape the current nightmare," Huong said.
"Most tourism-related businesses in Bui Vien have accepted to pay high rent and invested a lot of money in their business mainly to cater to foreign tourists. Without them, all of us are close to complete exhaustion."
Linh Trang, the owner of a homestay inside a small alley on Do Quang Dau Street, said all foreign guests staying at her place have returned home and her five rooms are vacant. She struggles to pay electricity and water bills every month.
The last guest at her homestay left in April as Vietnam grappled with the fourth Covid-19 wave that has infected over 986,000 people and killed over 22,000.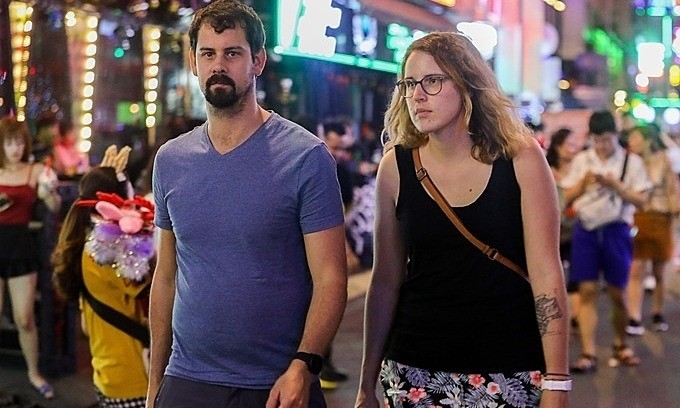 Foreigners walk on Bui Vien pedestrian street in HCMC, 2019. Photo: VNE
HCMC's tourist precinct, made up of Bui Vien, Pham Ngu Lao, De Tham and Do Quang Dau streets in District 1, used to be one of the city's busiest places, teeming with foreign visitors day and night.
Trang said that before the pandemic, her rooms were always full, with the rent ranging from VND300,000 to VND600,000 ($13- 27) a night.
"Having done this business for nearly eight years and welcomed foreign tourists every day, I am like an unemployed person now," she said.
"I hope foreign tourists will return to HCMC soon so that those of us dependent on providing services to them can manage to earn a living," she said.
Huynh Thi Thu Hoa, who sells clothes and decorative items inside the Ben Thanh Market, an iconic landmark in HCMC, said she has never experienced such poor business in more than 20 years.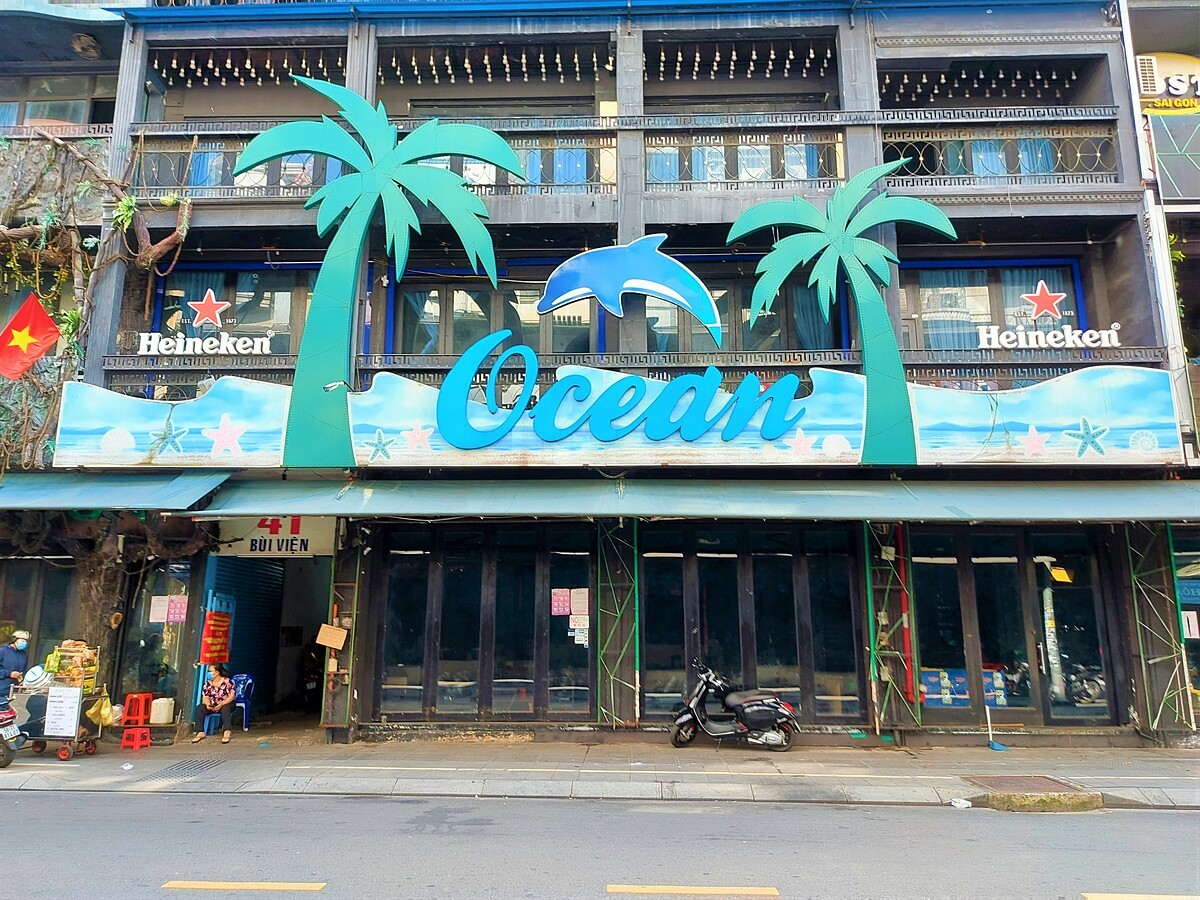 A bar on Bui Vien Street, HCMC, in November 2021. Photo: VNE
"Even on the busiest day, the turnover is only VND200,000 ($9). Some days I sit here all day without any customer. Meanwhile, the rent remains quite high."
Hoa said foreign visitors had become a major portion of customers in the market before the pandemic, because most locals went to traditional markets.
"For the last two years, vendors inside the market like me have struggled to keep our business going, hoping to see the return of foreign tourists soon.
"I felt happy and excited as I read in newspapers that the city wants to allow foreign tourists back. I hope this becomes true soon."
The city's Department of Tourism has drafted a three-phase vaccine passport plan to welcome tourists from Europe, Southeast Asia, Northeast Asia, Australia, North America and the Middle East.
In the first phase starting in December, tourists will book tour packages with approved travel agencies, arrive on flights or cruise ships and stay at designated hotels and resorts.
They will be exempt from mandatory quarantine requirements if they possess Covid-19 vaccine passports.
The city received over 8.6 million foreign visitors in 2019.
In the first nine months of this year, it has received 7.7 million domestic visitors.
HCMC wants to allow international tourists in without a mandatory quarantine requirement from December if they possess Covid-19 vaccine passports.
The city Department of Tourism has drafted a plan for a three-phase vaccine passport program for tourists from Europe, Southeast Asia, Northeast Asia, Australia, North America, and the Middle East from later this year instead of early next year as previously planned.
Earlier tourism authorities had said this year the focus would be on reviving domestic tourism and the city would only consider receiving foreign tourists from next year.
The city received over 8.6 million foreign visitors in 2019.
In the first nine months of this year it received 7.7 million domestic tourists.
Quang Nam, Kien Giang, Khanh Hoa, and Quang Ninh provinces and Da Nang City have got approval from the government to allow in foreign tourists from November as part of a roadmap to gradually resume international tourism.
The government closed the borders and canceled all international flights in March last year.
Since then only Vietnamese repatriates, foreign experts and skilled workers have been allowed in with stringent conditions.
Health authorities reported 8,481 new domestic cases of Covid-19 in 57 cities and provinces on Saturday, down 495 against Friday.
The three localities with the highest case count are Ho Chi Minh City with 1,240 infections, followed by Dong Nai and An Giang, with 743 and 631, respectively.
The Health Ministry also confirmed 1,843 recoveries the same day, bringing the total tally of recovered cases so far to 858,054, cited VnExpress.
The Covid-19 death toll in Vietnam rose to 23,018 with the confirmation of 88 deaths Saturday.
By Saturday, 33.7 million of Vietnam's 96-million population have received two Covid-19 vaccine doses.
Since the pandemic started last year, Vietnam has recorded over one million cases.