Health Minister: Mass Covid-19 testing vital
Minister of Health Nguyen Thanh Long on May 7 said mass testing was the only way to detect Covid-19 cases early
Vietnam is experiencing its fourth Covid-19 wave, with five big outbreaks simultaneously emerging in the North and quickly spreading to 19 provinces and cities. In particular, the outbreaks at the National Hospital for Tropical Diseases (Dong Anh District, Hanoi) and Da Nang City have unidentified sources of transmission, VnExpress reported.
"This Covid-19 wave is more serious than previous ones as it has multiple sources of infection and multiple virus strains," said Vietnam's Health Minister Nguyen Thanh Long. "In the time ahead, the disease control may more difficult and more outbreaks may be discovered, therefore, mass testing is the only way to early detect Covid-19 cases."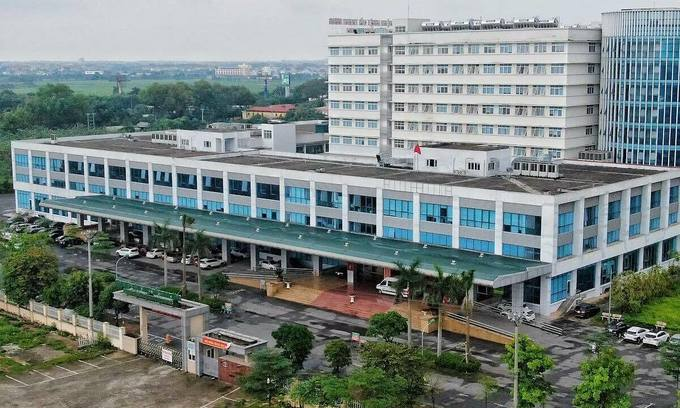 The National Hospital for Tropical Diseases in Hanoi. Photo by VnExpress/Giang Huy.
Testing is vital
The Ministry of Health has licensed eight types of domestically manufactured bio-products and 26 imported ones, which can meet testing needs nationwide. Long confirmed that the rapid antigen test was almost exact as the reverse transcription polymerase chain reaction (RT-PCR) test, so localities need to use both testing methods.
Earlier, 15 localities including Ha Giang, Lang Son, Vinh Phuc, Lao Cai, Tuyen Quang, Ben Tre, Lai Chau, Quang Tri, Binh Dinh, Hung Yen, Binh Duong, Dong Thap, Tien Giang, Tra Vinh and Vinh Long were criticized by Deputy Prime Minister Vu Duc Dam for not establishing testing rooms or equipping RT-PCR machines.
Minister Long also asked localities to consider "testing as their weakness," thereby, enhancing testing capacity and scope, especially in emergency rooms, clinics and intensive care units.
Protecting hospitals
The risk of the Covid-19 outbreak in central hospitals is higher than in local ones, according to Long.
To date, as many as nine hospitals across the country have been placed under lockdown, including two key hospitals in the North: the National Hospital for Tropical Diseases and K Hospital, where many patients vulnerable to the virus are being treated.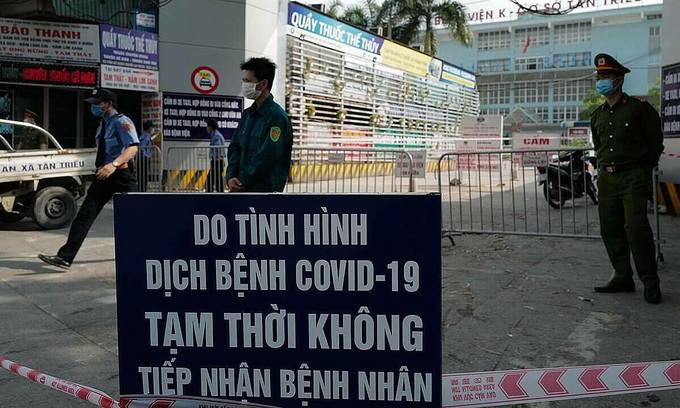 An erected sign says locked-down K Hospital in Hanoi will no longer receive patients, May 7, 2021. Photo by VnExpress/Ngoc Thanh.
The Covid-19 outbreak at K Hospital was confirmed as coming from the National Hospital for Tropical Diseases. However, the exact source of transmission has not been found.
When patients and their relatives are discharged from the hospital, they can easily spread the virus to the community.
Deputy Prime Minister Dam also said that that "pathogens may exist in the community."
Fifteen new domestically-transmitted Covid-19 cases were detected in Vietnam in 12 hours up to 6 a.m. on May 8, according to the Ministry of Health.
The new infections include one case in the capital city of Hanoi, with the others in northern Bac Ninh Province.
With these new patients, the total number of Covid-19 infections in Vietnam has risen to 3,152, including 1,746 domestic cases. A total of 176 cases were found since the latest wave hit the country on April 27.
According to the Health Ministry's Medical Service Administration, 2,560 patients have been given the all-clear from coronavirus SARS-CoV-2, while the death toll remains at 35.
Among active patients undergoing treatment, 24 tested negative to the virus once, 12 twice and 38 three times..
As many as 42,293 people who had close contact with Covid-19 patients or entered Vietnam from pandemic-hit regions have been currently quarantined across the country, including 685 in hospitals, 22,810 in concentrated quarantine establishments and 18,998 at their place of residence.
On May 7, an additional 54,130 people were vaccinated against Covid-19, raising the total number to 801,957. They are mostly frontline medical workers, members of local steering committees for Covid-19 prevention and control, and members of the police and military.