"Covid-19 outbreak in Hanoi frontline hospital may be caused by cross-infection"
Experts said that the latest coronavirus outbreak in the National Hospital for Tropical Diseases may be due to the cross-infection caused by negligent infection control.
Doctor Nguyen Hong Ha, Vice Chairman of the Vietnam Society of Infectious Diseases said with 38 Covid-19 community transmissions confirmed as of the evening of May 6, the National Hospital for Tropical Diseases has become an outbreak. Although the result of gene sequencing hasn't been disclosed yet, the virus variant triggering the latest outbreak in the hospital is quickly spreading. The authorities are rushing to investigate and trace to identify the source of transmission. Experts have also given different hypotheses about the infection source, Vnexpress reported.
There are many reasons leading to the quick spread of Covid-19 in the hospital. He leaned towards the assumption of cross-infection as the hospital had received and treated many Covid-19 patients as well as patients with normal diseases. Even though the treating areas for these two patient types lie separately, the risk of cross-transmission is very high.
"This is inevitable. In the world, many heads of state were strictly protected, but they still contracted the novel coronavirus," Ha said.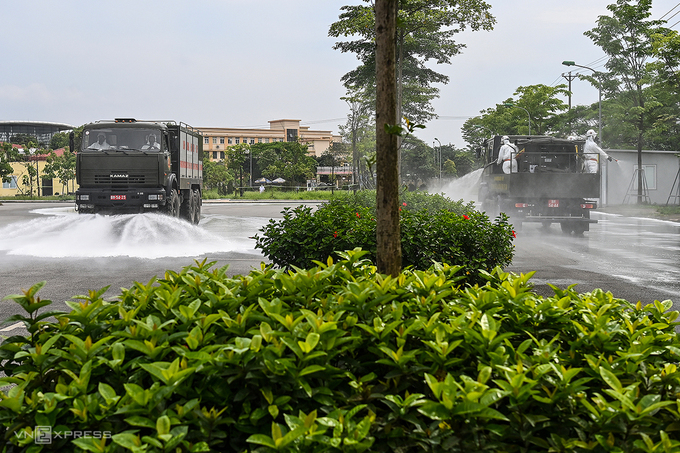 Military personnel disinfects the National Hospital for Tropical Diseases. Photo: Vnexpress
The National Hospital for Tropical Diseases is a frontline hospital in treating Covid-19 cases in the North since 2020. To date, it has treated 605 cases, including many severe ones who need to use extracorporeal membrane oxygenation (ECMO). As many as 131 Covid-19 patients have underwent treatment here.
In three days from May 4-6, the hospital logged 38 locally transmitted cases including 3 medical workers, patients, and their family members. It has been placed under lockdown starting May 5.
Tran Dac Phu, Senior Advisor to the Health Ministry's Public Health Emergency Operations Center also agreed with Ha's viewpoint. Covid-19 patients may infect the virus to other patients and medical workers, he said.
"Every day, the hospital has to receive and treat many Covid-19 patients, including those who are under quarantine and haven't tested positive with the virus. Hence, infection control is very hard," he emphasized.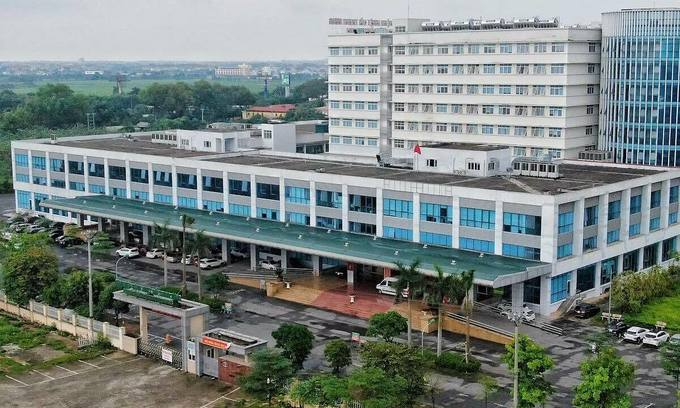 The National Hospital for Tropical Diseases in Hanoi. Photo: Vnexpress
There are many problems related to infection control in hospitals such as wearing protective clothes, disinfecting, wearing face masks, receiving, testing, and treating Covid-19 patients, etc. During these processes, medical workers may touch nCoV-containing surfaces, not don face masks all the time, etc.
Apart from the cross-infection, Phu supposed the latest coronavirus outbreak may derive from the fact that a person contracts the virus in the community and then infects medical workers and patients when he/she comes to the hospital or family members of patients and medical workers contract the virus in the community and then infects other medical workers and patients.
"The immediate solution is quarantining and reviewing procedures in the transmission prevention and control," said Phu.
Earlier, a male doctor at the hospital tested positive for the coronavirus during an overseas trip. His close contacts are being traced in Dong Anh, Ba Dinh, Dong Da, Tay Ho, and Hoang Mai districts. His residence in Ba Dinh's Ngoc Khanh Ward has been locked down as well.
Vietnam recorded 46 new Covid-19 infections, including 40 domestic and six imported cases, in the past 12 hours to 6 pm on May 7, the Ministry of Health (MoH) said.
The domestic infections were detected in the capital city of Hanoi (24), the northern provinces of Hai Duong (1), Dien Bien (1), Ha Nam (1), Hung Yen (4), Nam Dinh (1), Phu Tho (1), Vinh Phuc (1) and the central province of Nghe An (1) and central Da Nang city (5).
The new patients brought the total number of infections in Vietnam to 3,137, including 1,731 domestic cases. Of them, 161 cases have been discovered since the latest outbreak hit the country on April 27.
According to the MoH's Medical Service Administration, as many as 42,293 people who had close contact with confirmed patients or entered Vietnam from pandemic-hit regions are currently quarantined across the country, including 685 in hospitals, 22,810 in state-designated establishments, and 18,998 at their places of residence.
Among active patients undergoing treatment, 24 tested negative to coronavirus SARS-CoV-2 once, 12 twice, and 38 thrice.