Ho Chi Minh City considers reopening more non-essential services after 26 days without new Covid-19 cases
After 26 days without any fresh Covid-19 community transmission cases, Ho Chi Minh City is considering reopening more "non-essential" services.
At a meeting of the Ho Chi Minh City Steering Committee for COVID-19 prevention and control on March 8, Vice Chairman of the Ho Chi Minh City People's Committee Duong Anh Duc said that the city has gone through 26 days without reporting any new Covid-19 community transmission cases, at the same time, concern about the disease spread when people return to the city after the Tet (Lunar New Year) holiday have been at ease. However, the Covid-19 development has been still complicated, especially the risk of infection from outside the city remains high. Therefore, all departments, branches, and residents need to stay vigilant, Baotintuc reported.
Regarding the issue of illegal entry, Duc asked the Department of Tourism to carefully review, verify and strictly handle accommodation establishments that intentionally violate the regulations, affecting the Covid-19 epidemic prevention of the whole city.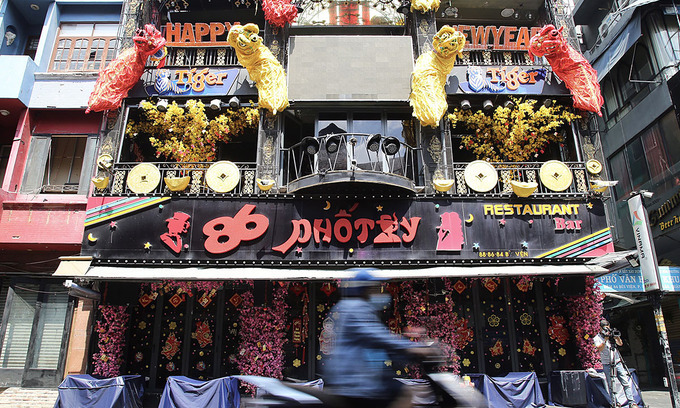 A restaurant on the Bui Vien walking street in HCMC's District 1 closes down with all the Lunar New Year decorations amid a new coronavirus outbreak. Photo: VnExpress.
Ho Chi Minh City leader also required the People's Committees of Thu Duc city and districts to direct the local police, functional units, the People's Committee of wards, communes, local mass organizations, and the "COVID community" groups to actively inspect and mobilize people returning to cities from other localities within the past 14 days to make medical declarations; contact local health workers for guidance on medical supervision and sample taking for testing if returning from pandemic-hit areas; at the same time, to coordinate with the health sector in checking and supervising the implementation of units, enterprises and establishments; sternly crackdown on violations on epidemic prevention regulations.
HCMC Vice Chairman said that March 8 was the first day when the city launched the Covid-19 vaccination. He ordered the municipal Department of Health to closely monitor the process and promptly direct, ensuring that inoculation complies with safety procedures, prioritized subjects, and the necessary number of vaccines.
He also requested the Department of Finance to coordinate with the Department of Health to study the regulations of the Government and the Ministry of Health to soon advise the City People's Committee to issue documents concretizing central regulations, helping to facilitate the Covid-19 epidemic prevention and control in the province.
Finally, the Ho Chi Minh City leader assigned the Department of Health to synthesize proposals of departments and branches to review and put forth the City People's Committee to reopen some non-essential" services.
Previously, HCMC allowed most non-essential services except bars, dance clubs, karaoke parlors, gyms, and pool table services to resume starting March 1, Vnexpress reported.
Tourism activities, transportation, catering services, shopping centers, museums, historical relics, and libraries were also allowed to reopen but must ensure a minimum distance of one meter between two people.
Catering establishments are banned from accommodating more than 30 people.
City authorities also allowed the organization of religious events but gatherings of more than 50 people at a time are banned.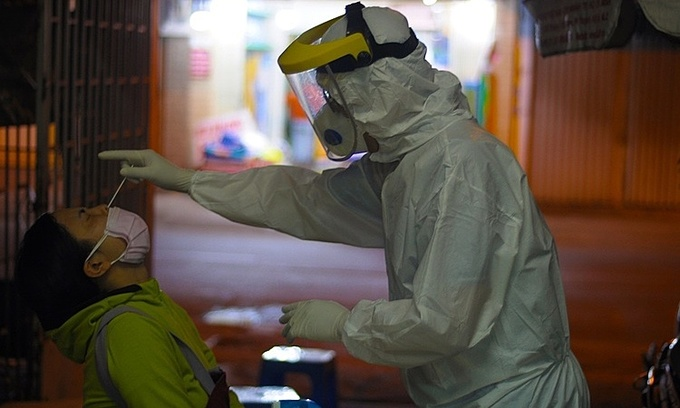 A medical staff takes a sample of a resident in HCMC for Covid-19 testing, February 2021. Photo: VnExpress.
Briefing the disease situation in the city, Director of the Health Department Nguyen Tan Binh said that the city has so far reported 210 cases including 68 community transmissions, 138 imported cases, and 4 cases in Vietnam Airlines' quarantine facility.
Since the latest Covid-19 outbreak detected on January 28, the city has recorded 36 locally-transmitted cases and 9 imported cases. 42 patients have recovered.
From February 14 to date, 160,724 people returning to the city from other localities have submitted their health declarations. The city has also taken 27.029 samples for Covid-19 testing; 26.519 of which have showed negative and the remaining are awaiting the results.
Vietnam has registered 2,524 community transmissions so far, including 1,920 recoveries and 35 deaths.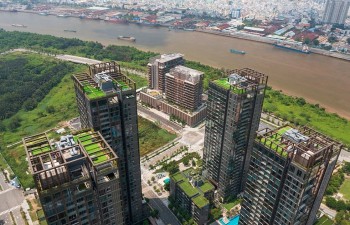 Economy
Vietnam Business & Weather Briefing (August 11): Vietnam to increase coal imports in 2025-2035 period, ten tonnes of Vietnamese longan exported to Australia.