Ho Chi Minh City provided with automated Covid-19 testing system
The HCMC Center for Disease Control (HCDC) on Wednesday was equipped with the automated real-time PCR system for COVID-19 testing, worth VND5.2 billion ($224,144) that accelerates the process by up to 40 percent.
The Cobas 4800 system utilizes real-time reverse transcription-polymerase chain reaction (RT-PCR) technology for Covid-19 testing, capable of processing 96 samples at once and returning results within two hours, the HCDC said. While the center already has five RT-PCR machines, worth VND2.5 billion each, they involve more manual procedures and so require more time and labor force, the center added.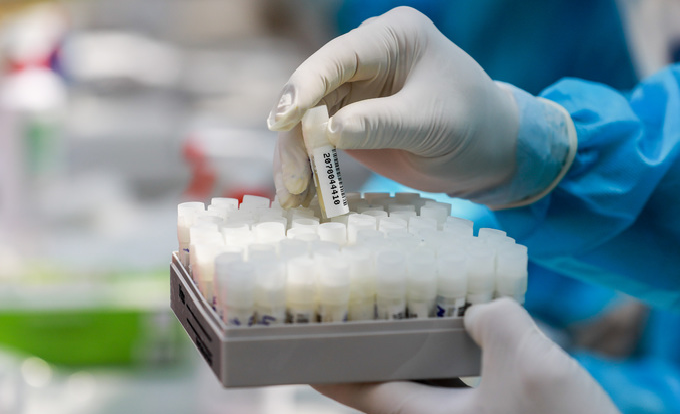 A medical worker holds a vial containing samples for Covid-19 testing in HCMC, April 20, 2020. Photo: VnExpress.
The system's sponsor was not identified.
Nguyen Hoai Nam, deputy director of the HCDC, said automating Covid-19 testing would save time by up to 40 percent and also reduce exposure risks for medical workers. The automated systems would also help boost HCMC's testing capacity, he added. The city is currently capable of testing up to 150,000 samples a day, according to the HCMC Department of Health.
Duong Thi Huyen Tram, head of the Movement Department at the VFF - HCM City chapter, said the city's COVID-19 Prevention and Control Fund has to date received over 260 billion VND in cash and goods and medical equipment from units, organizations, and individuals inside and outside of the country, according to Vietnamplus.
Cash, goods, and medical equipment worth 156 billion VND have already been delivered to forces participating in prevention and control efforts at hospitals, health centres, and quarantine facilities, and to poor people affected by the pandemic.
Earlier this month, the southern metropolis became a location of Covid-19 concern after its Tan Son Nhat International Airport, Vietnam's largest, recorded several community transmissions. From Jan. 30 to Feb. 16, the city has performed Covid-19 tests on around 40,000 samples, including 5,400 from Tan Son Nhat ground staff and their family members.
The HCMC health department on Tuesday requested people entering the city from other localities within the last 14 days to medically declare themselves to authorities. Meanwhile, the HCDC said those entering HCMC from areas experiencing Covid-19 outbreaks or areas being imposing social distancing must enter centralized quarantine for 14 days and be tested four times. The HCDC also began randomly testing those entering the city via public transport.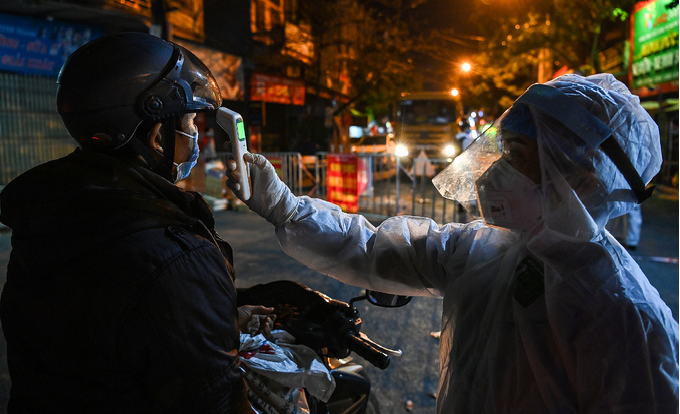 A medical staff checks body temperature of a man at a Covid-19 checkpoint in Hai Duong Province, February 15, 2021. Photo: VnExpress.
Places under social distancing include the communes of Thuy An, An Sinh, Binh Duong, Nguyen Hue in Dong Trieu Town in the northern province of Quang Ninh and the entire Hai Duong Province, the current Covid-19 epicenter.
Ho Chi Minh city is receiving a large number of people coming back to work after the seven-day Tet break.
Since late last month, HCMC has recorded 36 local Covid-19 cases.
Vietnam confirmed 18 new Covid-19 cases Wednesday, all in the northern province of Hai Duong, taking the total number of community transmissions in the latest outbreaks to 737, said Vnexpress.
The patients, 2312 to 2329, are in quarantine.
Since January 28, Vietnam has recorded 737 new Covid-19 community transmissions in 13 localities. Hai Duong leads the tally with 557, followed by Quang Ninh (60), Ho Chi Minh City (36) and Hanoi (35).
The national Covid-19 total stands at 2,329, with 1580 recoveries and 35 deaths. Seven of the recoveries were confirmed Wednesday.
Among the active patients, 104 have tested negative at least once for the novel coronavirus.
Over 145,000 people are in quarantine, 15,000 in centralized quarantine facilities, over 500 in hospitals and the rest at home or other designated accommodations.
Covid-19 has claimed 2.4 million lives globally.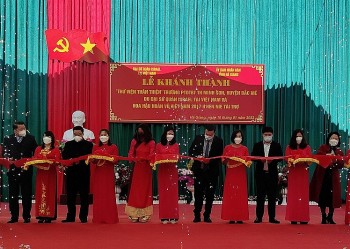 Friendship
Israeli ambassador and Miss Universe Vietnam 2017 renovated library and encouraged reading habits for students in Ha Giang province